With an 18.8% of winning the NHL Draft Lottery and moving up to select first overall for the third straight year, the Edmonton Oilers cashed in their winning lotto ticket. As Deputy Commissioner Bill Day announced the Edmonton Oilers as the winners of the draft lottery, all General Manager Steve Tambellini could do was smirk knowing that his team could add another dynamo, in Nail Yakupov, to the Oilers' lineup.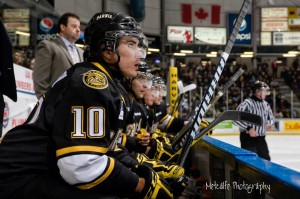 Columbus Blue Jackets' General Manager, Scott Howson, cannot seem to buy a break as his team will move down one spot and select in the second slot where he will have to choose between several talented players including Russian center Mikhail Grigorenko. The remainder of the top five remained the same as the Montreal Canadiens and soon-to-be-named new GM will select in the three spot. Garth Snow and the Islanders hold the fourth pick in the draft and Brian Burke sits in the fifth slot as he continues to attempt to resurrect the plummeting Leafs' franchise.
With the draft lottery results in the book, let us take a look at how the draft could potentially unfold on June 22nd, 2012 in Pittsburgh, Pennsylvania.
Mid-Season 2012 NHL Mock Draft
Notes:
This is not a ranking of prospects but more of a "best guess" at how the draft would unfold if it were to take place today. Guesses are based on personal opinion of best player available, past team draft records and organizational needs.
The top fourteen teams are firm but depending on playoff results the 15th through 30th picks are subject to change. For now, we leave the 15th-30th picks as the reverse order of standings after completion of the 2011-2012 NHL Regular Season.
No trades will be completed during the mock, but may be presented as a desirable option for the respective NHL franchise being discussed.
1. Edmonton Oilers – Nail Yakupov, RW, Sarnia (OHL)
The Oilers have two fail-proof options. Edmonton can either trade the pick for a King's ransom or draft the consensus best player in the 2012 draft class. The dynamic Nail Yakupov addition is just another elite forward to an already offensively potent lineup. Yakupov is an elusive winger capable of highlight-reel rushes and while he's made his mark as a sniper, he's equally adept at playmaking.
2. Columbus Blue Jackets – Ryan Murray, D, Everett(WHL)
Scott Howson might have let a big sigh of relief out as the Oilers were announced as winners of the 2012 NHL Draft Lottery. The Blue Jackets have had some terrible luck with drafting and developing Russians so look for them to pass over Grigorenko and draft the poised defenseman Ryan Murray. With future Captain written all over him, Murray fills a void on the blue line that Columbus will eagerly fill. The smooth skating Murray will bring stability and contribute at both ends of the rink.
3. Montreal Canadians – Mikhail Grigorenko, C, Quebec (QMJHL)
The Habs will have a tough decision with their choice of two viable centers to fill one of the organization's biggest needs. Luckily, Montreal will not only be satisfying a need but they will have the chance to draft the best available player from their draft list. Galchenyuk is a real option but Montreal may lean towards to bigger Grigorenko who comes with slightly more upside. Grigorenko is already playing in Quebec for Canadiens' legend Patrick Roy and he's left quite the impression in his first season in North American winning the QMJHL Top Rookie Award. Grigorenko is a center that thrives in the puck possession game and will add a much-need sizeable skilled center to their depth charts.
4. New York Islanders – Filip Forsberg, C/RW, Leksands (SweAl)
Garth Snow is a bit of a wild card in the fourth spot. Traditionally, the Islanders General Manager has made it clear that he selects the player he wants and that will not change based on the fact that the team likely needs defense more than forwards at this point. Look for Snow to add the skilled Swede Filip Forsberg as the team looks further down the road and can let him develop in Europe. Forsberg owns great size and another player that can dominate in puck protection. Forsberg has shown great compete level and is a coachable player ready to learn – a good combination for a young up-and-coming team.
5. Toronto Maple Leafs – Alex Galchenyuk, C, Sarnia (OHL)
If Brian Burke is able to announce Galchenyuk as his first round pick he will be doing so with a smirk beneath that crabby exterior. Galchenyuk owns good size, strong skating ability and the vision and puck skills he owns has a contagious effect as he can elevate the play of his line mates. a quality the Maple Leafs could use. The world will soon find out that Alex Galchenyuk should be a top 3 talent.
6. Anaheim Ducks – Mathew Dumba, D, Red Deer (WHL)
Mathew Dumba is the most electrifying defender in the 2012 draft class as he brings an element of passion and competitiveness capable of rejuvenating an entire fan base. GM Murray will gladly welcome Dumba to California as the team could use to improve their defensive depth. Dumba is a strong skater that projects as a puck-rushing defender that does not shy away from laying bone-crushing hits.
7. Minnesota Wild – Jacob Trouba, D, US NTDP (USHL)
The departure of Brent Burns was quite noticeable in Minnesota this year especially after Zidlicky failed to fill his role. Trouba is a big defender with an outstanding compete level that shows no glaring weaknesses. Minnesota's prospect cupboard is full of NHL-ready forward prospects and after their selection of Jonas Brodin last season, Trouba would add to the future of the Minnesota blueline.
8. Carolina Hurricans – Teuvo Teräväinen, RW, Jokerit (FIN)
Jim Rutherford has shown a trend to favour forwards over defensemen when selecting inside the top 10 and while he could add another touted defender he may look to select the uber –skilled winger from Finland in Teuvo Teräväinen. Considered a riser over the past few months,Teräväinen has shown that he has all the makings to become a dynamic skilled winger.
9. Winnipeg Jets – Griffin Reinhart, D, Edmonton (WHL)
Griffin Reinhart is a player deserving of a higher selection, especially given his untapped potential, but Reinhart would give the Jets another defenseman with the potential to become a top pairing rearguard. Not overly aggressive given his nice size, Reinhart plays a simple game and has shown flashes of becoming a defenseman who can log big minutes contributing to all areas of the game.
10. Tampa Bay Lightning – Morgan Rielly, D, Moose Jaw (WHL)
Steve Yzerman has the player the Lightning need fall right into his lap at the ten spot.The most offensively gifted defenseman of the 2012 group, Rielly oozes offense from the blue line often showing he thinks the game faster than his draft peers.
11. Washington Capitals (via Colorado) –Olli Määttä, D, London (OHL)
Former London Knights' coach turned Capitals'coach Dale Hunter knows exactly what he's getting in Finnish import Olli Määttä as he's counted on in all situations bringing an extremely intelligent and poised game to the ice each and every night. As an NHL player, Määttä projects to become a minute-muching defenseman as he plays a very consistent game.
12. Buffalo Sabres – Radek Faksa, C, Kitchener (OHL)
With two first round picks (thanks to the Gaustad trade), Buffalo has the chance at taking the best player available here and swinging for the fences later. Radek Faksa adds size and another scoring option up the middle for the Sabres. Faksa is a smart player that plays the game hard and will become low-risk prospect because of it.
13. Dallas Stars – Cody Ceci, D, Ottawa (OHL)
Ceci has been rising up the draft rankings quickly over the last few months but in this mock draft, he actually falls to the Dallas Stars based on most "experts" ranks. The Stars add another defensive prospect with good offensive upside. Ceci's defensive game leaves scouts wanting more but his offensive instincts are enticing enough that a team can work on improving Ceci's decision making in his own zone.
14. Calgary Flames – Brendan Gaunce, C, Belleville (OHL)
Gaunce is one of the safer picks of the entire 2012 draft class and the Flames will surely add a legitimate NHL centerman to their system. Gaunce does not possess elite upside but his compete level and hockey IQ are extremely good. Playing in Belleville on the international ice has actually hurt Gaunce's draft stock as his average skating does not translate well to the big ice. Gaunce is a team-first type of player and comes with endless intangible qualities including displaying great leadership.
15. Ottawa Senators – Sebastian Collberg, RW, Frolunda (SWE)
Bryan Murray's scouting staff loves their Swedish players and turn to winger Sebastian Collberg. The speedy Collberg is a player that loves to have the puck on his stick and his sniper mentality sees him fire a ton of shots at the net. With a fairly balanced prospect system, Ottawa can afford to select a player with good NHL upside and develop him oversees as they have with standout forward Silfverberg.
16. Washington Capitals –Zemgus Girgensons, C, Dubuque (USHL)
Blessed with two picks in the opening round, Washington has the luxury of adding another talented teenager. Girgensons' is the top-rated USHL forward and he offers a complete package to the Capitals' franchise. Compared to former NHL Great Rod Brind'amour, Zemgus is a strong skating center that excels on the puck pursuit. The Latvian forward does not shy away from contact but also possesses some slick offensive puck skills. Girgensons owns good projectable NHL skills.
17. Florida Panthers – Derrick Pouliot, D, Portland (WHL)
Lacking a true offensive defenseman in their pipeline, Derrick Pouliot would be a solid value pick for the Panthers in the 17th spot. The comparison is not ideal but Pouliot resembles former WHLer Duncan Keith as his cerebral game shows on both the offensive and defensive ends of the rink. Projected as a puck-moving defenseman, Pouliot's strong skating skills are his weapons on the ice. He is slightly undersized but has shown to make good decisions and that has made him an efficient player at the junior level.
18. Columbus Blue Jackets (via Los Angeles) – Pontus Aberg, LW, Djurgarden (SWE)
After adding Ryan Murray with their second overall pick, Columbus can now address another weakness – left wing. Traditionally, the Blue Jackets rarely draft players from the Elitserien league in Sweden but given their terrible draft record maybe it is time to consider a new approach. Columbus picks Pontus Aberg with the pick they acquired in the Jeff Carter trade. Aberg has had good success this season playing against men and has shown that he can produce which is not an easy task for teenagers. The offensive winger adds a legitimate NHL talent to a fairly weak left side in Columbus.
19. San Jose Sharks – Matt Finn, D, Guelph (OHL)
The Sharks overall prospect depth is bleak to be kind. San Jose's approach at the draft will be to add their top rated player when their pick comes due. Guelph Storm defenseman Matt Finn would be a dream come true for the Sharks both from a marketing and prospect standpoint.  Finn (insert Jaws theme here) projects to be a stable defenseman with solid all-around skills. He's skilled enough to lead the offensive rush and can be used in shutting down the oppositions' top players. Finn is a player that could blossom as he continues to develop as he's shown to be one of the smarter and coachable players of this draft crop.
20. Phoenix Coyotes – Tomas Hertl, C, Slavia Praha (CZE)
The last time the Coyotes drafted a player from the Czech Republic they were quite pleased as Martin Hanzal has turned out to be their most reliable center. Lacking depth up the middle, Tomas Hertl is another Czech that would fit in nicely in Phoenix as he provides the 'Yotes with top-six upside. A pivot with good frame, Hertl uses his size to employ his strong puck protection game to create room for slick passing plays.
21. Chicago Blackhawks – Malcolm Subban, G, Belleville (OHL)
The one area that the Blackhawks seem to show a lack of confidence in is between the pipes. Depending on where this pick ends up the team could seriously consider drafting a goaltender and there are several options available. Subban is a big net minder with great potential but as with most young puck-stoppers he has some areas to address – most notably, rebound control.
22. New Jersey Devils – Hampus Lindholm, D, Rogle(SWE) With a draft history of nabbing good players from Sweden and a need for defense look for the Devils to draft Lindholm. Hampus Lindholm is an extremely gifted skater that makes smart decisions on both sides of the puck. He's at his best as when he's leading the rush but shows good constraint at picking his spots.
23. Tampa Bay Lightning (via Detroit) – Andrei Vasilevski, G, Ufa Tolpar (KHL)
Yzerman has shown that he will not shy away from drafting Russians and with a serious need to add a legitimate starting goaltending the Lightning could draft standout World Junior netminder Andrei Vasilevski. After trading away agitator Steven Downie that would eventually become the pick used here, Vasilevski could be well worth it.
24. Boston Bruins – Ludvig Bystrom, D, Modo (SWE)
The Bruins have a knack at selecting players that fall in the draft and Bystrom is a defenseman capable of being selected in the top 20. Bystrom is a player with good long-term potential as he consistently shows poise with and without the puck. The Bruins draft Bystrom for the future and hope that he can reach his good all-around upside.
25. Philadelphia Flyers – Slater Koekkoek, D, Peterborough (OHL)
Not too long ago, Slater Koekkoek was challenging for a top 10 spot but a season-ending shoulder injury has dropped in the rankings. Koekkoek could very well be selected way earlier but the Flyers will gladly draft him. Koekkoek is another solid two-way defender that uses his physicality well on the defensive side of the puck. Offensively, Koekkoek has hard accurate point shot and offers a package of leadership and passion.
26. Buffalo Sabres (via Nashville) – Colton Scissons, RW, Kelowna (WHL)
If past draft years are any indication, GM Darcy Regier and his scouting team has a tendency to turn to the Canadian Hockey League for their future prospects. The Sabres select two-way gem Colton Sissons from the WHL is a player with a tireless motor highlighted by good skating and above-average vision. Sissons prides himself on his hard-nose game and defensive contributions making him a good investment for the Sabres late in the first round.
27. Pittsburgh Penguins – Martin Frk, RW, Halifax (QMJHL)
In Martin Frk the Penguins get a player that has dropped in the rankings as the course of the season unwound but he would fit nicely into the black and yellow lineup as an eventual replacement for Chris Kunitz. Frk has good size that allows him to get into the dirty areas and with his good vision and soft hands he could make a living scoring some gritty goals for Pittsburgh.
28. St. Louis Blues – Tom Wilson, RW, Plymouth (OHL)
The Blues have good depth at every position and that allows them to take a bit of a gamble on power forward Tom Wilson, a big nasty winger that plays with a team-first attitude. St. Louis could use Wilson as a third line player that is a nuisance to play against. Wilson has underrated offensive skills and while he won't be tearing up scoreboards, he does have the ability to act as a complimentary scorer.
29. New York Rangers – Dalton Thrower, D, Saskatoon (WHL)
Thrower is the spokesman for the "rising draftees" as he continues to climb the rankings. Like his surname suggests, Dalton is not afraid to throw down with an opponent but his real gift is on the offensive side of the puck. Thrower has displayed that effective defensemen do not always have to be 6'3" as he finished among the top 10 in WHL scoring for defenseman. A gifted skater with good vision and passing skills, Thrower has proved that he belongs in first round discussions.
30. Vancouver Canucks – Scott Laughton, C, Oshawa (OHL)
Recently, the Canucks' better first round selections have come when they have selected from the Ontario Hockey League (see Hodgson and Jensen). Nicklas Jensen's teammate Scott Laughton is a bit of a wild card here but the gritty center has underrated potential. Laughton understands that the game of hockey is played at both ends of the rink and if he's not producing points then he will at least be working hard to prevent them. Players with Laughton's combination of hockey sense and work ethic offer good promise for the future.
Thanks for reading and feel free to follow the #2012NHLDraft on twitter at: @RossyYoungblood