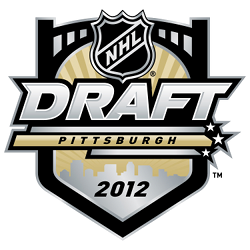 For the first part of the 2011-12 season, the Minnesota Wild looked as though they were going to be one of the best teams in the NHL.  Thanks mostly to a team record 11 wins in November, the team found themselves on top of the league standings by December and it seemed as though they were finally going to end a postseason drought that last saw them in the playoffs in 2008. Unfortunately, for the team and their fans, injuries befell the Wild, with the walking wounded including Pierre-Marc Bouchard, Guillaume Latendresse and Matt Cullen.  The mounting injuries caused Minnesota to plummet to fourth in the Northwest Division and twelfth in the Western Conference, a substantial collapse from the top of the heap they had been.  They finished with a record of 35-36-11 for 81 points, missing the playoffs for a fourth straight season, and yet another top-10 pick in the NHL Entry Draft.
Minnesota has the seventh overall pick and, remarkably, it is the seventh time in franchise history that the team has had a pick in the top ten, the most recent being 2011 when they picked Jonas Brodin tenth overall.  Nine of their ten first-round picks in the NHL Entry Draft from 2000 to 2009 played at least one NHL game in 2011-12 (Tyler Cuma made his NHL début this past April) but only three actually suited up for the Wild.  That being said, one thing that Minnesota may look at in their first-round pick is a player who may be with them for the long haul, joining top prospects such as Cuma, Brodin, Mikael Granlund, Charlie Coyle and Zack Phillips.
Judging on the patience of Chuck Fletcher and his staff, the 2012 first-round pick of the Minnesota Wild could be a player who the organization will have to wait for or expect to be ready immediately.  Past history indicates that the Wild generally prefer players who can be ready in one to three years.  Regardless, the Wild will have the opportunity to grab a player with incredible potential no matter how quick or otherwise it takes for him to be ready for the NHL.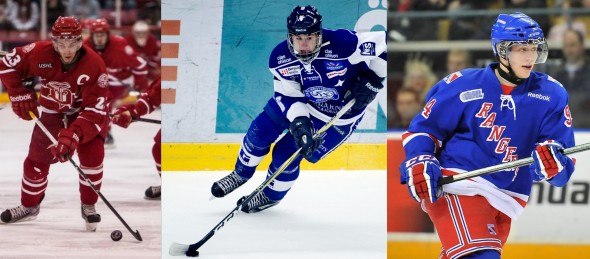 Based on this length of time allotted for a player to show whether or not he is ready for the NHL, there are three players — all of whom are European forwards — who can be suitable first-round options for the Minnesota Wild and can be available by the time they are expected to make their decision.
The first option is Zemgus Girgensons.  Originally from Riga, Latvia, Girgensons has had an incredibly successful two-year stint in the USHL with the expansion Dubuque Fighting Saints. He helped the team win the Clark Cup as league champions in 2011 and, this past season, he was the team's captain.  He was, however, sidelined with a broken jaw for the latter part of the 2011-12 campaign but his draft status was never affected.  Girgensons will be attending the University of Vermont in September, the same school as Stanley Cup champions Tim Thomas, Patrick Sharp and Martin St. Louis.  His North American style of play, as well as his size and his apparent leadership, makes him a suitable fit for the Wild, especially with Zack Phillips and Jonas Brodin each being 6'1″ tall.  With Girgensons going to the NCAA, it gives Minnesota the opportunity to see how well their youth movement will fare, especially if he decides to spend an entire four years with the Catamounts.  By the time his collegiate career is over, the Wild will have a spot ready for him, especially since older players such as Matt Cullen may already be gone.
Another option is Filip Forsberg.  Born in Östervåla, Sweden, Forsberg could be the third Scandinavian chosen in the first round of the NHL Entry Draft in as many years.  The logic behind choosing players from that geographic region is quite rational since many people from Minnesota have Scandinavian heritage.  Forsberg has dynamic speed, something that the Wild team brass may salivate over, especially since one of their best skaters, Pierre-Marc Bouchard, has been injured several times over the last few seasons.  They still have certain speedsters, such as Mikko Koivu and Devin Setoguchi, but it may be Forsberg who can elevate that to an even more superlative degree.  Just like Girgensons, the young Swede will come with anticipation, especially since he is under contract with Leksands IF of the HockeyAllsvenskan for the 2012-13 season.  He will also have championship pedigree and experience with three future teammates if chosen by the Wild; he helped win the gold medal for Sweden at the 2012 World Juniors with Jonas Brodin, Johan Gustafsson and Johan Larsson.
Yet another option is Radek Faksa.  A native of Opava, Czech Republic, Faksa is a solid two-way forward with equal parts of speed, skill and tenacity that make him one of the more complete players going into this year's draft.  Faksa, who plays for the Kitchener Rangers, led all OHL rookies in scoring with 67 points in 62 games, despite missing time to play at the 2012 World Juniors as an underage player.  Faksa is lucky to play for an OHL team that has seen many of its former imports be chosen as first-round NHL draft picks, including the likes of Jakub Kindl, Mikkel Boedker and Gabriel Landeskog.  Additionally, they have had their imports picked in subsequent rounds; players such as Yannick Weber and Tobias Rieder come to mind. Faksa could very well make the jump to the NHL next season, meaning that the Minnesota Wild may not have to wait long for him to come.  That being said, however, the Wild has had minimal success with first-rounders coming directly out of the OHL in particular, with Brent Burns (2003) being the only one to make the team out of the draft.  Faksa, however, could help reverse that trend.
*
On the second day of the draft, the Minnesota Wild, barring any trades, will have a pick in each of the six subsequent rounds.  They will select 46th, 68th, 98th, 128th, 158th and 188th overall; the 46th overall selection was a pick acquired in a trade with Washington via New Jersey.  (That pick resulted from the trade that sent Marek Židlický to the Devils in February 2012; it was originally sent to the Devils a year earlier when the Capitals acquired Jason Arnott.)
It should be noted that what would have been the Wild's earlier second-round selection, the 37th overall pick, is currently held by the Tampa Bay Lightning, who acquired it from Minnesota via San Jose.  When the Sharks acquired Dominic Moore from the Lightning in February, this pick went the other way.  It was originally traded to the Sharks in the draft day trade that saw Brent Burns go to San Jose in exchange for Devin Setoguchi, Charlie Coyle and a first-round pick.
The other five picks are Minnesota's own, albeit one pick later, due to a compensatory second-round pick (55th overall) going to the Sharks for not signing 2007 first-round selection Patrick White.
*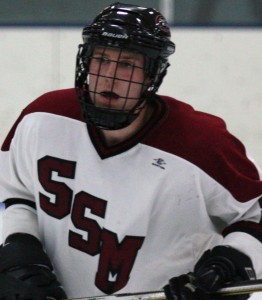 In recent years, the Wild has used the second and third rounds to select Minnesota prep school players.   This year could have more of the same and there are two prospects from Shattuck-St. Mary's who could get strong consideration. Jake Montgomery, a left winger from Oakdale, Minnesota, has also played at Shattuck-St. Mary's since 2009, playing for their AA, AAA and varsity teams.  He was also drafted to the USHL, albeit to the Green Bay Gamblers, but his rights were traded to Sioux City.  He has good size and speed, two things that he has in common with Filip Forsberg, and the physicality of Radek Faksa.  Montgomery scored 58 points (20 goals, 38 assists) in only 39 games; as well, he racked up 80 penalty minutes.  He has committed to play for the University of Nebraska-Omaha beginning next season.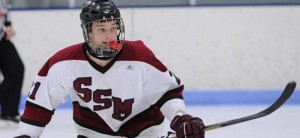 Teodors Bļugers, a centre and left winger, has played at Shattuck-St. Mary's since 2009, making his way from their under-16 team to their midget prep team this past season.  He scored 88 points (24 goals, 64 assists) in 51 games this year as a senior.  Bļugers could also benefit if the Wild draft Zemgus Girgensons, who he has played with in international competition, including the 2012 World Juniors, for Latvia.  As well, Bļugers may be playing this season with the Sioux City Musketeers, who chose him 67th overall in the 2011 USHL Entry Draft, before joining Minnesota State University-Mankato (the alma mater of St. Louis Blues captain David Backes) in 2013.
*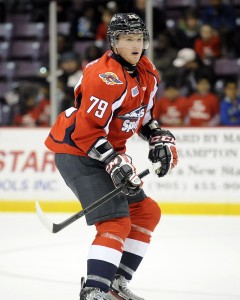 In either the fourth or fifth round, the Minnesota Wild can benefit from drafting an enforcer.  After the late Derek Boogaard signed with the New York Rangers, and John Scott left for the Chicago Blackhawks, the majority of the truculence has fallen into the lap of 25-year-old Matt Kassian and 27-year-old Clayton Stoner.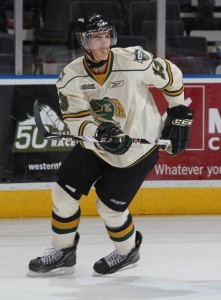 Ty Bilcke could surely take the load off of them.  As a rookie with the Windsor Spitfires this past season, Bilcke led the OHL with 221 penalty minutes, including 41 fighting majors.  He was even suspended for two games because he got into three fights in the same game on January 16, 2012, against the Plymouth Whalers.  In addition to his truculence, Bilcke also has considerable size, standing 6'2″ and weighing in at 220 pounds.
Minnesota, however, could also wish to get their physical edge from a defenceman, especially since most players mentioned up to now have been forwards.  The OHL could provide that for them, too, in the form of Erie Otters blueliner Troy Donnay.  Donnay, who was acquired in a trade with the London Knights, is a tall, strong rearguard, standing 6'7″, but needs to bulk up his 185-pound frame.  He may not have accumulated nearly as many penalty minutes as Bilcke but his size certainly would make him desirable, especially due to the surplus of smaller-stature blueliners currently on the Wild roster, such as 5'11" Steven Kampfer and 5'9″ Jared Spurgeon.  Additionally, Minnesota has smaller defencemen in their American Hockey League affiliate with the Houston Aeros, including 5'8″ Chay Genoway and 5'10" Jeff Penner.
*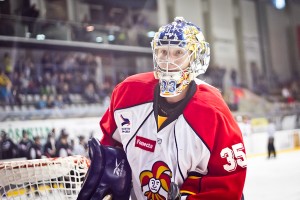 That brings us to the last two rounds of the draft.  In the last three years, the Minnesota Wild have chosen goaltenders with their sixth round picks.  In 2009, they chose Darcy Kuemper 161st overall; in 2010, they chose Johan Gustafsson 159th overall; and in 2011, they chose Stephen Michalek 161st overall.  In 2012, they can keep that trend going.  One goalie who can fit quite nicely would be Joonas Korpisalo.  The Wild have benefited immensely from the services of a Finnish goaltender since 2006; despite never being drafted to the NHL, Niklas Bäckström has been an all-star for Minnesota, cementing himself as one of the league's top netminders.  Korpisalo, meanwhile, showed in 2011-12 why he is worthy of being selected, leading the Jr. A SM-liiga (an under-20 league) in both goals-against average and save percentage as a 17-year-old en route to being named the league's top netminder.  It could be minutely preposterous to think that Korpisalo, who is ranked third among European goalies for the 2012 NHL Entry Draft, may slip to the sixth round of the draft; it should not disappoint him, though, as former teammate Frans Tuohimaa was also a late-round NHL draft pick, going in the seventh round (182nd overall) in 2011.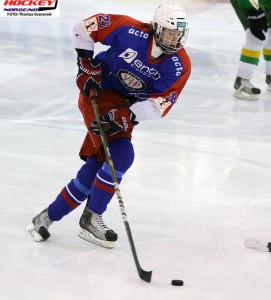 As for their seventh-round pick, the Minnesota Wild can branch out into any direction they feel. In 2010, they selected Dylen McKinlay, who was with the then-active Chilliwack Bruins of the WHL.  In 2011, they selected Tyler Graovac of the OHL's Ottawa 67's.  The seventh round, however, is usually one of surprises and 2012 should be no different.  That is why, if I were Chuck Fletcher, I would select 18-year-old Norwegian forward Jørgen Karterud with my last-round draft pick.  A native of Oslo, Karterud has been one of the best scorers in recent years on the junior teams of Vålerenga IF, both under-17 and under-19.  He split last season between their under-19 team, their second-highest professional team (which plays in the 1. Divisjon) and nine games with their top squad.  In fact, he even scored his first career Get Ligaen goal in December of 2011 as a 17-year-old against Rosenborg.  Karterud has great size, standing 6'4″ and weighing in at 183 pounds.  He skates very well for his size and he is very hard to knock off the puck.  Additionally, he has already been to Minnesota, participating in a Bauer-sponsored tournament at the Xcel Energy Center with several other young players from Norway, in which he played against prep school teams from across the United States.  Karterud has won two under-19 league gold medals and one under-19 silver medal; as well, he won a silver medal at the 2012 World Under-18 Division I-A Hockey Championships.  He could likely join Norway for the 2013 World Junior Hockey Championships.  This season, he will be playing full-time for Vålerenga's Get Ligaen team, who will likely be the youngest team in the entire league. Vålerenga, whose general manager is former NHL player Espen "Shampoo" Knutsen, will employ the services of Washington Capitals goaltending prospect Steffen Søberg, former USHL import David Bräck (his third season), and reunited Canadian twins Justin and Tyler Donati.
*
The Minnesota Wild are a team hoping to build a nucleus like they had in previous seasons, one that had them with many of their own draft picks on the roster.  With trades and free agency in recent years, that has seemed to all but disappear.  It has seen the team lose considerable cogs of their franchise, such as Marián Gáborík and Nick Schultz, moves that may ripple for years to come; the responsibility now falls on the shoulders of Dany Heatley and Tom Gilbert, as well as younger players coming up from the Houston Aeros.
For a team with as passionate fans as Minnesota has, it is the responsibility of Chuck Fletcher and his scouting staff to put together a group of solid prospects who will make the Wild a threat in the future.  They have taken steps in the right direction by giving good chances to readied prospects, such as Matthew Hackett, Cody Almond, Carson McMillan, Marco Scandella and Justin Falk.  Additionally, they have been very progressive with the signing many of their draft picks from recent years; in addition, they still have some in the college ranks, such as Erik Haula and Mario Lucia, who will not be expected to sign contracts for at least three more years.
Hopefully soon, Minnesota will once again have a team to drive the fans "wild" with anticipation.
If you want to read more stories like this, please feel free to follow me on Twitter: @MargannLaurissa.