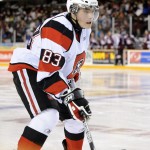 The development of hockey players throughout the world is crucial to the future success and survival of the National Hockey League.  Millions of dollars and thousands of hours are spent each year for scouts representing thirty NHL teams to travel the world from rink to rink attempting to identify hockey talent.   The dream of skating for a National Hockey League team remains a hope for tons of children around the world but the truth remains that the chances of making the NHL and remaining are very slim.  Every summer following the conclusion of the Stanley Cup Playoffs, NHL teams convene with their scouting and development teams at the annual NHL Entry Draft to select seven rounds of players totalling over two-hundred ten draft-eligible players.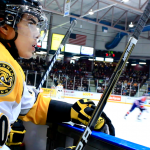 The Canadian Hockey League, consisting of Canada's top three major junior hockey circuits (WHL, OHL, QMJHL), has dominated recent NHL Entry Drafts including 101 CHL players last years' 2011 NHL Draft.  The Ontario Hockey League remains the top provider as 46 players were selected from OHL teams in 2011 including Gabriel Landeskog (2nd overall), Ryan Strome (5th), Mark Scheifele (7th) and Dougie Hamilton (9th) inside the top ten.  The 2011 NHL Entry Draft would have eleven selections in the first round from the Ontario Hockey League and the Oshawa Generals led the way with five draftees in the 2011 NHL draft class. The Western Hockey League (WHL) and Quebec Major Junior Hockey League were second and third with 33 and 22 players selected respectively. 
Historically, the OHL's Peterborough Petes have produced the most NHL drafted players with 170, closely followed by the Oshawa Generals with 162, Kitchener Rangers with 148 and the London Knights developing 146 talented NHL drafted players.  Hockey is thriving within the Ontario Hockey League and former alumni names like Bobby Smith (Ottawa 67's), Wayne Gretzky (Sault Ste. Marie Greyhounds), and Eric Lindros (Oshawa Generals) have been replaced by names like Steven Stamkos (Sarnia Sting), John Tavares (Oshawa Generals/London Knights) and Taylor Hall (Windsor Spitfires) as OHL stars that have gone onto have early NHL success. 
The 2012 NHL draft class participating in the Ontario Hockey League this season has the makings to become NHL stars including Sarnia's duo of Nail Yakupov and Alex Galchenyuk, Ottawa's Cody Ceci and Belleville's leaders Brendan Gaunce and Malcolm Subban.  The 2012 NHL Entry Draft, scheduled for June 22nd and 23rd in Pittsburgh, is one-hundred forty days away making it essential for scouts to keep a close eye on the 2012 draft class talent and maintain their team's draft lists. 
Below is an ongoing ranking of the Ontario Hockey League's draft-eligible players as of February 3rd, 2012.  In the ranking, OHL players entering the draft in their second year of eligibility have been denoted with an asterisk (*).  Please note that the ranking below is not an extensive list and does not include every draft-eligible player skating in the OHL.
Please look for my other draft related articles, past and future, for player profiles and observations on draft-eligible OHL players.  Furthermore, feel free to ask questions via twitter @rossyyoungblood.

Skater Rankings
Nail Yakupov (RW, Sarnia Sting) 29GP-22G-33A-55P
Alex Galchenyuk (C, Sarnia Sting) 0GP-0G-0A-0P
Brendan Gaunce (C, Belleville Bulls) 47GP-22G-23A-45P
Cody Ceci (D, Ottawa 67's) 47GP-11G-36A-47P
Matt Finn (D, Guelph Storm) 41GP-6G-26A-32P
Radek Faksa (C, Kitchener Rangers) 41GP-22G-25A-47P
Olli Maatta (D, London +Knights)38GP-2G-17A-19P
Slater Koekkoek (D, Peterborough Petes) 26GP-5G-13A-18P
Tom Wilson (RW, Plymouth Whalers) 41GP-7G-15A-22P
Gemel Smith (C, Owen Sound Attack) 49GP-20G-25A-45P
Daniil Zharkov (LW, Belleville Bulls) 29GP-15G-7A-22P
Jarrod Maidens (Owen Sound Attack) 28GP-12G-11A-23P
Scott Kosmachuk (Guelph Storm) 45GP-22G-19A-41P
Dylan Blujus (D, Brampton Battalion) 49GP-6G-24A-30P
Andreas Athanasiou (London Knights) 44GP-16G-12A-28P
Dane Fox (Erie Otters) 43GP-20G-22A-42P
Scott Laughton (Oshawa Generals) 45GP-12G-23A-35P
*Pearson, Tanner (Barrie Colts) 40GP-30G-43A-73P
Brady Vail (Windsor Spitfires) 45GP-15G-19A-34P
Adam Pelech (D, Erie Otters) 24GP-1G-10A-11P
Jesse Graham (D, Niagara Ice Dogs) 48GP-4G-22A-26P
Matia Marcantuoni (Kitchener Rangers) 24GP-9G-5A-14P
Artur Gavrus (Owen Sound Attack) 26GP-9G-11A-20P
Eric Locke (C, Saginaw Spirit) 32GP-12G-12A-24P
*Seth Griffith (London Knights) 48GP-36G-31A-67P
Trevor Carrick (D, Mississauga St.Michael's Majors) 48GP-1G-7A-8P
Ben Johnson (C/LW, Windsor Spitfires) 49GP-11G-12A-23P
Kristoff Kontos (C, Mississauga St.Michael's Majors) 46GP-13G-18A-31P
*Tanner Richard (C, Guelph Storm) 37GP-11G-32A-43P
Nick Ebert (D, Windsor Spitfires) 49GP-3G-22A-25P
Chris Tierney (C, London Knights) 48GP-7G-16A-23P
Michael Clarke (Windsor Spitfires) 49GP-11G-11A-22P
Max Iafrate (D, Kitchener Rangers) 41GP-4G-9A-13A
Chris Marchese (LW, Windsor Spitfires) 43GP-13G-14A-27P
Garrett Hooey (C/LW, Belleville Bulls) 47GP-10G-8A-18P
Gianluca Curcuruto (D, Sault Ste. Marie Greyhounds) 47GP-3G-12A-15P
Connor Brown (RW, Erie Otters) 47GP-15G-17A-32P
*Alex Basso (D, Sarnia Sting) 36GP-8G-21A-29P
Jake Dotchin (D, Owen Sound Attack) 45GP-2G-13A-15P
Patrik Machac (C, Brampton Battalion) 44GP-10G-16A-26P
Ryan Rupert (C, London Knights) 43GP-17G-19A-36P
Matt Rupert (RW, London Knights) 35GP-11G-18A-29P
Matthew Campagna (Sudbury Wolves) 33GP-7G-18A-25P
Josh Anderson (LW, London Knights) 44GP-7G-6A-13P
Marcus McIvor (D, Brampton Battalion) 45GP-0G-13A-13P
*Kyle Hope (D, Owen Sound Attack) 37GP-4G-26A-30P
Joel Wigle (D, Niagara Ice Dogs) 43GP-5G-5A-10P
Troy Donnay (D, Erie Otters) 33GP-1G-3A-4P
Brock McGinn (LW, Guelph Storm) 23GP-8G-4A-12P
Alex Gudbranson (D, Kingston Frontenacs) 33GP-1G-5A-6P
Liam Maaskant (D, Erie Otters) 47GP-4G-4A-8P
Patrick Watling (C, Guelph Storm) 45GP-3G-12A-15P
Chase Hatcher (LW, Peterborough) 18 GP-1G-3A-4P
Justin Auger (RW, Guelph Storm) 42GP-6G-6A-12P
Joseph Blandisi (C/RW, Owen Sound Attack) 49GP-15G-12A-27P
Cody Payne (RW, Plymouth Whalers) 33GP-2G-7A-9P
Brandon Devlin (D, Windsor Spitfires) 39GP-3G-8A-11P
Warren Steele (D, Kingston Frontenacs) 49GP-5G-14A-19P
Adam Bignell (D, Belleville Bulls) 31GP-0G-3A-3P
Ty Bilcke (RW, Windsor Spitfires) 43GP-0G-3A-3P

Goaltenders
Malcolm Subban (Belleville Bulls) 1.93 GAA – .938 SV% – 2 SO
Matthew Murray (Sault Ste. Marie Greyhounds) 4.15 GAA-.872 SV%-0 SO
Jake Paterson (Saginaw Spirit) 3.89 GAA-.889 GAA-0 SO
Daniel Altshuller (Oshawa Generals) 3.49 GAA – 0.901 SV% – 0 SO
Clint Windsor (Saginaw Spirit) 3.79 GAA-.890 SV%- 0 SO
*Michael Houser (London Knights) 2.51 GAA-.925 SV% – 5 SO
*Frank Palazzese (Kitchener Rangers) 2.82 GAA- .927 SV% – 0 SO
*Matej MacHovsky (Brampton Battalion) 2.21 GAA – .910 SV% – 5 SO
Andrew D'Agostini (Peterborough Petes) 3.75 GAA – 0.891 SV% – 1 SO
Jake Patterson (London Knights) 1.78 GAA-.930 SV% – 0 SO