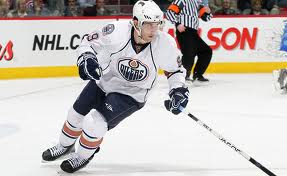 On December 31st, 1988, Pittsburgh Penguins superstar Mario Lemieux accomplished one of the most historic offensive records. He scored 5 goals 5 different ways (even strength, shorthanded, penalty shot, powerplay, empty net) and added 3 assists for 8 points in one game. No other player has been able to score 5 different type of goals in the same game, and going into last night, no one had ever reached 8 points since then. That is, until Sam Gagner broke loose.
Early in the second period of last night's game against the Chicago Blackhawks, the Edmonton Oilers found themselves down 2-0. Taylor Hall scored to bring his team within one. Sam Gagner drew the assist. About 5 minutes later, Gagner scored his 6th goal of the season to even things up, and then assisted on Ryan Whitney's powerplay goal to give the Oilers the lead. The Hawks would tie the game, sending the teams into a third period tie. What happened next can only be described as remarkable.
Sam Gagner broke the tie early into the final frame with his 7th goal of the season and 2nd on the night. He assisted on Cam Barkers goal a few minutes later. Three minutes later, after the Hawks scored to get within one, Gagner notched a hat-trick. Fans littered the ice with hats, but he wasn't done there. Gagner went on to score his 4th goal of the game and then later assisted on Jordan Eberle's goal. 8 points. The Oilers scored 8 goals in a 8-4 victory over Chicago. Gagner was in on all of them. No one seemed more stunned than Gagner himself, who had been struggling as of late, and had been the subject of trade rumors. Going into last night's game, Gagner had just 5 goals on the year. He fell 2 points shy of Darryl Sitter's seemingly untouchable record of 10 points in one game. The feat overshadowed Taylor Hall's career best 4 point night, but the sophomore didn't mind one bit.
"I feel like a bit of a pigeon with four points tonight," Hall said. "It was just a crazy night. Every time we got the puck in the offensive zone, especially in the third period, it ended up on Sam's stick and he made a great play with it. I'm really happy I was able to be on the ice with him. It's a really cool moment." – Washington Post.
The NHL gave Gagner all three stars for the game. He tied an Oilers record of 8 points in one game with a couple guys, one named Paul Coffey, the other named Wayne Gretzky. Quite overwhelming company for the 22 year old.
"I didn't think I would ever be mentioned in the same breath as Gretzky or Coffey," said Gagner, selected all three stars of the game. "You never expect to do something like this. "It's a great lesson to never set limits. The great players who played here never did that. It was just one of those games where everything went in and just a great feeling." – Washington Post.
Now everyone is left to wonder how a team can trade a guy who just scored 8 points in one game.