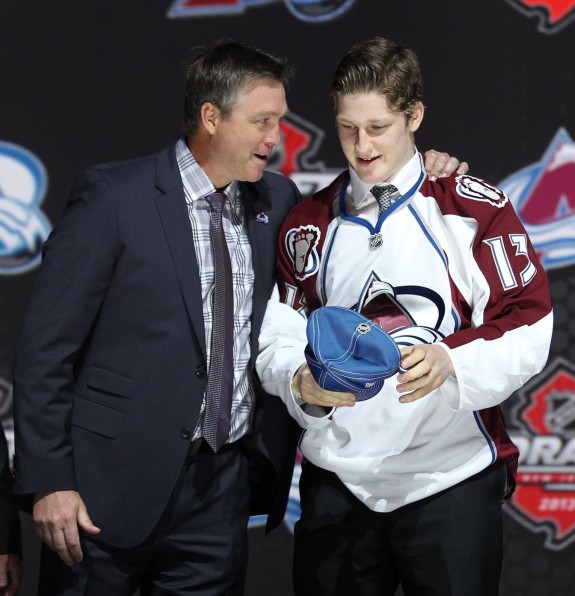 As a hockey writer, I have to start off by saying that my experience at the 2013 NHL Entry Draft in New Jersey was simply incredible. Fortunate enough to be sitting in the VIP section (thanks Ron Ryan!), I found there is nothing which compares being seated among kids hearing their names called by NHL teams, seeing the joy on the faces of young hockey players and their families as their lifelong dreams are realized.
That being said, my draft grades are not meant to criticize the players drafted. Every single player who was drafted this weekend has the talent and ability to one day make it as a productive player in the National Hockey League. My grades are for the front offices, grown adults whose job descriptions should include being lauded or criticized by schmucks like myself.
Concurrently, my grades are likely higher than in most columns of a similar ilk. The draft is about optimism, and most teams leave the draft feeling like winners. I am inclined to agree with those sentiments. Keeping in tune with the thematic of the future, I am separating my columns by the new NHL conference alignments, this time with the enigmatically entitled Conference B.
Chicago Blackhawks
1st Round: RW  Ryan Hartman (30)
2nd Round: D Carl Dahlstrom (51)
3rd Round: C/RW John Hayden (74)
Late Round Sleeper? C Tyler Motte (121)
When the Blackhawks last won the Stanley Cup in 2010, they were in a salary cap crunch and forced to completely re-tool the roster around their core. After winning the Stanley Cup this past year, their straits were far from dire but GM Stan Bowman still had some tweaking to do. In order to free up enough cash to re-sign playoff hero Bryan Bickell, the Blackhawks were forced to trade penalty-killing maestro Michael Frolik and the scorer of the cup-winning goal, Dave Bolland. Although these moves may have slightly weakened the Hawks' present squad, they were able to attain more draft picks from which to empower their future.
And, as has been the case under first Dale Tallon's management and now Stan Bowman's, they drafted shrewdly. Hartman is a local kid who grew up a Hawks fan and plays hockey like a wolverine on skates. He's 5'10" 185, just don't tell him that. Hartman hits anything that moves, will fight you if you mess with a teammate regardless of whether you're his size or 6'7″. A terrific defensive player and a terror to play against, Hartman also has offensive potential which he flashed famously during the 2013 WJC championships.
In the second round, Chicago went a bit off the board with Dahlstrom. The Swedish rearguard certainly has NHL size and strength, but is said to be a "project pick" and needs to work on his skating. Still, as years of watching the Red Wings should have taught us, beware the Bowman going off the board with a Swedish defenseman.
The Hawks may have hit the jackpot again in the third round with the selection of Hayden — one of the most physical and defensively adept forwards in the 2013 draft. The Connecticut native has a ton of brawn at 6'2″ 210 and adds brains to that mix — heading to Yale in the fall. With a burgeoning offensive game, Hayden just needs to improve his skating to become a prototypical #2 center at the NHL level. After the terrific Hayden pick the Hawks stayed in the USA for another high-upside American, taking offensive-minded energy forward Tyler Motte, who offers top-end hands and skating despite his less-than-ideal size.
Blackhawks Grade: B+
The Hawks are confident with their twice-Stanley Cup winning core, now they are working to constantly build around that with the later draft positions afforded by perennially high finishes in the standings. Hartman is a can't-miss power forward, Hayden a second line center with defensive acumen, Motte an offensive spark-plug for a second line. It is impossible to read scouting descriptions of without the words "leader" or "energy" or "heart". The Blackhawks are clearly an organization which knows how to win, and which knows how to draft players who will contribute to that goal.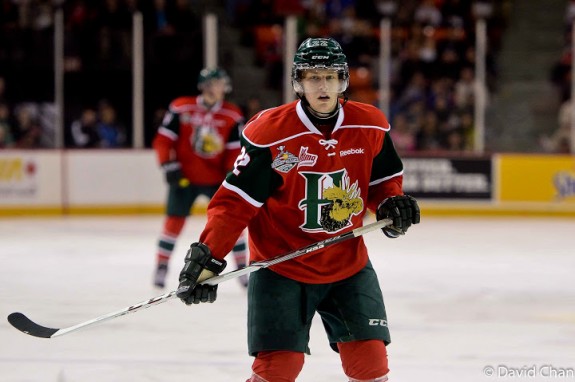 Colorado Avalanche
1st Round: C Nathan MacKinnon (1)
2nd Round: D Chris Bigras (32)
3rd Round: G Spencer Martin (63)
Late Round Sleeper? D Wilhelm Westlund (183)
Most of the noise the Avs made was prior to the draft. By the time Joe Sakic stepped to the podium to announce the first overall pick, everyone in the hockey world knew it would be MacKinnon. And seeing as it is difficult to envision MacKinnon becoming anything less than a franchise-caliber superstar in the NHL, grading the Avalanche draft is not exactly a challenge.
Still, the Avs success did not end there. They addressed their organizational need for defensemen in the second round with the savvy selection of Bigras, a character rearguard with a polished two-way game and terrific mobility and skating ability. In a very deep 2013 draft class, Bigras has the value of a second first-round pick and should be a fixture on the Colorado blueline for many seasons to come.
In the third round, Colorado shored up their goaltending depth with a solid pick of Martin, known for uncommon composure and a sick glove hand. In the later rounds, the Avs went after a cache of talented defensemen, taking McKeen's Scouting favorite Mason Geertson and ISS darling Wilhelm Westlund.
Avalanche Grade: A+
Grading the Avalanche 2013 draft seemed somewhat akin to grading an Albert Einstein physics paper. Just give it the best grade possible and walk away. MacKinnon is destined for mega-stardom, Bigras will be an NHL fixture. Everything else is, as they say, gravy.
Dallas Stars
1st Round: LW/RW Valeri Nichushkin (10)
1st Round: C/RW Jason Dickinson (29)
2nd Round: LW Remi Elie (40)
2nd Round: G Philippe Desrosiers (54)
3rd Round: D Niklas Hansson (68)
Late Round Sleeper? LW Cole Ully (131)
It was a perfect storm which allowed Valeri Nichushkin to fall all the way to Dallas with the #10 pick. Let me say here that Nichushkin, most years, would be the #1 overall pick. He is Rick Nash with more speed and grit, or he is a bigger Taylor Hall. He is a future fixture on the NHL scoring leaderboards, and he is unheralded for his stellar defensive play and overall toughness. Quite simply, as is the case with MacKinnon, Jones and Drouin, I don't see any way for Nichushkin to not become a dominant NHL player.
Dallas could not have dreamed of the clutch Russian sniper falling into their laps, but once he did the 2013 Stars draft became an immediate shining success and new GM Jim Nill could afford to take some chances. C/W Dickinson has not lit it up at the OHL level but has all the tools for an NHL first-liner: size, skating, shot, hockey sense. Elie is a relentless forechecker who plays a playoff-style game and is currently plying his trade in the London Knights' hockey-player factory. Many draft pundits listed Desrosiers as the top goalie available after Fucale in this draft. Though undersized, Hansson is a terrific puck-mover who sees the ice beautifully and can one day play on a second power play unit. Ully put up a very good stat-line for Kamloops of the WHL which would have been better if not for an early-season bout with mono.
Stars Grade: A+
With several picks in a deep draft class, the Stars likely selected several NHL players. Still, even if they only had one pick, the draft would have been a success. Valeri Nichushkin would have gone first overall every draft since John Tavares went first in 2009. Sitting at #10, the Dallas Stars somehow came away with him. The Stars have their first bona fide franchise player since Mike Modano went to them first overall in 1988.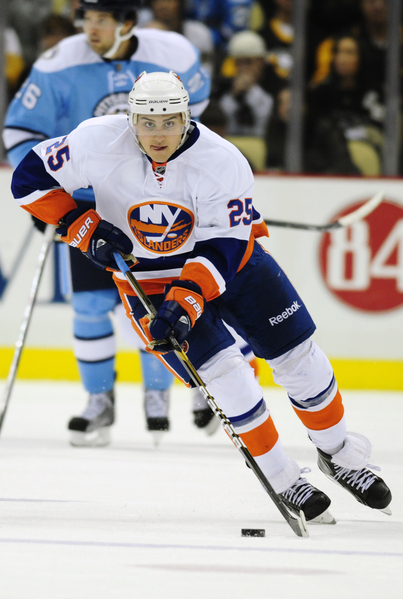 Minnesota Wild
2nd Round: D Gustav Olofsson (46)
3rd Round: RW Kurtis Gabriel (81)
Trade Acquisition: RW Nino Niederreiter
The Wild entered the 2013 NHL entry draft without a first-rounder, but quickly made headlines anyway, trading heart-and-soul banger Cal Clutterbuck and a third rounder for high-upside Swiss power forward, the New York Islanders fifth-overall selection in the 2010 draft who had recently come at odds with franchise management. As likeable a player as Clutterbuck is, Niederreiter was developed poorly on the Island. Brought up too soon as an 18 year old, Niederreiter struggled. Last year, "El Nino" was NHL-ready, but the Islanders frustrated him by leaving him in the AHL all season. With the Wild, the rugged Swiss talent will have a chance to blossom, perhaps on a top line alongside Mikko Koivu and Zach Parise.
In the second round, the Wild took a safe bet in defenseman Olofsson, a Norweigian-born and American-raised defenseman with NHL-caliber size and skating and, though lacking flash, capable and smart with the puck on his stick. With their remaining third-rounder, the Wild selected lovable energy player Gabriel, a kid who is a good bet to one day chug away on an NHL checking line but perhaps a stretch in the third round when he likely would have been available in the fifth.
Wild Grade: C
The Wild went safe with their picks, and should have a couple of role-players in Olofsson and Gabriel. In such a deep draft, however, Minnesota must be a bit disappointed not to come away with any top-end talent. Their grade is improved greatly by the addition of Niederreiter, who with the right coaching and line-mates could bloom into a star power forward.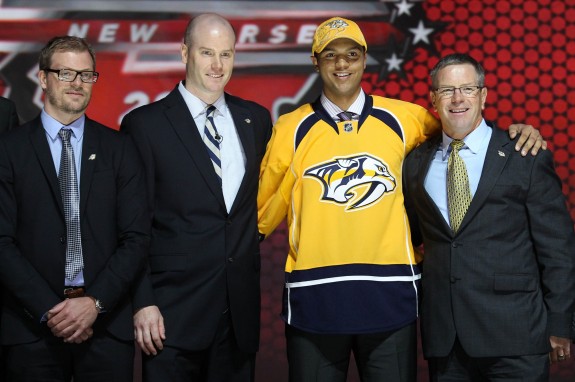 Nashville Predators
1st Round: D Seth Jones (4)
3rd Round: D Jonathan Ismail-Diaby (64)
Late Round Sleeper? D Teemu Kivihalme (140)
Without a doubt, one of the huge stories of the draft was Jones falling to Nashville with the fourth overall pick. TSN's Craig Button has called Popeye Jones' son the most talented defenseman available in the NHL entry draft since Chris Pronger way back in 1993, and anyone who has seen this kid play would have a tough time disagreeing with the former Flames GM. His tool-box is like a juxtaposition of the best the hockey gods have to offer, he's like Shazam on skates. Niedermeyer-like elite skating ability? Check. Pronger-esque size and strength? Check. MacInnis-like lethal shot from the point? Check. Lidstrom-like hockey IQ and intelligence? Check. Scott Stevens-esque leadership ability? Check. Now just factor in the fact that he is going to the Nashville Predators, the far-and-away most competent team in the NHL at developing quality defensemen, and just imagine how good this kid will be in a few years. There may not be enough superlatives in the language.
With no second-round pick available to them, the Preds had to wait until the third round to pull off their next draft-day steal. Ismail-Diaby has the humongous size (6'5″, 225), hockey ability and mean-streak to rival Samuel Morin, who went 11th overall to Philadelphia. Though a bit of a raw project, it is important to reiterate how adept the Nashville system is at developing defensemen. Ismail-Diaby certainly has the physical attributes and competitive streak to one day become a huge and imposing shut-down backliner on the NHL level.
Teemu Kivihalme was an interesting flyer to take in the fifth round. Despite his Finnish name and descent, he was raised in the hockey factory of Minnesota, where his offensive game from the blueline clearly impressed the Predators' scouting staff. Kivihalme may be undersized, but his uncommonly good hands for a rearguard and terrific vision in the offensive zone makes him comparable to a few other notable offensive defensemen taken ahead of him in the 2013 draft, such as Shea Theodore and Jordan Subban.
Predators Grade: A+
Sure, the Predators still need some forwards to put the puck in opposing nets, but their ability to draft and develop defensemen is borderline brilliant. With Jones they may have gotten the best one in decades. I read an article which compared Jones to Jay Bouwmeester and Erik Johnson and remember thinking, "Yeah, if he plays with a blindfold on". Heck, Jones will probably be the superior player to that pair of (very good) NHL defensemen next year. Jones alone is enough for the A+, but I feel Ismail-Diaby and Kivihalme were both shrewd picks, as well. The Predators can clearly count themselves among the NHL draft's big-time winners.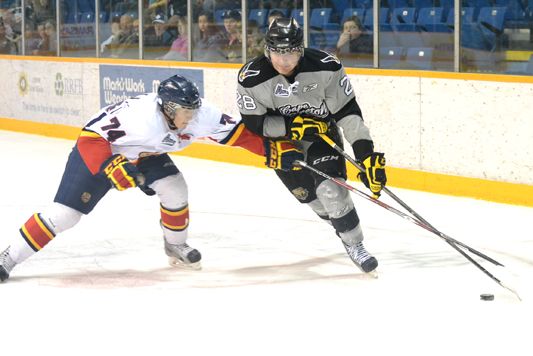 St. Louis Blues
2nd Round: D Tommy Vanelli (47)
2nd Round: LW William Carrier (57)
Late Round Pugilist? Zach Pochiro (112)
I was in the minority, but I had Vanelli as a first round talent. Though he needs to build up strength and is a bit of a raw project, he will have several years to achieve his immense potential at the University of Minnesota. Though reed-thin, he has a projectable frame at 6'2″, and his puck-handling ability is simply terrific. Minority be damned, I would compare his upside as on a par with Mirco Mueller (drafted 18th overall) and superior to Shea Theodore (drafted 26th overall). Though far from the proverbial "sure thing", he is as sure a thing as the last two d-men taken inn the first round and thus a great value midway through the second.
Carrier has NHL size and skating ability and plays a yeoman-like two-way game. Though his offense may not translate into the NHL, he is a solid bet to make it as a checking line stalwart. Pochiro will never light up a scoresheet, but he will light up the, uh… penalty sheet. Though somewhat slimmer than most pugilists, Pochiro will drop the gloves with anyone and give them a run for their money.
Blues Grade: C
We'll have to wait quite awhile to see if I'm right on Vanelli's upside, but I really liked that pick. Still, without a first-rounder, the Blues did not acquire nearly as much talent as most of the teams in their newly assembled Conference B, especially with can't-miss studs Nathan MacKinnon, Seth Jones and Valeri Nichushkin entering the fold.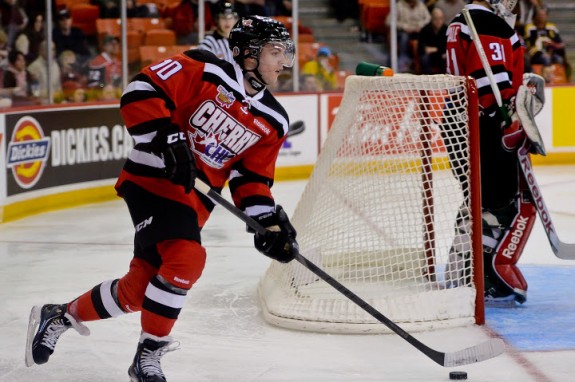 Winnipeg Jets
1st round: D Josh Morrissey (13)
2nd Round: C Nic Petan (43)
2nd Round: G Eric Comrie (59)
3rd Round: C/RW Jimmy Lodge (84)
3rd Round: C J.C. Lipon (91)
Late Round Sleeper? D Jan Kostalek (114)
Trade Acquisition: RW Michael Frolik
The Jets entered the extremely deep 2013 draft with a great many needs throughout their organization, but a great many picks from which to address them. Winnipeg's wealth of picks afforded them the ability to begin the draft by swapping a third and fifth-rounder to the Stanley Cup Champion Blackhawks for a speedy and shifty penalty-killing whiz kid in Michael Frolik, who will help the Jets' special teams right away and may have more offensive upside on the Jets if they are willing to give him ice-time on a scoring unit. Thankfully for Jets fans, the oft-rumored deals of D Dustin Byfuglien and LW Evander Kane never materialized, and the draft began.
Most pundits had GM Kevin Cheveldayoff eyeing high-skill C/LW Max Domi with the 13th overall pick, but when he went off the board one pick prior at #12 to Phoenix, all bets were off. Instead, they selected Morrissey, a smooth-skating offensive sparkplug from the blueline, likened by the ISS to Kris Letang, with the ability to be a one-man breakout from the defensive zone and break-in to the offensive zone. The second-best offensive rearguard to the incomparable Seth Jones in the 2013 draft, Morrissey will need to shore up his defensive game and core strength to succeed in the NHL, but he is certainly an exciting, high-upside pick.
Speaking of upside, the Nic Petan pick was simply outstanding midway through the second round. Sure, he's small (5'7″, 150). he's been small his entire life, and is likely so tired of hearing about it he just gets mad and scores seemingly at will. Petan heard how small he is all year long when he went out and led the league in scoring for the WHL champion Portland Winterhawks with an astounding 120 points in just 71 games. Martin St. Louis was too small, Dino Ciccarelli was too small, Marcel Dionne was too small. Sometime soon those three will be in the NHL Hall of Fame while Petan is lighting up scoresheets all over the league and team after team will wonder how they let him slip to the Winnipeg Jets with the 43rd pick.
The Jets were far from done rocking the draft boards. They filled an organizational need with Eric Comrie at the 59th pick, nearly universally considered the second or third-best goalie available in the draft. With their pair of third-round picks, Winnipeg went high upside twice more: Jimmy Lodge is a sick skill center with the talent to be a first-line scorer when he fills out his somewhat lanky physique,  while J.C. Lipon can score and plays with an edge which belies his 5'11, 180 frame — he tallied 89 points and 115 penalty minutes for Kamloops this past season.
In the fourth round, Cheveldayoff was certainly pleased to see Jan Kostalek fall to him — the solid, two-way blueliner plays a safe and smart game and is a good bet to one day find himself on the Jets' third defense pairing.
Jets Grade: A-
While the Jets did not get a can't-miss franchise player like some other teams in their newly formed conference, they went upside, upside, upside — and with several picks in a deep draft, it will certainly pay off with multiple blue chip picks. Morrissey has rare offensive skills from the blueline, Comrie could one day become a starter in the NHL with the right development, Petan and Lodge both have top-line scoring potential. Factor in the Frolik acquisition and the Jets enjoyed a terrific draft.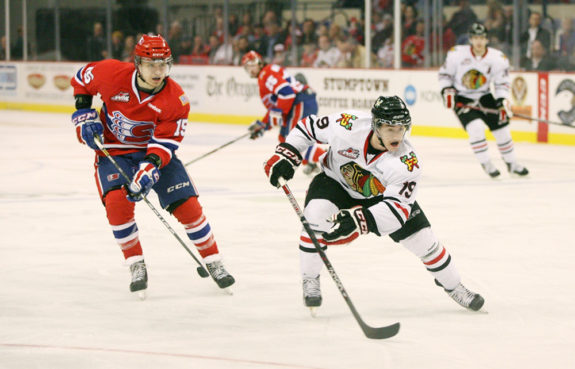 Conference B Awards:
Best Forward: Nathan MacKinnon, Colorado
Best Defenseman: Seth Jones, Nashville
Best Early Value Pick: Valeri Nichushkin, Dallas
Best Mid-Round Value Pick: Nic Petan, Winnipeg
Head-Scratcher Pick: Kurtis Gabriel, Minnesota
Biggest Sleeper: (tie) John Hayden, Chicago
Biggest Sleeper: (tie) Jimmy Lodge, Winnipeg
Holy Crap! How Did This Guy Fall To Us? (tie) Seth Jones, Nashville
Holy Crap! How Did This Guy Fall To Us? (tie) Valeri Nichushkin, Dallas
Plays Hockey Most Like A Wolverine Beating Up A Black Bear: Ryan Hartman, Chicago
Agree? Disagree? Feel free to comment in the allotted section below or hit me up in the Twitter-sphere: @StIves72
You can find my Conference A Draft review by clicking this sentence. The Anaheim fans are already throwing tomatoes at me about it, but I seem to have made a few friends in Alberta.