The reality is this all began on Saturday. When looking back at the 2013 NHL Draft, we decided here to do something a little different. For me personally, I wanted this to be special for all the New Jersey fans that starved for a true chance to showcase the team, the arena, and how we have all recovered from Superstorm Sandy.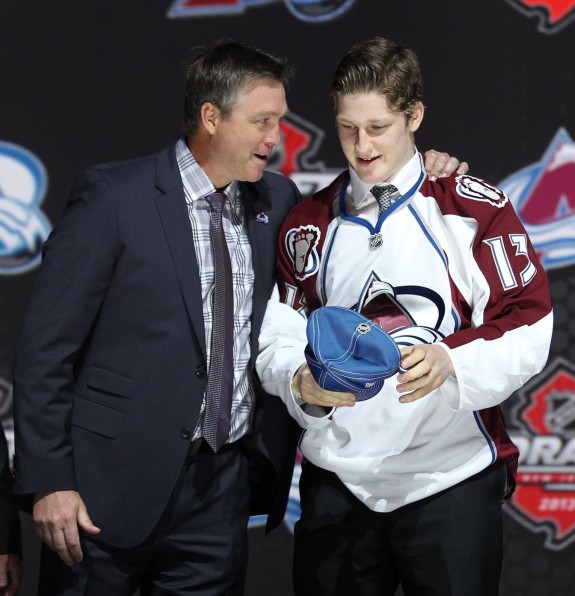 2013 NHL Draft Eve — Saturday June 29th
11am — All aboard from Rahway…..
It was going to be a humid, sticky weekend in Newark. Boarding the train from Rahway. I could feel this was going to be a special experience. The first stop was to pick up those media credentials, thanks to The Hockey Writers, of course. At 11:00, the first thing to do is to check social media — Facebook, twitter, etc. Rumors always tend to circulate as drafts get closer. With the lower cap and coming off a lockout, there was promise of an action packed draft in my home state. News starts to rumble about Nathan Horton but it seemed to calm down as the Prudential Center beckoned on the left side.
11;25am — From Penn Station to The Rock
Hey we made it! It was funny that the sun came out on the way in. The bonus was meeting a few members of the media on the train and then almost plowing through Matt Loughlin. Loughlin is the radio play by play announcer for the New Jersey Devils. We chatted briefly and then the process to pick up credentials. The reality is this does not take long at all. You show an ID or previous credential, they look at your name on a list, take picture, receive credential, and then leave. From there it was on to the tree ceremony. A tree ceremony?
Noon — Cherry Tree Ceremony
On a windy, humid afternoon, the trees had a voice at least for a little while.The important thing was the planting of 100 cherry trees is a very significant event. Matt Loughlin spoke first It was more interesting and scary to hear just how high a percentage of pavement was in Newark itself. Mayor Booker said it best. "This city had an epidemic of asthma and respiratory related diseases in children but with more and more trees, that will become less of a reality". If anyone has seen Branch Brook Park in Newark, they need to once. The cherry blossoms make Washington D.C. look pretty small in comparison. With the NHL's help, Newark is on its way to becoming a healthier city.There are so many to thank here but it was nice to see that Newark definitely has gotten very serious when it comes to environmental efforts. Dignitaries are nice but results are nicer. The Devils, Essex County, Newark, and the NHL all need to be commended here.
1 pm — Prospect Clinic at AmeriHealth Pavilion
The prospect clinic was hit with a double shot from Boston right before the event. When it was revealed that Nathan Horton would be testing free agency and a possibility of Tyler Seguin being traded, twitter simply exploded. Media at ice level were scrambling for their computers and mobile devices faster than Usain Bolt's 100 meter dash time. Speculation began to spiral on twitter and social media but there is a reason why we don't place that here. It turned out to be mostly much ado about nothing at least for now. However, at the time it appeared significant. The actual focus was on the top prospects. Nathan MacKinnon, Jonathan Drouin, Darnell Nurse, and Seth Jones accompanied Devils alumnus and players from the New Jersey Rockets as well as the kids from Hockey In Newark. Media availability would be after the clinic but there were times where you could almost talk to all the prospects beforehand.
The clinic itself was well done. There were some comical moments and I think Darnell Nurse will watch his stick around Ken Daneyko but that is for another day. For these players, a chance to play with these prospects was truly an amazing opportunity. You could see the smiles on these kids and adults alike. I only wish people could experience this once from the media side. The balance between fan and media is often a very delicate one but the fan in me was content to remember the old playing days of myself and just come to a peace of mind. After that, my job was easy and fluid.
Frankly the best part was watching the four prospects skate around, pass, and shoot for about 15-20 minutes. It was probably their first chance to just be out there on the ice and free of all that was going on during draft weekend. It was a moment in time where most everyone had left. Even the media seemed more fixated waiting on interviews. Maybe it was the old hockey player in me but the simplicity of that segment of time was priceless.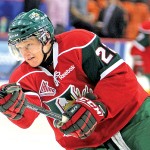 One thing was very clear. Unlike some who are hesitant about the number one pick, Nathan MacKinnon was not. He appeared poised and ready to contribute to Colorado, if he was drafted then. The burden was not weighing heavily on him. Now of course there are the normal "I am ready to contribute" lines that everyone focuses on. However, his mannerisms were much more telling. His interview post clinic had a little of everything. MacKinnon was not afraid to laugh a little while talking about his past, present, and future.
" If I am the number one pick, I am ready to contribute to the Colorado Avalanche. The past few days have been a lot of fun with Seth, Darnell, and Jonathan. Jonathan was such a big part of my growth and would not surprise me if he went in the top three. The coaches and staff at Halifax have been so great. I am excited to play in the NHL. I truly am ready".
That said it all right there. Seth Jones articulated himself very well also. His answers were forthright and frank. You could tell Seth just enjoys the game and how much he has grown. If the speed and attentiveness to the puck are any indication, Jones has that look of being very successful at the next level. There was a feeling that he might fall to Nashville based on his own words.
"Florida really had only talked to me but not in very much depth. Nashville did much the same but they were thorough. Wherever I may go, I am ready to contribute now and play in the NHL."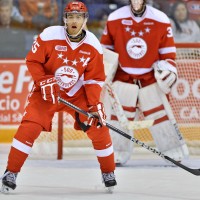 Again, these top prospects were more polished than usual yet that youthful exuberance still could shine. Maybe it was the language barrier but Jonathan Drouin's French interviews were a bit more animated than his English ones. Drouin, ever the playmaker seemed adept at delegating and dishing answers more fluidly in his native French but that was understandable. There was no doubt as to his readiness as far as the NHL. Darnell Nurse was the most raw out of the four prospects but his enthusiasm probably rang the loudest among the writers.
"These little kids have some of the best moves I have ever seen. The kid who did the double toe drag, oh my god, I have never seen kids do that. My experience having an uncle in the spotlight has been an immense help in my development from a professional and personal standpoint. Whether I am ready for the NHL this year or a couple years from now, I am excited to contribute to whichever team that drafts me."
It was a privilege to speak to these four young men. From the transcribed interviews and interactions, so much was learned from the prospects that transcended their play on the ice. Everyone does their job and my job was to interact and talk.
5 pm — NHL Media Welcoming Reception
The Wicked Wolf was actually a very nice place for a NHL Media Reception. Nestled just a few blocks up from the PATH station, it looks like a small bar but actually has more space upon second inspection. Honestly, the prospect of meeting s many good media scribes and personalities was more than worth the commute on the PATH. Someday they will fix that thing. However, the most important aspect of any gathering is the atmosphere. Naturally, there was the exchange of rumors and the latest news from different perspectives. After all, if you mix media with food and alcohol, you have the recipe for the truth to come flying out.
When the lockout ended, everyone knew the 2013 NHL Draft would be near the end of June but the one day draft definitely produced a very nice mix of solid media at this reception. More importantly, information changed hands, interviews were set up, The spread of food again was simple yet well done with the mac and cheese the talk of the media. I would definitely go there again and recommend it as a very good sports bar to go to.
8 pm — Foleys with Marek and Wyshynski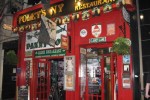 Hey there is nothing like a little cocktail and more right? My evening was spent with my lovely girlfriend, Rachel, along with more media. Add in the M&W boys and it was quite the night. Furthermore, there were quite a few hockey fans along for the ride. It made for the perfect ending to a long Saturday. There was the PATH that was a little steamy but in the end, it all came down to enjoying some food and talking more hockey. The next day would be all set up as again, more information was exchanged. Lastly, it was the third time in the last three weeks I had heard about a New Jersey-Vancouver trade. That would prove to be accurate later on.

By midnight, it was time to depart but the day was plenty full from start to finish. Remember the media never really rests or they never should anyway. Saturday was a huge lesson in that from the train ride early to the train ride home.
As for Sunday, that was definitely a very different story. 
Simply a hockey writer who is a jack of all trades. No question is too big or too small and in fantasy hockey there is no such thing as a stupid question. Now a proud, accredited member of the FSWA. I am also a New Jersey Devils lead writer, prospects writer, humorist, and so much more. You can find me on Twitter at @ChrisWasselDFS