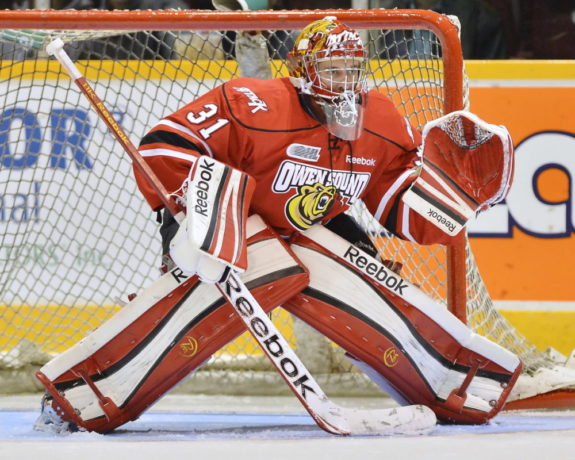 Goaltenders are a unique brand. They have their own routines, superstitions, and of course, one has to be a little different to voluntarily stand in front of 100-mph rubber missiles.
And that's exactly why they're some of the most valuable players on the ice. Without at least one capable netminder, teams struggle to succeed.
That's the case with individual hockey clubs. When it comes to national teams, the story's a little different. All candidates are able; just not all of them are the right choice.
It's a situation Hockey Canada has been faced with before, and it'll surely happen again. But at the moment, there's a conundrum that needs to be solved, and currently, no one's too sure how to address it.
The 2013 World Junior Hockey Championship is nearing, and Canada is without a lock for a starting goalie. There are plenty of options, but nobody's standing out as the for-sure number-one man.
As TSN Hockey Insider Bob McKenzie says, "goaltending is the biggest Canadian question mark."
Malcolm Subban is the favourite to be the Canadian's starting 'tender. The Belleville Bulls (OHL) star has been labeled as a lock for the team since his performance in the Canada-Russia Series this past summer.
A first-round selection of the Boston Bruins in 2012, Subban is seen as one of the most athletic goalies in major junior hockey. He was the second of his position to be selected in his NHL Draft, but Subban has the potential to be a stabilizing force in the crease for Canada.
Jordan Binnington of the Owen Sound Attack (OHL) is considered the secondary-favourite to make the final team. He's a St. Louis Blues prospect who's been on fire for the Attack in recent weeks. Binnington is coming off a three-game shutout streak that saw him not allow a goal for over 180 minutes of playing time.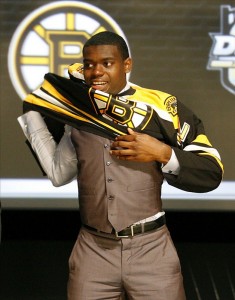 Then there's Laurent Brossoit of the Edmonton Oil Kings (WHL). The Calgary Flames draft pick backstopped his team to a berth in the Memorial Cup last season, and has been stellar in the last month-and-a-half.
"He's got the right make up," said Derek Laxdal, Brossoit's coach with the Oil Kings. "He's got size, which you can't teach, he's strong, which you can't teach, and he's athletic. He's also got a great technical game and great puck-handling skills."
Brossoit certainly sounds like a player who could represent Canada in the World Juniors. Even more impressive is the fact he didn't actually start playing hockey until he was 10.
From the Quebec Major Junior Hockey League, Etienne Marcoux was leading among netminders who would have been given an opportunity to make the final 22-man roster. Marcoux is an undrafted player who has no National Hockey League-affiliation. But he does have his picture on the front of a cereal box. However, Marcoux dislocated his shoulder in a recent game, and did not receive an invitation to selection camp due to his injury.
Jake Paterson of the Saginaw Spirit is also one of the four goaltenders invited to participate in Canada's selection camp. Paterson made a name for himself near the end of last season, when he was dynamite in the Spirit's playoff stretch and two rounds of the postseason.
Hockey Canada and head scout Kevin Prendergast have no problem admitting that Subban is the goaltender with the edge on the number-one spot. Subban has shown his value in past international tournaments for Canada, and while he's likely to be given the opportunity again, he'll be pushed hard by Binnington, Brossoit, and Paterson.
Reality is that all four of these goaltenders are some of the best young netminders in the country. All of them are starters with their clubs, and they're used to playing with pressure on them.
From a young age, goaltenders are taught how to handle expectations. Being the last man back is no easy task, especially when facing a dynamic sniper from a rival country on a breakaway.
All four of the invited netminders are more than capable of representing their country proudly. And of course, all of them desire the honour greatly.
Selection camp will be intense, and every player there knows it. But for the goaltenders, they'll face incredibly tough tests in both camp and the tournament itself.
First up is making the team.
_____________________________________________