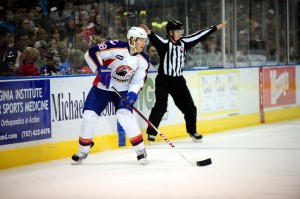 The first time Jay Rosehill donned an Admirals' uniform in 2007, he instantly became a fan favorite for his bone shattering hits and his ability to skirmish with the tough guys in the AHL. Fast forward five years and Jay Rosehill is back in Norfolk with a new coach, new affiliation, and a slightly different role then what Norfolk fans are used to seeing him play.
Rosehill's journey with the Tampa Bay organization ended halfway through the 2008-2009 season as he was dealt to the Toronto Maple Leafs for future considerations.  The Olds, Alberta native parted ways with the Admirals after amassing 415 penalty minutes while skating in 123 games.
Jay eventually found his way to the NHL with the Maple Leafs during the 2009-2010 campaign playing in 15 games while recording 67 minutes in penalties.  Rosehill also scored his first NHL goal against the Pittsburg Penguins that year beating Marc-Andre Fleury.  His 1st NHL goal puck is in the hands of his father which was framed by the Maple Leafs organization according to Rosehill.
The 7th round selection of the Tampa Bay Lightning in 2003 hurtled back and forth between the Maple Leafs and their AHL Club the Toronto Marlies for the next two years playing in 72 NHL career games and serving 198 minutes in penalties while notching 5 points.  Any hockey fan will tell you that Jay Rosehill is no stranger to fisticuffs and Rosehill noted Shawn Thornton, Milan Lucic, and Brian McGrattan as some of his toughest opponents in the NHL.
During the off-season Rosehill became an unrestricted free agent and need a place to play.  "We talked to Anaheim throughout the summer about doing a contract and when it started to get into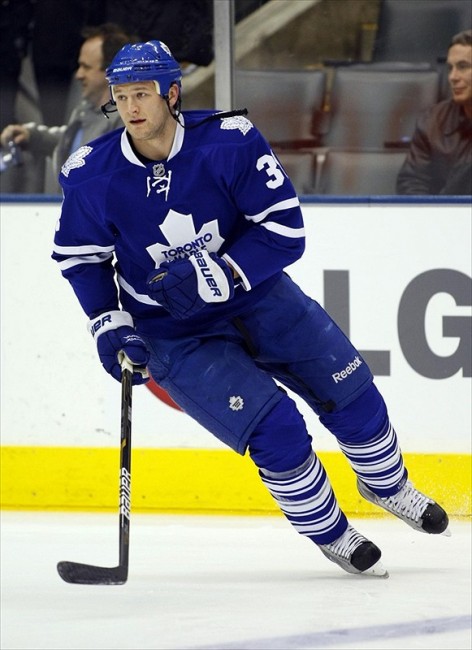 October I just wanted a place which would be a good fit.  They came back to us and said to go down to Norfolk and see how it goes." stated Rosehill who signed a Professional Tryout Contract on October 3rd.  Rosehill's P.T.O. is valid for 25 games.
This go-around with Norfolk, Rosehill's role will be different then what Admirals fans are used to seeing. The 27-year-old commented on his role stating, "Being an energy player, I definitely need to stay out of the penalty box this year.  I've kind of gotten myself into a little bit of trouble that way and I don't plan on doing that anymore and not hurting my team that way.  Other than that I just get on the fore-check and be really physical and stick up for my teammates if I have too."
Norfolk Head Coach Trent Yawney shared his thoughts on the veteran saying, "He adds a presence to our team. When he hits people, he hurts people."  Norfolk's head bench boss also chirped about how Jay has been through the wars of pro hockey and can share his experiences with younger players like Admirals' greenhorn Chris Wagner.  Wagner gave his two cents about Rosehill saying, "Great guy! He is one of the funnier guys on the team. Really nice to the rookies too and definitely helps me build my confidence up."
Rosehill comes back to Norfolk many years wiser and is willing to extend an olive branch to his younger teammates that need guidance along the way.  "The things you may not know when you come into the league or the things you have to find out by trial and error.  If you see a guy learning that way, you can give him a head start and telling him how it works down here."  stated Rosehill.  He went on to say , "If I can take some of the weight off the younger guys shoulders and let them relax and just let them play their game, I think it'll help out.
The southpaw shared his thoughts on how it felt being back in Norfolk declaring, "It feels good to be back and we have a great fan-base considering we are one of the more Southern teams. There are a lot of positives about playing here. The fans are hungry for more wins and we are hoping to bring that back. It's great to come back.  It brings back a lot of memories and makes me feel a little bit older."
As Norfolk plugs along this season, remember what veterans like Jay Rosehill do for this team.  Whether it is standing up for a fallen comrade, attempting to calm a rookie down after a bad shift, or even helping younger players off the ice when it comes to living arrangements, it's all in a day's work for veteran player, Jay Rosehill.
Follow Warren on Twitter @bauerhockeydude