With yet another unsuccessful Oilers season coming to a close, the focus of Edmonton management and its fans now shifts toward the annual NHL Entry Draft.
Unfortunately, the entry draft has become one of, if not the most exciting time of the years for the Oilers organization and its fans, whose playoff drought has now reached an embarrassing nine seasons since the Oilers last reached the post season and Stanley Cup Final in 2005-06.
In their current place in the standings, 29th overall, the Oilers retain 13.5% odds of winning the draft lottery.
Let's face it, despite the Connor McDavid versus Jack Eichel build up surrounding this years draft, it is a virtual guarantee that McDavid will be selected first overall.
That being said, if the Oilers are fortunate enough to win the draft lottery, there is no question that they will select McDavid first overall. However, it is more likely than not that the Oilers will pick second, or even third overall in the entry draft.
We all know about Connor McDavid, so lets take a quick look at the three top NHL prospects who could be selected by the Oilers at the 2015 NHL Entry Draft.
Jack Eichel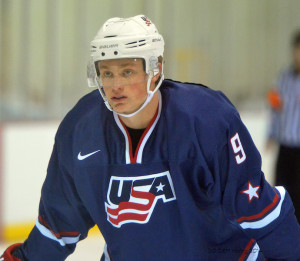 If the Oilers choose to select the best player available at their position in the draft, Edmonton will select center Jack Eichel.
Eichel is currently playing his first season in the NCAA with the Boston University Terriers and is a truly dynamic player.
At 6 foot 2, 195 pounds, Eichel has already developed NHL size at the age of 18.
Despite playing against older, typically stronger competition, Eichel has used his speed, shot and strength to dominate in his freshman season. In 34 games this season, Eichel has scored 20 goals and added 41 assists for a total of 61 points.
On top of his success this season with BU, Eichel was also named captain of the USA World Junior Championship team. Take a look at Eichel's highlights from his time at the World Juniors.
Personally, he reminds me of a young Joe Pavelski or even Zach Parise with his break neck speed and ability to take the puck strong to the net.
As many have pointed out, both Connor McDavid and Jack Eichel are on an entirely different level than the rest of the class in terms of their abilities as hockey players.
The Oilers would certainly be fortunate to land Eichel, whose presence would give Edmonton one of the strongest groups of young centermen in the NHL, as Eichel alongside Ryan Nugent-Hopkins and Leon Draisiatl would be a dangerous trio once fully developed.
Noah Hanifin
If the Oilers drop down one spot in the draft order, or if they simply understand their need to add a number one, franchise defenseman, Noah Hanifin would be a fantastic selection.
A freshman in the NCAA, Hanifin plays for Boston College, a rival of Eichel's Boston University.
In his first season playing against much older and stronger men, Hanifin has excelled, scoring five goals and adding 18 assists through 35 games for a total of 23 points.
A young 18 year old, Hanifin also played in the World Junior Championship for team USA alongside Jack Eichel and did not look out of place.
Get to know Noah Hanifin:
https://www.youtube.com/watch?v=o6p22Ljz_fI
If the Oilers were to select Hanifin, it would give Edmonton a legitimate number one NHL defenseman, a player which they have long lacked.
Similar to Eichel, Hanifin already posses incredible size at his young age, standing 6 foot 3 and weighing 190 pounds.
A solid defender who can also contribute offensively, Hanifin would instantly strengthen the Oilers' developing defense core which already features top prospect Darnell Nurse and current Oiler Oscar Klefbom.
Dylan Strome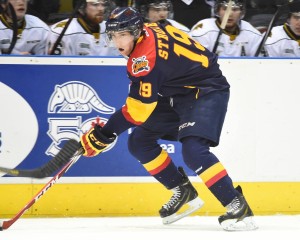 If the Oilers were to fall in the draft, perhaps to third or fourth overall depending on their position in the standings come end of the season, Erie Otters centre Dylan Strome would also be a great selection.
Many are quick to assume that Strome's strong play this season is a direct result of teammate Connor McDavid's exceptional play.
However, when McDavid broke his hand in a fight during a November 11th game against the Mississauga Steelheads, Strome was quick to pick up the slack in Connor's absence, scoring 29 points in 20 games, including 14 goals.
At 6 foot 3 and 190 pounds, like Eichel and Hanifin, Strome has NHL ready size at the age of 18.
Now in his second season in the OHL, Strome has accumulated 116 points in 64 games, good for second in league scoring.
Like Eichel, Strome would be a solid addition to a young, yet increasingly skilled core of Oiler centermen. However, don't expect Edmonton to pass on either Eichel or Hanifin to select Strome, as chances are the Oilers would only chose Strome if they fell in the draft order.
Have your say! Who do you think the Oilers will draft in the first round? Comment below!
Brett Slawson is a four-year veteran of The Hockey Writers who covers the Toronto Maple Leafs, NHL prospects, and the OHL's Mississauga Steelheads.
Contact Brett on Twitter @brettslawson92, or by email at brett_slawson@hotmail.com.