Even if you're the New York Rangers, who have won 33 of their past 43 games (yes, you read that correctly), you are going to have the occasional game where you are not at your best.
Scraping By Against Florida
What sets great teams apart from good teams, though, is that they can win a decent share of those types of games. That's what the Rangers did on Sunday against the Florida Panthers, who threw everything they had at the NHL's top team but still came up short.
The Blueshirts have been so consistent since early December that efforts like Sunday's seem very odd when they happen. But all of the ingredients for a letdown performance were there: it was New York's first home game following a stellar road trip that saw them go 4-0-1, it was the second game of a back-to-back, and it was against a hungry team in the Panthers that is desperate to make the playoffs.
The Rangers very nearly succumbed to these factors that were going against them, as they were outplayed for much of the contest. The second period was particularly bad, as the visitors outshot them 20-12, a margin that doesn't even do justice to just how dominant the Panthers were. The graph below (from hockeystats.ca) better illustrates how Florida dominated puck possession pretty much from the midway point of the first period.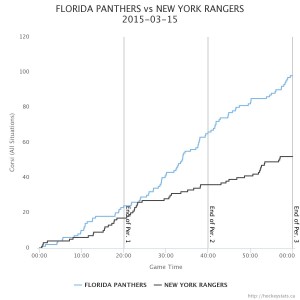 Talbot Stands Tall Once Again
The reason the Rangers were able to fend off the Panthers is pretty simple: Cam Talbot. The goaltender continued his recent stretch of stellar play in the absence of star netminder Henrik Lundqvist. He recorded 38 saves in all, allowing only a third-period goal to Florida's Brandon Pirri. His performance added to his gaudy stats as of late.
#Rangers Talbot's last six games: 5-0-1, 1.00 GAA, .967 SV%, 1 SO. Talbot's last ten games: 8-1-1, 1.49 GAA, .951 SV%, 2 SO

— Seth Rothman (@RothmanHockey) March 16, 2015
While James Sheppard and Matt Hunwick each scored their first goals as Rangers, it was Talbot who gave the team a way to win, as he has been doing for the past couple of weeks. Sunday, however, was an extreme example, but the conclusion for New York was the same: victory. They seem to be able to win in any manner possible and even when they are not at their best — a sign of a special team. Rangers head coach Alain Vigneault summarized the win against Florida pretty simply.
AV: "One player (Cam Talbot) gave us a chance to get two points and we were fortuntate he was on top of his game." — Andrew Gross (@AGrossRecord) March 16, 2015
The Rangers, though, know two things. One is that playing like they did against Florida consistently will not spell success in the playoffs. The other, however, is that they are better than that (you don't get to the top of the standings playing like that all season) so all that really matters right now is the two points. Dan Boyle, who was honored prior to the game for reaching the 1,000 career games milestone in Detroit a couple of weeks ago, understood that perspective.
Boyle: "We'd like to be better than what we were tonight, but at a month from now, no one's going to remember how we won this game."

— Seth Rothman (@RothmanHockey) March 16, 2015
At the end of the day, it was just another example of the Rangers finding a way to win.
Tom has been with The Hockey Writers for almost four years. After previously covering the LA Kings and the New York Rangers, Tom now covers the Anaheim Ducks.
While in college at Clemson University, the 2016 college football national champions, Tom wrote game summaries and feature articles for the official team website of the Greenville Drive, a Class-A minor-league baseball team and affiliate of the Boston Red Sox. Tom is happy to be able to continue to fulfill his passions for sports and writing with THW.