At a recent Wednesday hockey press conference, University of North Dakota head coach Dave Hakstol was asked to describe the play of senior forward Connor Gaarder. The head coach replied, "He's like a dog on a bone."
For those wondering, in hockey terms, that's a compliment. Gaarder and his line mates Brendan O'Donnell and Austin Poganski have been very difficult to play against, they're a relentless trio. I know it sounds cliché, but they're like a pack of rabid dogs chasing down a rabbit. They're a momentum line that comes at you hard and fast. They cause havoc and mayhem. Needless to say, they're no fun to play against, either.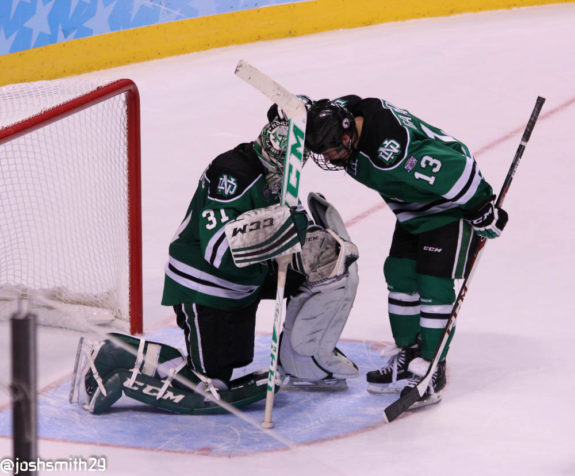 Gaarder is well-respected by his teammates and his efforts don't go unnoticed.
"We played Triple AAA (together) when we were young," senior defenseman Nick Mattson said. "He's always been the same. He's worked for everything his whole life. It just seems that guys like that work so hard get rewarded. It's fun to see. Nobody deserves it more than him. He's been heart and soul for us all four years."
All Gaarder does is score big-time goals
On Saturday night, at the 18:38 mark of the third period, the game was tied at 2-2, and then it happened. There was a turnover at center ice, Gaarder and Poganski entered the Tigers zone with speed and skated past the defenders. Gaarder receives  a cross-ice pass from Poganski and backhands the puck past Tigers goalie Tyler Marble to give UND a 3-2 lead. That lead would hold up and UND would win the game 3-2.
The gritty forward from Edina, Minnesota had done it again. Gaarder's goal sent the Ralph into a frenzy.
Coming into Saturday's game against the Tigers, Gaarder had scored four game-winning goals. With his eighth goal of the season, Gaarder would add another game-winning goal to his total. Gaarder is on a hot streak and has scored five goals in the last six games, four of which have been game-winning goals. Gaarder's five game-winning goals also leads UND.
After the game, Gaarder was all smiles. "I don't know, we're heading to Minneapolis I guess," Gaarder said.
Breaking down the game-winning goal, "I don't really know who chipped it up the wall, but Pogo saucered one over there and I chipped one in there," Gaarder said, "I was a little surprised at first. It was a great feeling, and the crowd went wild."
@Gordini27 I think it only counts as a selfie if you take it but close to a #PenroseSelfie pic.twitter.com/278oHKZD2S

— Garrett Wedan (@gwedan) March 15, 2015
Coach Hakstol wasn't surprised that Gaarder was the one that scored the game-winning goal.
"I wouldn't be surprised if it was anybody with this group," Hakstol said. That's the way it's been. Somebody else has stepped up at different times. That line was pretty good tonight. They set momentum for us – they had good shifts and then they made the play at the end of the game."
Hakstol continued, "I think he's just been a real good player for us. That line has been real good for us over the long haul. It's playoff type hockey, look at the types of goals that are scored. You've got to go to the dirty areas, rebounds or tips and plays like tonight. It was a speed play at the crease. Those are the kinds of goals that are scored at playoff time. Those are the kind of goals that Connor is scoring.
UND will go as far as their role players take them. There's one thing for certain, the UND hockey team is happy to have a player like Connor Gaarder on their team.
Eric is a 1996, 1999 graduate of the University of North Dakota. Eric covers the University of North Dakota Hockey and Division I college hockey. Eric is the Contributing Editor for Inside Hockey.