NHL free agency has become an annual phenomenon, with fans of the game, and those working within it, provided the opportunity to see each and every NHL franchise make significant changes to their existing rosters come July 1st in hopes of improving in the upcoming season.
For every NHL team, there are a number of components which must come together in perfect harmony in order to find true, consistent success. While all clubs have different levels of skill and depth up front, as well as defending from their blue-lines, no NHL team can be truly successful without a sustained level of ability from their goaltenders.
Related:
Fortunately for most NHL teams, they already retain a true number-one goaltender, as well as a quality backup who can step up when needed.
However, not all are so lucky, as there are a number of NHL clubs which remain in search of goaltending upgrades.
One manner in which to upgrade one's respective crease situation is via free agency, and July 1st provides each an every team the opportunity to sign players of unrestricted status, or without contracts, for the upcoming season.
Yet, in 2016, any team looking for goaltending help should likely look to other options, such as the annual NHL Draft or various trade options, as the free agent market for NHL goaltenders is extremely weak.
James Reimer
2015-16 Teams: Toronto Maple Leafs, San Jose Sharks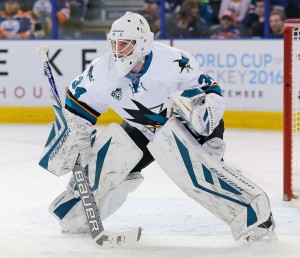 Come July 1st, 2016, James Reimer will stand as the best goaltending option available in free agency.
Drafted by the Toronto Maple Leafs in the fourth round, 99th overall in the 2006 NHL Draft, Reimer had spent his entire career within Toronto's organization before he was traded to the San Jose Sharks in February of 2016.
It was in the 2015-16 season in which Reimer enjoyed the greatest success of his career, posting a sparkling .922 SVP and 2.33 GAA, over 40 games played, the first time he did so in his six-year NHL career to date.
As a result, as a pending UFA, many throughout the NHL believe Reimer is in line for a major pay raise, with a number of NHL executives queried by Darren Dreger insisting Reimer could receive a contract in the five to seven-year range worth an approximate $4.5-5.5 Million per season.
To put this in perspective, Reimer's last contract with the Leafs was a two-year deal worth $4.6 Million, carrying an annual cap hit of $2.3 Million. In the two years time following his contract extension, Reimer played in just 75 games, good for 34th best in that time, while his SVP of .915% and GAA of 2.68 ranked 30th and 42nd best League-wide.
So, this begs the question of whether Reimer is truly worthy of such a monumental contract extension, as those working within the NHL insist.
Given his career to date, Reimer is best served as a backup goaltender. However, given the need for goaltending throughout the NHL, chances are a franchise will take a chance on Reimer as their starter – which team in particular that will be however remains to be seen.
Cam Ward
2015-16 Team: Carolina Hurricanes
Signed: Carolina Hurricanes – Two Years, $3.35 Million AAV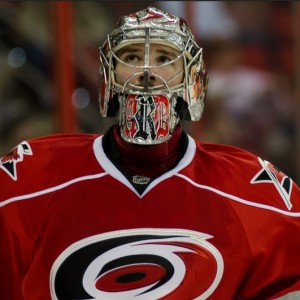 A former Conn Smythe Trophy winner, Cam Ward has spent his entire 11 year NHL career with the Carolina Hurricanes, yet it is a tenure which could come to an end in 2016-17.
A veteran of over 500 NHL games, Ward has long been the Hurricanes' starting goaltender and has become well-known for his consistent play, yet also, in recent years, his tendency to suffer injuries. Since the 2012-13 season, Ward has played in just 150 games, while starting 145, totals which are roughly 70 games off the pace of typical NHL starters such as Tuukka Rask and Jonathan Quick.
With that being said, the current goaltending situation in Carolina is less than ideal. Eddie Lack has two years remaining on his current contract, yet is coming off of a fairly pedestrian year with the Hurricanes in 2015-16, while top goaltending prospect Alex Nedeljkovic will need seasoning in the pro ranks before reaching the NHL.
So, the odds of Ward returning to Carolina are fairly vague. Ward's latest contract was a six-year, $37.8 Million deal signed back in 2009, and carried a significant $6.3 Million annual cap hit.
If Ward wishes to return to the 'Canes, he'll likely have to take a hometown discount to do so, with any deal likely coming in the one to two-year range. Otherwise, Ward can look to free agency, where there will certainly be a number of potential suitors in line for the 2016 World Champion.
Ben Scrivens
2015-16 Team: Montreal Canadiens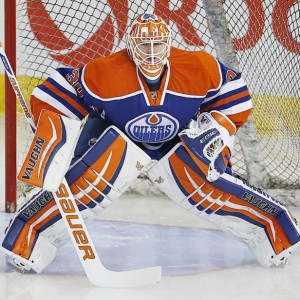 The 2015-16 season was a tough one for Ben Scrivens.
After giving his all for the Oilers in the 2014-15 season, including a historic 59-save shutout against the San Jose Sharks, Scrivens found himself in the American Hockey League to begin the 2015-16 campaign.
He started the season with the Oilers' AHL affiliate in Bakersfield, playing in 10 games before being traded to the Montreal Canadiens in a deal which brought Zack Kassian to Edmonton. Once in Montreal, Scrivens appeared in 15 games at the NHL level, posting a 5-8 record alongside a .906% SVP. He also took to the ice for a single game with the St. Johns Icecaps, the Canadiens' AHL squad.
The conclusion of the 2015-16 season also saw Scrivens' two-year, $4.6 Million contract he signed while a member of the Edmonton Oilers come to an end. The deal carried a $2.3 Million annual cap hit, and was a major reason why the Oilers worked out a trade for the net minder rather than bury him in the minors.
Best defined as an NHL backup with the proven ability to step into the full-time role when the need arises, Scrivens will likely sign a two-way deal which will see him fill the role of an NHL backup, or even an AHL starter. In terms of finances, signing a contract in the ballpark of $2.3 Million, like he did in 2014, is extremely unlikely.
Chad Johnson
2015-16 Team: Buffalo Sabres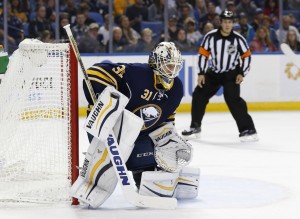 Although he isn't the most popular free agent name in 2016, Chad Johnson could certainly be one of the smartest signings come the 2016-17 NHL season.
While he was somewhat overlooked playing in Buffalo, Johnson had an incredible year with the Sabres. When Robin Lehner went down with an injury early in the season, Johnson stepped in and was nothing short of spectacular, recording a winning record of 22-16 despite the Sabres' season long struggles.
In all, Johnson wound up producing a .920% SVP and GAA of just 2.36 over 45 games played, and was by far Buffalo's best goaltender in the 2015-16 season. His cap hit of $2.3 Million for the season was by far a bargain considering his on-ice performance.
As a 29 year-old free agent however, Johnson finds himself in a difficult situation. Although he had a tremendous season and proved his abilities as a starting NHL goaltender, many teams will likely see Johnson as a risky signing, given the fact that he has not been able to consistently perform at such a high level throughout his NHL career.
While he will surely be looking to land a multi-year contract, and deservedly so, in reality Johnson will likely receive strictly one-year offers from prospective NHL clubs. However, the team which breaks from the mould and offers Johnson a significant contract could make one of the most underrated signings of the off-season.
Carter Hutton
2015-16 Team: Nashville Predators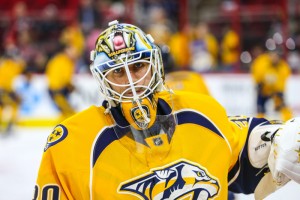 Although a healthy Pekka Rinne forced Carter Hutton to ride the pine more than he would have liked, Hutton still had a great season and enjoyed the best campaign of his career statistically.
In 17 regular season games, Hutton recorded a 2.33 GAA and sparkling .918% SVP to go alongside a 7-5 record with two shutouts.
At the age of 30, Hutton, like Johnson, is in a difficult place in his career. As a proven backup, yet unproven starting NHL goaltender, Hutton will surely be looking to sign with a team which can provide him with more playing time, yet whether a given club would be willing to place their faith in Hutton as their number-one is a different question all together.
Coming off of a two-year, $1.45 Million contract signed with the Predators in 2014, Hutton will surely be looking for a raise in his next contract, although it will likely be of the one-year variety. The NHL team which bids on, and secures Hutton's services will need to see proven success from the long-time backup before placing their faith in him as their starting netminder.