It's a magical time of the year.
July 1st, 2016 marks the beginning of the free agency period in the NHL, the first day in which a player without a contract, of unrestricted status in particular, can officially sign with a new League franchise.
Every year, the top UFAs available endure a frantic and intensive period in which they tour the home cities of prospective clubs, field numerous contract offers, and are eventually faced with the difficult task of making a singular, decisive decision regarding the long-term future of both themselves, as well as their  settled, often young families.
Related:
With that being said, the 2016 free agent class is incredibly broad, with players ranging in skill range and experience all vying for highly competitive roster spots in the NHL.
For some, multi-year deals of incredible financial significance are virtually guaranteed. For others, one-year contracts of lesser monetary value will be the norm until said players can prove their ability and consistency at hockey's highest level.
In looking to the blue-line in particular, there will be a broad range of defenders available come July 1st. While some are hardy veterans looking to prolong their careers, others are relatively young and seek the stability and security of long-term contracts.
As follows are a number of the best pending free agent defenders available, their recent contract status', interesting information and most importantly, what they could be looking for come the beginning of free agency.
Dan Hamhuis
2015-16 Team: Vancouver Canucks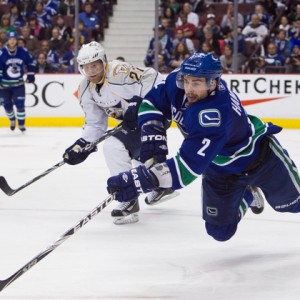 One of, if not the hottest commodity available at the 2016 NHL Trade Deadline, Dan Hamhuis wound up staying in Vancouver despite his pending unrestricted free agency status. Since, his six-year, $27 Million contract with the Vancouver Canucks has come to an end. At an incredible value of $4.5 Million per season, Hamhuis' previous deal, signed on July 1st of 2010, was a true steal for Vancouver, whose blue-line was bolstered by Hamhuis' stingy defensive presence for the past 389 games.
However, come the 2016-17 season, the Canucks' defence-core could in fact have a glaring absence if Hamhuis inks a deal in free agency with a new NHL club.
Born in Smithers, British Columbia, Hamhuis nixed a number of trades at the 2016 Trade Deadline using his full no trade clause, moves which would have taken to the Central or East Coast of the League, in particular Chicago.
With that being said, it is, and has been for some time, clear that Hamhuis would like to stay close to home, which at the moment is based in Vancouver. Further, given the fact that he reportedly turned down more money in the 2010 off-season to sign with Vancouver, it appears as though the veteran defender may once again be willing to take a home-town discount in order to avoid moving his family, which has now been based in Vancouver for the past six years.
Therefore, in a new deal, Hamhuis will likely command a four to five-year contract of similar financial range. Based on his play, he deserves it.
Keith Yandle
Signed: Florida Panthers – 7 Years, $6.35 Million AAV
2015-16 Team: New York Rangers
The New York Rangers gave up a ton to acquire Keith Yandle back in March of 2015. A ton.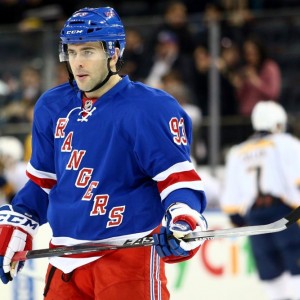 The Rangers shipped out Anthony Duclair, John Moore, a second round pick – which the Coyotes dealt to the Flames for two additional picks, as well as New York's first round selection in the 2016 NHL Draft, which will fall at 20th overall in what is a very deep draft class.
So, it's a good thing that Yandle was fairly successful in his short-stint with the Rangers to date, recording 58 points, seven of which goals, over his 103 games played from 2014-16. However, whether the Rangers will re-sign Yandle, or whether he will become a free agent come July 1st will be decided largely by New York's impending 2015-16 cap situation.
Heading into the 2016 off-season, the Rangers have just over $15 Million in projected cap space. Yet, with Chris Kreider, J.T Miller, Kevin Hayes and Dylan McIlrath all pending restricted free agents, the Rangers will have little wiggle room when it comes to signing Yandle, especially so if he demands a contract similar to his previous deal, which paid him an average of $5.3 Million over the past five seasons.
In reality, Yandle will be paid for what he truly is, and that is a solid, top-4 NHL defender. While many have pointed fingers at his apparently poor defensive game, Yandle's CF% of 50.3% in 2015-16 was nearly 3% higher than his fellow Rangers defenders, indicating his above average possession game.
Will Yandle receive greater than $5.3 Million in 2016-17? Probably. What will be interesting to see is just how many years prospective NHL teams will be willing to offer Yandle, who, nearing 30 years of age, will be entering into the 10th NHL season of his career.
Jason Demers
2015-16 Team: Dallas Stars
Dealt to the Dallas Stars in 2014, Jason Demers has been a steady, sound defender in Texas for the past two seasons, and stands poised to cash in on his consistent play.
Signed to a two-year, $6.8 Million contract extension while a member of the San Jose Sharks, Demers hauled in an average of $3.4 Million per year dating back to the 2014-15 season, prior to the completion of his current deal.
Best utilized as a third, or even second pairing defender, Demers' stable defending, emphasized by a CF%  of roughly 55% over the past two seasons, have made him one of the more valuable defenders on the open market this off-season, although he is quite obviously not the most popular name available.
In terms of a new deal, it's truly difficult to determine what type of contract Demers' services could warrant. Other than his entry-level deal, Demers has never signed a contract or extension greater than two-years of length in his NHL career to date. However, this off-season could see Demers seek the sense of security a deal of longer term would provide.
Roman Polak
2015-16 Teams: Toronto Maple Leafs, San Jose Sharks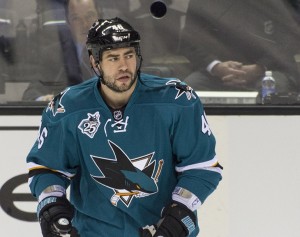 Roman Polak spent parts of eight NHL seasons with the Blues in St. Louis, yet for the longest time was slotted in behind numerous defenders of arguably higher ability and potential. As such, Polak, and his widely respected rugged style of game, failed to average 20 minutes of ice time per night or more.
This all changed when he was traded to the Toronto Maple Leafs.
With the Leafs is where Polak was finally provided an opportunity to be a top-pairing defender, and for the most part, he did not disappoint, helping to lead a struggling young team with his inspired and devoted play.
It was his high level of play which, as a pending UFA, allowed the Leafs to trade Polak to the San Jose Sharks as part of a deal which saw the Leafs collect two highly coveted second round picks. In the Playoffs, Polak, although in a different role, was once again excellent, only further increasing his value as a free agent come July 1st.
Polak's most recent deal came with the Blues and was of the five-year variety, paying him an annual salary of $2.75 Million. The $13.75 Million deal was the largest of his career.
However, at just 30 years old, Polak plays a game much more mature than his age, and would certainly be a worthwhile singing, even if the contract was of similar length and financial commitment. He isn't the flashiest player on the ice, but Polak is instead simply a solid, stay at home and responsible defender who can relied upon to eat major minutes in multiple situations.
Kris Russell
2015-16 Teams: Calgary Flames, Dallas Stars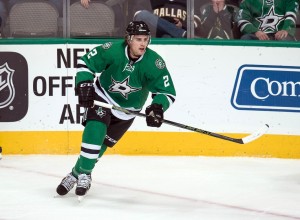 Traded to the Dallas Stars at the Trade Deadline, Kris Russell has long been lauded for his innate shot blocking abilities. As such, he has garnered a perception as one of the top defensive defenders in the NHL today.
However, when taking a closer look at Russell's advanced stats, it becomes clear that he may not be as valuable as recently thought, despite remaining a quality, bottom pairing defender.
The major statistic which is often looked at, especially when it comes to defensemen is CF%, or Corsi For Percentage. Essentially, it combines all shot attempts for, for a given player, and subtracts the combined shot attempts which said player allows against while he is on the ice. A 50% rating would mean while a player is on the ice, he and his team create just as many shot attempts for as they allow against.
With that being said, Russell, who is supposedly a top-notch defensive defender, carried a CF% of just 45% in the 2015-16 season. In comparison to his team, Russell's CF% was -5.9% lower than the average, while he generated just a 44.1% rating alone in his final 51 games with the Flames.
So this begs the question of what Russell could command as a free agent defensemen. His most recent contract was a two-year deal worth $5.2 Million, or $2.6 Million annually. Surely Russell will be looking for a multi-year contract, yet his salary will likely be dependant on the role a prospective team sees him playing within their organization. Russell remains a solid defender in the NHL, yet his future likely lies as a second or third pairing d-man.
Brian Campbell
2015-16 Team: Florida Panthers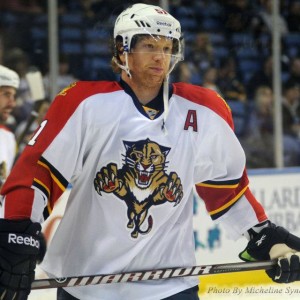 A 16 year veteran of the NHL, Brian Campbell has long been one of the more underrated defensemen in the League, likely due to the massive $7.1 Million cap hit he has carried for the past eight seasons.
When Campbell signed his massive eight-year contract with the Chicago Blackhawks, he was just 29 years old and fresh off of the most offensively productive season of his career, in which he recorded an impressive 62 points and was a consistently sound defensive player.
However, that contract officially came to an end when the Florida Panthers were eliminated from the 2016 Stanley Cup Playoffs, making Campbell a free agent for the first time in nearly a decade.
Although Campbell would surely be willing to re-sign in Florida, he will in all likelihood test the free agent market in order to determine his true value in the NHL as a 37 year-old. Regardless of the team, Campbell will undoubtedly be in line for a massive pay-cut in 2016-17, as a deal in the $4-5 Million range would appear more likely for the veteran, who is nearing the end of a highly successful career.
Campbell's return to Florida was made more unlikely when the Panthers traded for, then signed Yandle to a seven-year contract, effectively replacing Campbell's role on the team.
Luke Schenn
2015-16 Teams: Philadelphia Flyers, Los Angeles Kings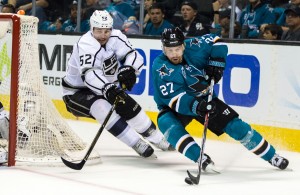 Luke Schenn will be a truly interesting signing when free agency begins on July 1st.
After playing a highly impressive physical brand of hockey when he broke into the League with the Toronto Maple Leafs as a fifth overall draft pick, Schenn's game began to regress at a consistent pace, during which time he was traded to the Philadelphia Flyers where he received progressively lesser playing time on an annual basis.
In 2015-16, after beginning the season with the Flyers, Schenn was once again dealt, this time to the Los Angeles Kings alongside Vincent Lecavalier.
However, it was with the Kings where Schenn began to once again find him game, where he was better utilized in a third line pairing role. With the Kings, Schenn averaged nearly 18 minutes in ice time per game, and saw his possession statistics, in particular his CF%, rise dramatically, coming in at a career high 53.2%, approximately 5% higher than his previous career totals.
At just 26 years of age, Schenn is still a young defender, and is poised to play plenty of hockey in his future. The only question which needs to be answered is with which team Schenn's NHL hockey career will continue, and at what cost.
Schenn's most recent contract was a five-year, $18 Million deal which he signed while still a member of the Maple Leafs, and was his first contract coming out of his three-year entry-level contract. With that being said, considering Schenn's inconsistent play, it is highly unlikely that he will receive a contract that will pay him an annual salary of $3.6 Million come July 1st.
In reality, a one-year deal in the $1-1.5 Million range could be a perfect fit for Schenn with a new club. However, Schenn will have to prove he can be a consistent, rugged defender over a full 82 game season if he hopes to garner a multi-year deal in the near future.