This is a collaboration between Vegas Golden Knights writers Thomas Conroy and Shayna Goldman analyzing the 2017 Expansion Draft by division. The Metropolitan Division preview can be found here.
On June 17, all teams submitted their protection and exposed player lists to the National Hockey League and Vegas Golden Knights. Those lists were released to the public on June 18. The Golden Knights have until June 20 to make their selections from each of the 30 franchises. Then on June 21, those selections will be made public and the Golden Knights will have some semblance of a roster – although that roster could transform after the expansion draft concludes, between the 2017 NHL Entry Draft, trades, and free agency.
2017 Expansion Draft Rules
Along with requirements for teams in how they protect and expose players, there is a structure that general manager George McPhee and the Golden Knights must abide by when making their selections, including selecting at least 14 forwards, nine defensemen, and three goaltenders. This leaves the Golden Knights with four other selections that can be of any position.
Additionally, the Golden Knights are limited to selecting a total of 10 free agents – any combination of pending unrestricted and restricted free agents. Also, the cumulative cap hit of all the players selected in the expansion draft must fall between $43.8 million (60% of the 2016-17 salary cap) and $73 million (the 2016-17 cap ceiling). Even if the Golden Knights select an unfavorable contract in the draft, they may not buy out a contract they selected for at least one year.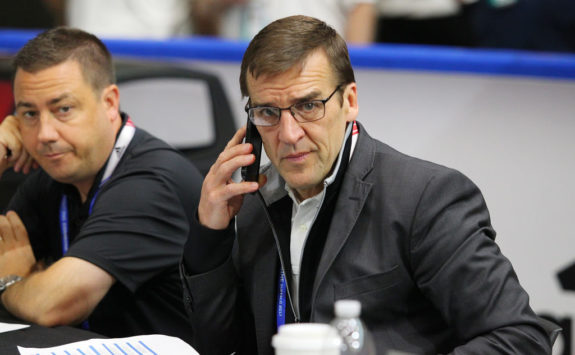 Some teams were constrained by the protection and exposure requirements of the expansion draft, which is why some valuable players were left exposed. Leaving certain assets exposed though does not necessarily mean that a team will lose those players, as McPhee could be bribed with assets such as draft picks and prospects to not select a certain player. On the other hand, McPhee could also be bribed to draft a particular player – such as the Chicago Blackhawks dangling Trevor Van Riemsdyk on the condition that they acquire Marcus Kruger as well.
McPhee has also made it clear that he is willing to trade exposed players to a team for more than the players they left available. For example, the Golden Knights could select Matt Dumba from the Minnesota Wild in the draft and flip him to a team for a protected player after the draft concludes.
Carolina Hurricanes
The Hurricanes left four goaltenders exposed to the Golden Knights – two of which are at the NHL level with more substantial contracts: Cam Ward ($3.3 million cap hit) and Eddie Lack ($2.75 million cap hit). Since the Golden Knights have expressed their willingness to absorb more significant contracts for additional assets, like draft picks and prospects, the Hurricanes have a chance to unload one of their netminders. However, there are a number of other goaltenders available to the Golden Knights during the draft, so they may find themselves at a disadvantage despite the assets they have to offer Vegas.
If not for one of their goaltenders, the Golden Knights definitely could consider Lee Stempniak or Joakim Nordstrom. Nordstrom is a 25-year-old left-winger signed for one more season at a cap hit of $1.275 million. Stempniak, on the other hand, is a veteran that has proven valuable around the league. Even when Stempniak is on a team that is not destined for the playoffs, he's been traded at the deadline for draft picks, making him a low-risk, high-reward option for the Golden Knights.
Predicted Player Selected: Lee Stempniak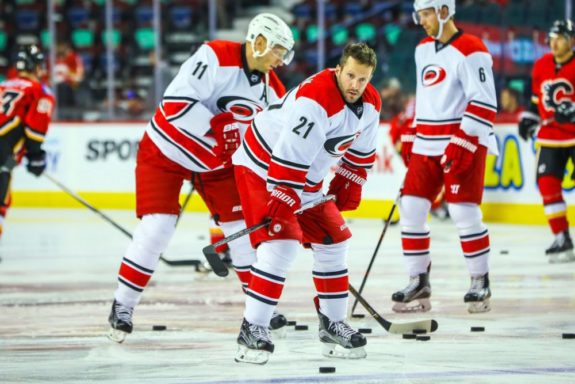 Columbus Blue Jackets
It has been reported that the Blue Jackets have come to an agreement with the Golden Knights to ensure that Josh Anderson and Joonas Korpisalo are not selected in the draft. According to this report, either Ryan Murray, Matt Calvert, or William Karlsson will be drafted by the Golden Knights. In addition, the Golden Knights will receive the 24th overall pick in the 2017 NHL Entry Draft, as well as a prospect. The contract of David Clarkson (who is on long-term injured reserve) may also be a part of this trade.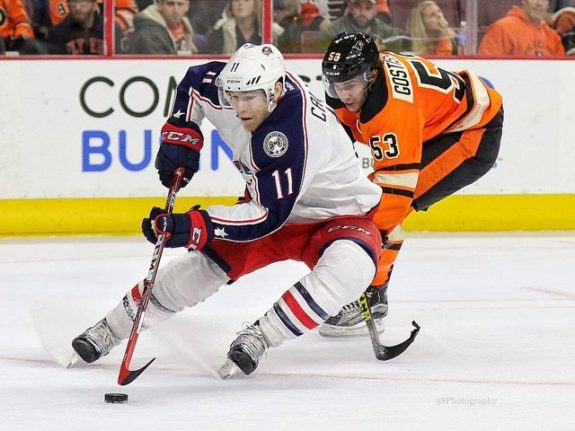 Since Ryan Murray was in fact protected by the Blue Jackets, if the rest of the report is accurate, then the Golden Knights will be picking between 24-year-old center Karlsson or 27-year-old winger Calvert.
Predicted Player Selected: William Karlsson
New Jersey Devils
Of the exposed Devils, Mike Cammalleri is the most established option. Last season, in his 61 regular-season games in New Jersey, he earned 31 points. Over his career, he has been a fairly consistent scorer who could provide scoring depth and a veteran presence for the budding franchise. However, he has a cap hit of $5 million for each of the next two seasons and is already 35 years old, which may be a deterrent. On the other hand, that $5-million cap hit will contribute to the minimum cumulative salary they must gain through the draft.
The Devils have few signed players past the minimum exposed requirements and none of their free agent options are particularly enticing for the Golden Knights to use one of their 10 free agent slots.
Predicted Player Selected: Mike Cammalleri
New York Islanders
The New York Islanders were the only team that opted to protect five defensemen (Johnny Boychuk, Travis Hamonic, Nick Leddy, Adam Pelech, and Ryan Pulock). By prioritizing their defensemen, they left forwards like Josh Bailey, Brock Nelson, and Ryan Strome exposed.
According to reports, the Islanders bribed the Golden Knights with a first-round draft pick to not select one of their exposed forwards. This leaves McPhee to choose between their exposed defensemen and goaltenders.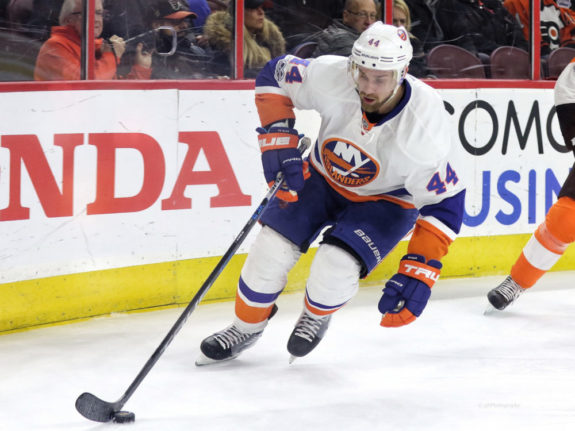 Calvin de Haan and Thomas Hickey are the best options available to the Golden Knights on the blue line. If the Golden Knights have an opening to take a free agent, de Haan, a steady second-pair defenseman, seems like the more likely option as he is two years younger and had a lower cap hit this season. Hickey, 28, has a cap hit of $2.2 million that expires in a season and he may be looking for even more of a raise than what de Haan would expect from his $1.966 cap hit.
Predicted Player Selected: Calvin de Haan
New York Rangers
Antti Raanta has been generating interest from a number of teams, possibly including the Golden Knights. Selecting Raanta would help Vegas fill the quota for goaltenders as a low-risk, inexpensive netminder that should be able to transition into a starting goaltender. While there may be a number of more established goaltenders available, Raanta could be selected either as a trade chip after the draft for teams like the Winnipeg Jets that have expressed interest in him, or to be a part of the Golden Knights.
Michael Grabner is another low-risk option from the Rangers. Signed for another season at a cap hit of $1.65 million, he can provide an element of speed, secondary scoring, and two-way play to the Golden Knights' roster. This season, he rebounded to have the second-best season scoring season of his career (40 points – 27 goals and 13 assists, all of which were at even strength and shorthanded).
Oscar Lindberg is another valuable player the Golden Knights could select. The only issue with selecting the 25-year-old forward is that he is a restricted free agent. While he will likely re-sign at a reasonable price (coming off of a one-year, $650,000 contract), he would limit Vegas to nine other free agent options.
Predicted Player Selected: Antti Raanta
Philadelphia Flyers
Two options from the Philadelphia Flyers are Jordan Weal and Michael Raffl. Weal is an unrestricted free agent, which means that the Golden Knights are unlikely to draft him if they do not come to an agreement during their exclusive free agency period. The Flyers may have left him exposed because they have an arrangement worked out with him to re-sign him after the draft.
Another option is Raffl. The 28-year-old is signed through 2020 with a cap hit of $2.35 million and could provide depth scoring to the Golden Knights. His latest season may not have been the most encouraging (11 points in 52 games), but he hit the 30-point mark the season prior when he played the full 82-game season.
Predicted Player Selected: Michael Raffl
Pittsburgh Penguins
The most obvious selection from the Penguins is goaltender Marc-Andre Fleury, who waived his no-movement clause for the expansion draft. The key with the no-movement clauses with the expansion draft is that even if the Golden Knights acquire Fleury, they would have to adhere to his clause. So if they wanted Fleury for their team, then he is the player to select. If they wanted to select him to use as trade bait, they would have to convince him to waive his clause to be sent elsewhere.
If not Fleury, since there are other options for a starting goaltender like Raanta and Petr Mrazek of the Detroit Red Wings, the Golden Knights could look at the forward options of the Penguins. The Penguins only protected four forwards, leaving a number of players available to Vegas. Carl Hagelin and Bryan Rust stick out the most. Hagelin, the speedy left-winger who was a critical part of the Penguins' 2016 Stanley Cup victory, comes with a $4-million cap hit through 2019. Rust, on the other hand, is only 25 years old with a low cap hit of $640,000 for next season.
Predicted Player Selected: Bryan Rust
Washington Capitals
As general manager of the Capitals for 17 seasons, McPhee has the most connections with the Washington Capitals. Philip Grubauer, the 25-year-old backup goaltender who was originally drafted by McPhee, is one option for the Golden Knights to pursue. The pending restricted free agent's $750,000 contract is expiring this offseason. But since there are so many goaltenders available to the Golden Knights, they may prefer to look elsewhere on the Capitals.
While McPhee may have drafted defenseman Karl Alzner, the most attractive option for the Golden Knights to acquire is Nate Schmidt. The 25-year-old pending restricted free agent had a cap hit of $812,500 and would be an inexpensive, skilled option on defense for the Golden Knights.
The Golden Knights could be swayed by the leading unrestricted free agents available – like Kevin Shattenkirk and T.J. Oshie – if they can sign them in their exclusive free agency period.
Predicted Player Selected: Nate Schmidt