Now that the Detroit Red Wings have revealed their protected list, we can begin to speculate which player will be chosen by the Vegas Golden Knights. Unless there's a leak, we can expect to learn who that player is on Wednesday night when the rest of the selections are announced during the annual NHL Awards Show.
In case you missed the announcement, here are the 11 players the Red Wings chose to protect for the expansion draft:
F – Henrik Zetterberg
F – Frans Nielsen
F – Anthony Mantha
F – Andreas Athanasiou
F – Tomas Tatar
F – Gustav Nyquist
F – Justin Abdelkader
D – Danny DeKeyser
D – Mike Green
D – Nick Jensen
G – Jimmy Howard
With those players safe, which Red Wings are most likely to wind up elsewhere next season as a result of the expansion draft? Here are the five likeliest candidates:
5. C – Tomas Nosek
Considering his strong performance in this year's AHL playoffs, Tomas Nosek could be a dark horse candidate to be selected by the Golden Knights. The Czech forward is only slated to make $612,500 next season, so he represents a cheap option up front. Nosek plays in all situations and would be a solid energy player on Vegas' fourth line.
Probability of being selected: 2 percent
4. G – Jared Coreau
If the Golden Knights opt for a cheap backup option, Jared Coreau would be a good fit. The other top, inexpensive backups available—Joonas Korpisalo, Philipp Grubauer, and Antti Raanta—all come from teams with quality skaters available. There's not much for Vegas to choose from among Detroit's skaters, so the Calder Cup champion might be the best option that comes with a low cap hit.
Probability of being selected: 10 percent
3. C – Riley Sheahan
Yes, Vegas' management team is fully aware Riley Sheahan only scored two goals last season, both of which came in the season finale. They also know Sheahan scored 13 and 14 goals the past two seasons. He can play on both the power play and penalty kill, plus win faceoffs. On top of that, Sheahan has a large frame and is only 25 years old. Playing in the Golden Knights' bottom-six would suit him well.
Probability of being selected: 20 percent
2. D – Xavier Ouellet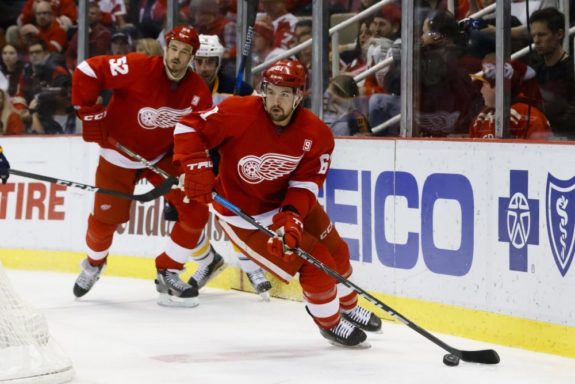 One player fans were up in arms about the Red Wings not protecting is Xavier Ouellet. The young defenseman would be a great addition to the Golden Knights' blue line. He may not have strong offensive instincts or the quickest foot speed, but Ouellet is a smart hockey player who can play in all situations. He'd slot in well as Vegas' third-pairing left defenseman.
Probability of being selected: 25 percent
1. G – Petr Mrazek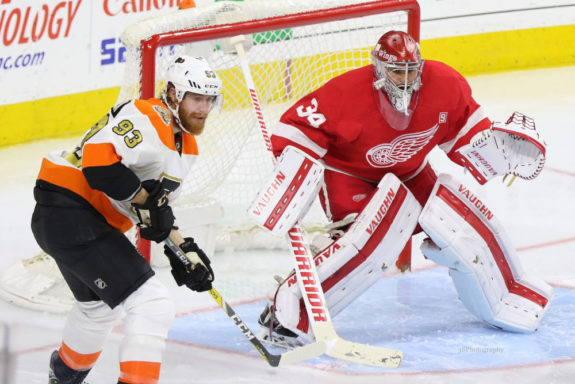 With Jimmy Howard protected, Petr Mrazek's fate is hanging in the balance. It's entirely plausible Vegas selects Mrazek to become Marc-Andre Fleury's backup or flips the Czech goalie to a third team for a solid return. Mrazek is only 25 and still has a high ceiling in the NHL.
Much to Red Wings fans' dismay, Vegas would be wise to select the netminder – he's one of the best goalies available. If I were George McPhee, Mrazek would be snapped up in a heartbeat regardless of rumored attitude issues.
Probability of being selected: 40 percent
Which Detroit Red Wings player do you think will be selected in the Vegas Golden Knights expansion draft? Comment below with your pick.