The Anaheim Ducks do not have a first-round draft pick in the upcoming 2017 NHL Entry Draft, having dealt it away to the Dallas Stars in exchange for winger Patrick Eaves. The Ducks do, however, have two picks in the second round.
In that round, the Ducks hold the 50th and 60th overall picks, barring any trades. Disclaimer: It's possible that Anaheim's apparent deal with the Vegas Golden Knights ahead of the expansion draft could involve one or both of these picks, but for now, with the entry draft mere days away, it's worth looking at the Ducks' options assuming they keep at least one of these selections.
The general consensus has been that this is a weak draft class, but that seems to be somewhat of a misconception only because it does not feature a generational talent like a Connor McDavid, an Auston Matthews, or a Patrik Laine. It does, however, feature a deep pool of very good players. As such, the Ducks, even without a first-rounder, can still set their eyes on stocking their prospect cupboard with some talented players.
Here are five players the Ducks should consider grabbing with either of their second-round picks, if they are available.
1. Joni Ikonen, C/RW, Frolunda HC J20 (SuperElit)
After about the middle of the first round, projected picks become pretty hazy. Ikonen, a Finnish forward who played for Frolunda in Sweden's SuperElit junior league, could jump into the first round but could also be available as a mid-late second round pick. The Hockey Writers' draft profile on Ikonen projects him as the latter. In THW's mock draft, the same author of this article selected him at No. 50 overall while playing the role of Anaheim's general manager.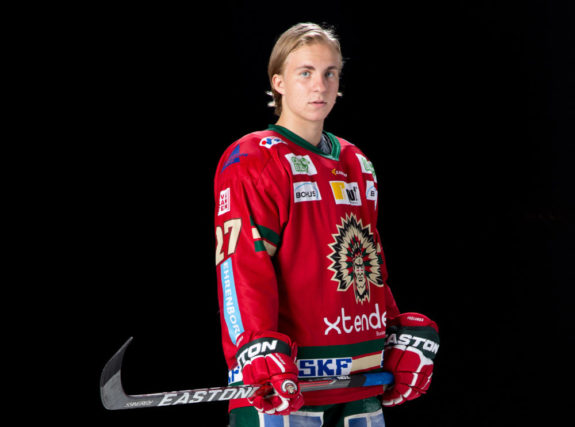 Ikonen is not big (5-foot-11, 176 pounds), but he is a highly-skilled player whose shot, skating, and puck-handling ability make him a natural goal scorer. His 22 goals (and 19 assists) in 40 games for Frolunda this past season are a testament to that. He is right-handed and primarily plays center, though he can also play on the right wing.
Ikonen has also shined in international competition, which included a hat trick for Finland against Latvia in the IIHF U18 World Championship tournament back in April.
Aside from his lack of size, which is too often held against smaller players, Ikonen could stand to improve his decision-making and know when to look for the proper pass versus trying to skate with the puck through an entire team. In any event, his offensive upside gives him top-six forward potential. Assuming he is available in the second round, the Ducks would be smart to go for a moderate-risk but high-reward player like Ikonen.
2. Max Gildon, LHD, U.S. National Development Team
Gildon is different from Ikonen in several areas. First, he is a defenseman. Second, he shoots left-handed. In addition, one of his definitive traits is his size.
Gildon, who is from Plano, Texas—not exactly known for being a hockey hotbed—is 6-foot-3 and weighs 187 pounds. Already, he is pretty mature physically, and that weight can be expected to increase as the 18-year-old continues to fill out.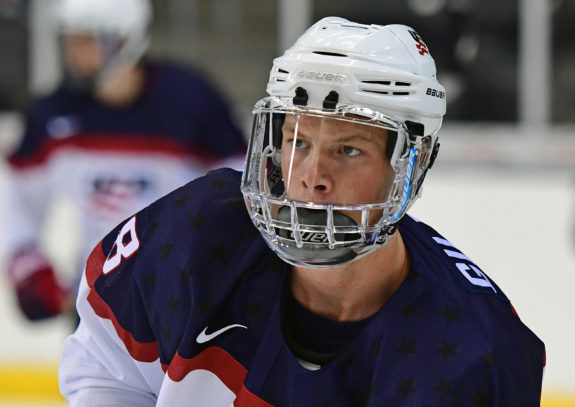 Headed to the University of New Hampshire later this year, Gildon will bring with him a solid, defensive-oriented style of play. He plays an intelligent game and is not overly flashy, but he is a strong skater and has shown signs of latent offensive ability. He posted 33 points (11 goals, 22 assists) in 63 games for the US National U18 Team in 2016-17. With a solid grounding already in his own end, perhaps Gildon will increasingly tap into his offensive game as he continues to develop.
If that happens, whoever drafts him could have a big, strong-skating two-way defenseman down the road. Such players don't exactly grow on trees. Gildon will likely be taken in the second or even the third round, but the Ducks should keep an eye on him—particularly with respect to their late second-round pick at No. 60—to potentially add to their strong crop of young defensemen. The same writer mentioned previously also took Gildon at No. 60 overall in THW's mock draft.
3. Stelio Mattheos, C, Brandon Wheat Kings (WHL)
Mattheos, a native of Winnipeg, is a well-rounded and physically mature (6-foot-1, 194 pounds) right-handed center who plays with a noticeable drive and fire in his belly. He was often overshadowed by his Wheat Kings teammate, Nolan Patrick, who could very well be the first overall pick in the draft. Injuries suffered by Patrick, however, had a silver-lining type of effect for Mattheos, who saw an increased role as a result.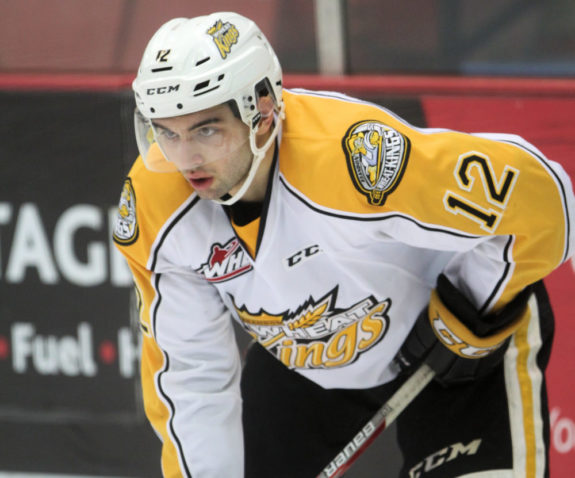 Mattheos tallied 61 points (26 goals, 35 assists) in 69 games for Brandon. His strong all-around game makes him more of a safe draft choice. That's not to suggest that he cannot turn into an above-average second-line center in the NHL, though. He is not elite at any one thing but is instead very good at just about everything. Those qualities and his hard-working nature suggest that he might be well-suited to continue to grow into new roles and thrive when given new challenges and opportunities. At worst, Mattheos should still be a strong third or fourth-line center.
The Ducks probably will not hit a home run if they select Mattheos, as he is not quite the gamble with high-reward potential that a player like Ikonen is. Mattheos, though, would give the Ducks a reliable player who could be thrust into a variety of situations. At No. 50 or No. 60, he could be available as a solid option.
4. Robin Salo, LHD, Vaasan Sport (Liiga)
Salo is a player the Ducks should have firmly in their consideration set if he's still on the board at No. 50, depending of course on who else is available. He could very well end up being a late first-round or early second-round pick. That said, based on opinions that are all over the map (Craig Button of TSN has him ranked at No. 100 while The Hockey Writers have him at No. 20), it's possible he will still be available at No. 50.
Salo, a left-shooting Finnish blueliner from Finland's top professional league, Liiga, brings strong all-around defensive skills to the table. His size is about average if not slightly below (6 feet, 185 pounds), but he leverages his excellent positional game to shut down opponents' top offensive players. He is reliable in his own end and can move the puck up ice quickly with good exit passes.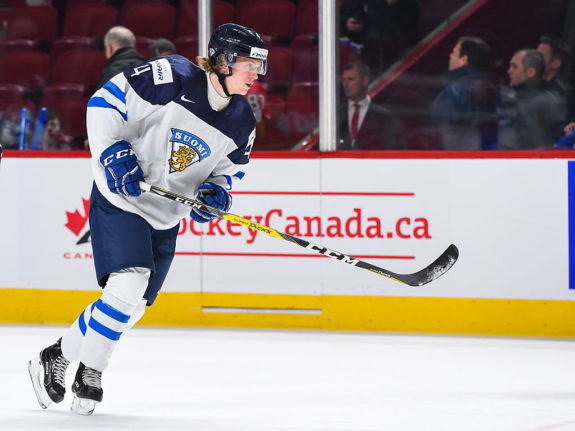 Offense is not what Salo is known for, as he notched just one goal in 54 games for Vaasan this past season. However, he was thrust into a top-pair shutdown role in his rookie season in Finland's top league. That and the fact that he did pick up 15 assists point to the idea that there might be some untapped offensive potential, much like the aforementioned Gildon. Former NHL defenseman Sami Salo was known for his booming shot from the point. This Salo also possesses a very hard shot. If he can just hone his accuracy, that could be a huge weapon for him for years to come.
What Salo lacks in elite skating ability he makes up for with good positioning and smart, quick decision-making. Again like Gildon, if he can augment his offensive abilities, he could have a very productive NHL career. In any event, the Ducks should keep their eye on him if he is still available as their first pick approaches.
5. Ostap Safin, LW, HC Sparta Praha U20 (Czech Extraliga)
For pretty much the entire Ryan Getzlaf-Corey Perry era, the Ducks have been known as a big, heavy team that also blends requisite skill into that mix. Safin, at 6-foot-4 and 198 pounds, has the frame to add to that characterization if the Ducks are able and willing to select him.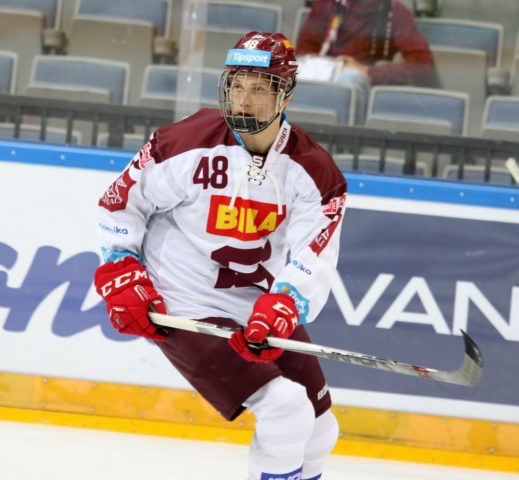 A left winger who can also play center, Safin is adept at using his size to shield defenders off the puck. The 18-year-old should be able to add a bit more weight and become an even more imposing physical force.
Besides his size, though, the lefty-shooting Safin possesses several other strengths that help him play a solid 200-foot game. He has soft hands and is a speedy skater, particularly for someone of his stature. He is also not reluctant to shoot the puck and does so with accuracy. While creativity isn't Safin's calling card, his straight-ahead game would be a natural fit with the Ducks' style.
The Czech forward totaled 18 points (six goals, 12 assists) in 24 games at the U20 level in the Czech Republic's Extraliga. In six playoff games, he stepped up with nine points (four goals, five assists).
Safin is a microcosm of the depth of this year's draft. The Hockey Writers projects him to be a mid-late second-round pick, but he nevertheless has a lot of potential and could become a top-six forward. The depth of the 2017 draft beyond the first round gives the Ducks a plethora of options.
Click here to check out THW's full prospect profiles for these players and many others, as well as our comprehensive guide to the 2017 NHL Entry Draft.
Tom has been with The Hockey Writers for almost four years. After previously covering the LA Kings and the New York Rangers, Tom now covers the Anaheim Ducks.
While in college at Clemson University, the 2016 college football national champions, Tom wrote game summaries and feature articles for the official team website of the Greenville Drive, a Class-A minor-league baseball team and affiliate of the Boston Red Sox. Tom is happy to be able to continue to fulfill his passions for sports and writing with THW.