Welcome to the second round of our 2017 THW Writer's Mock Draft. If you missed any of our first round, you can see the first 15 picks here and picks 16-31 here.
There were lots of surprises in the first round. Some players dropped that teams took advantage of. What do we have in store for round two? In case you need it, here's the Central Scouting rankings.
As with most mocks, it's nearly impossible to pin down exactly what will happen. Our hope is to give you insight about why a player went in a certain spot. Without further ado, we have 31 picks to get through. Let's begin.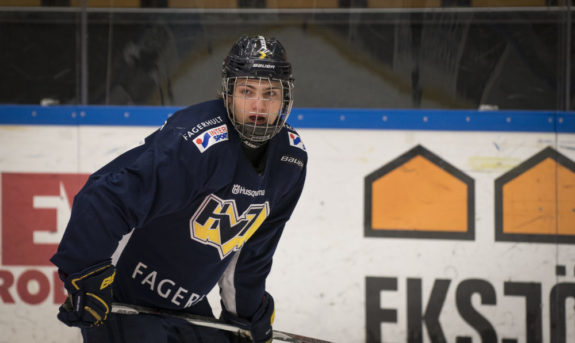 THW Writer's Mock Draft – Round 2
32. Colorado – Sebastian Noble – Erik Brannstrom (D) HV-71
With the first pick of the second round, the Avalanche were extremely pleased to grab Erik Brannstrom from HV71 of the SEL. Shocked that Brannstrom didn't get picked late first round, it was just meant to be. Brannstrom can quarterback a power play very well, possesses amazing speed, and has a great hockey IQ. He is also a lefty, something very much needed in Denver to play next to either Tyson Barrie or Erik Johnson in the near future. He has all the tools to become a franchise defenseman. Avalanche fans, rejoice!
33. Vancouver – Trevor Beggs – Conor Timmins (D) Sault Ste. Marie Greyhounds
Conor Timmins wasn't on anyone's draft radar at the beginning of the season, but he exploded for 61 points in 67 games with the Sault Ste. Marie Greyhounds in 2016-17. Scouts weren't just happy with his offensive outburst, as they praised his all around physicality and defensive game. Like most prospects, he has some filling out to do, but he still projects as a solid top-four defenceman. Many mock drafts have him going late in the first round, so the Canucks are happy to snag him with the 33rd overall pick.
34. Vegas – David Petrie – Maxime Comtois (LW) Victoriaville Tigres
A year ago, Maxime Comtois was projected to be a top-15 pick but a sub-par offensive year had him slip down the draft rankings. Vegas gets good value securing Comtois in the 2nd round. He is a strong two-way power forward that can play both the power play and penalty kill for Vegas as a potential 2nd line winger.
35. Arizona – Jeff Langridge – Matthew Strome (LW) Hamilton Bulldogs
Defenseman? Check. Goaltender? Check. With those picks made, time to get some offensive skill. While he has his detractors, Strome can still take control of a game when he wants to. If he improves his skating and that's something he plans to work on this offseason, he will get even better. The bonus for the Coyotes is that they already have Matthew's brother Dylan already in the system. With the Coyotes' tendency to take family in the draft, why not take a brother in lieu of their usual son pick? This one could really work out well.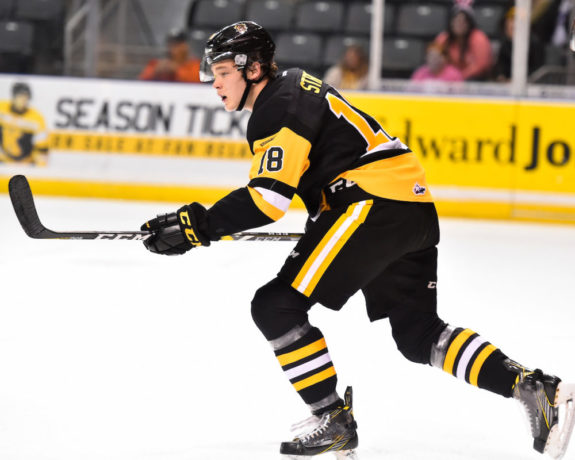 36. New Jersey – Grant Mismash (C) USA NTDP
The Devils got their center in round one, so their attention turns to the wing. They grab two-way forward Grant Mismash from the U.S. Development Program. He has a unique combination of offensive finesse and hard-nosed defense. He's a pain to play against and will be a welcome addition to the Devils.
37. Buffalo – Chad DeDominicis – Ivan Lodnia (RW) Erie Otters
With the 37th pick, the Buffalo Sabres select winger from the Erie Otters of the OHL Ivan Lodnia. The 5-foot-10, 181 pound forward recorded 57 points in 66 games for the Otters. The Sabres continue to have depth issues on the wing in their prospect system. With two picks in the second round, the Sabres have the ability to get away from the huge
need of defense to fulfil another hole. Lodnia will see a bigger role with the Otters next season with the departure of players like Dylan Strome and Alex DeBrincat.
38. Detroit – Tony Wolak – Josh Norris (C) USA NTDP
What if the Red Wings had two Dylan Larkins? Drafting U.S. National Development Team alum and University of Michigan commit Joshua Norris would give them essentially that. Norris' strengths fit in well with Detroit's desired style of play: agility, high-quality shot, and strong work ethic. Perhaps the Michigan-born center will one day join Larkin in the Red Wings' top-six.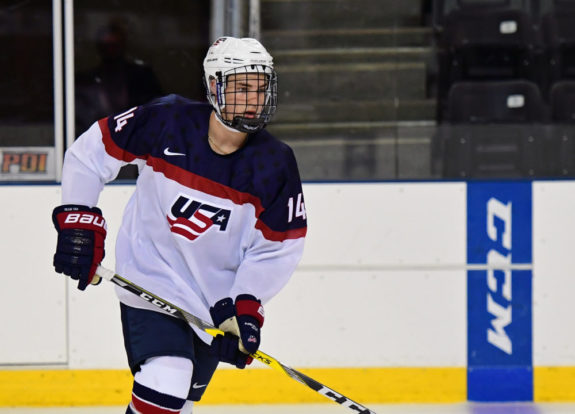 39. Dallas – Marcus Davidsson (RW) Djurgarden
The Stars get one of the fastest skaters in this draft in Davidsson. He can play both center and wing, while demonstrating excellent playmaking skills. He's a year or two away from making an impact, but could help fill an offensive need in Dallas.
40. Florida – Matt Pryor – Nikita Popugaev (LW) Prince George Cougars
The Florida Panthers use the 40th overall pick to pounce on big (6-foot-6) Nikita Popugaev of the WHL's Prince George Cougars. GM Dale Tallon loves his big players, and this right-shooting left-wing could make up for the loss (via trade) of the Panthers' 2015 first-round pick, Lawson Crouse. Like Florida's first-round pick, Tippett, Popugaev is a natural goal scorer who is both fast and extremely agile for his size. Once his defensive play catches up to the rest of his game, the highly skilled Russian will cement a spot in the Cats' top-six.
41. Los Angeles – Joe Ochs – Keith Petruzelli (G) Muskegon
With prime target Nikita Popugaev being taken just one slot earlier, the Kings had to scramble a bit with this selection. Ultimately, finding the heir-apparent to Jon Quick was the chosen route. With zero prospects in goal to speak of, Petruzelli's blend of tremendous size (6'6″) and athleticism proved too tempting. With each of the organization's prior goaltending prospects being moved elsewhere (Bernier and Jones), Petruzelli fills the void left behind. Heading to Quinnipiac in the Fall, he has time to refine his game
42. Carolina – Dean Plunkett – MacKenzie Entwistle (RW) Hamilton Bulldogs
When he was healthy last season, Entwistle showed strength in both his own end and on the penalty kill, and according to our own OHL prospect expert Mark Scheig, he has, "some offensive upside" that just hasn't had a full season to be seen yet.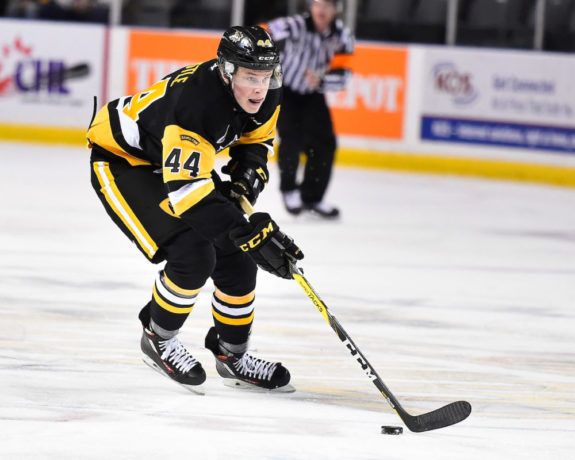 The Canes could use a forward like Entwistle who can take care of business at both ends of the ice and give them one more solid piece on an already strong penalty-killing team. Once he gets 100% healthy and bulks up with some NHL training and development, he could be a great piece of the Hurricanes youth rebuild.
43. Winnipeg – Adam Ruzicka (C) Sarnia Sting
The Jets have built up a lot of offensive skill on the front end, but still need a couple of big, defensive pieces that can fill in the gap. Having the offensive potential to jump into the top 6, however, is what makes Adam Ruzicka the right pick for the Jets. At 6-foot-4 and over 200 pounds, he's already big enough to handle anyone in the NHL, but at 18, has plenty of room to grow.
44. Philadelphia – Jonah Gadjovich (LW) Owen Sound Attack
Gadjovich may not have the highest potential of the players left on the board, but he's a classic Flyers draft pick. He's a strong two-way winger that can score and has size at 6-foot-2 and 201 pounds. The Ontario native scored 46 goals with the Owen Sound Attack this season and rose in Central Scouting's rankings from 60 at the midterm to 39 in the spring. Gadjovich projects now as a third-liner and has to work on his skating, but the Flyers have time to develop wingers.
45. Tampa Bay – Aleksi Heponiemi (C) Swift Current Broncos
The Lightning take the best player available on the board in Heponiemi. Although he lacks size, he doesn't lack high-end skill. He made the jump to the WHL and scored over a point per game while adapting to the smaller North American ice. With the Lightning, Heponiemi finds himself in an ideal situation to bulk up and prepare for an eventual long career.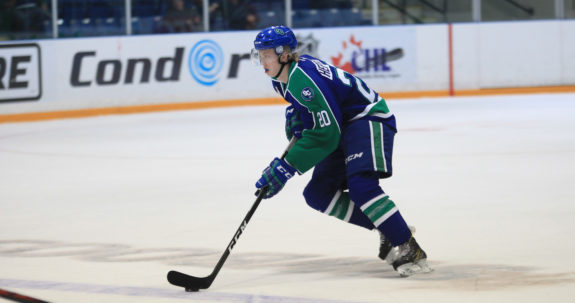 46. NY Islanders -Nick Henry (RW) Regina Pats
The Islanders continue to add offense by selecting one of the best rookie scorers in the WHL in Nick Henry. Although there's some question about how he'd produce on a different team, there's no denying his ability to take advantage of his opportunity with Regina. He wasn't their first scoring option, but used his playmaking ability to make an impact, something the Islanders could use.
47. Ottawa (from Calgary)- Michael DiPietro (G) Windsor Spitfires
The Senators grab perhaps one of the best goaltending prospects in DiPietro. His impressive performance at the Mastercard Memorial Cup put him on the map as someone with number-one upside. Many think of DiPietro as a late first rounder, so the Senators are thrilled to have him drop to them at 47.
48. Tampa Bay (from Toronto)- Eemeli Rasanen (D) Kingston Frontenacs
After collecting skilled offense early on, the Lightning turn their attention to defense and grab one of the biggest players in this draft in Eemeli Rasanen. He's 6-foot-7 and has room to improve his game given his size. He could turn into a Chris Pronger-like defenseman if properly developed.
49. New Jersey (from Boston)- Ian Mitchell (D) Spruce Grove
In a league where Cale Makar gets all the attention as the best defender available, the Devils are happy to select Ian Mitchell from Spruce Grove. His skating and playmaking makes him an underrated defender. With the Devils turning their attention to speed, Mitchell should fit in to what they're trying to do.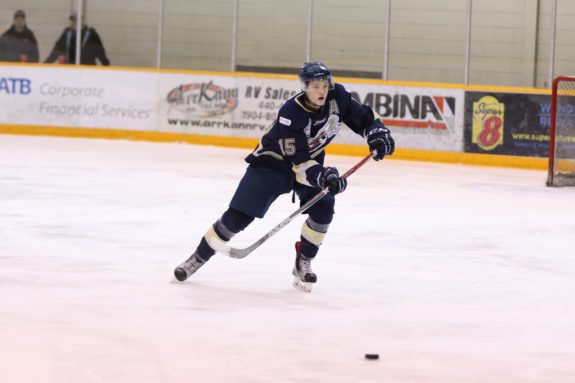 50. Anaheim (from San José via Toronto)- Joni Ikonen (C) Frolunda
Ikonen, a right-shooting center/winger out of Finland who played most recently for Frolunda in Sweden's SuperElit league, is a player who has the potential to eventually become a top-six forward in the NHL. He is a goal scorer known for his high offensive skill level, including his strong shot and skating ability. At 5-foot-11 and 176 pounds, he might not fit perfectly into the archetype for Ducks forwards (big and physical with skill), but his skill set gives them a bit of a different look. As a second-round pick, he could prove to be a gem down the road.
51. St. Louis- Robin Salo (D) Vaasan Sport
After adding two forwards with our first two picks we wanted to add some defensive depth. The fact that Salo was still on the board gives us three absolute steals to start the 2017 draft. In some scouting circles, Salo is ranked a top 20 player in this draft class. We are of that opinion. He plays for Vasaan Sport in the SM-Liiga and proved that he can play against players twice his age. He is fundamentally sound, reads the play well to keep his positioning on the ice where it pushes attacking forward to the board. Salo also possesses a great shot from the point which adds to his value. The icing on the cake is his bloodline. His father Robert was a pro player in SM-Liiga throughout the 1990s.
52. Carolina (from NY Rangers)- Cale Fleury (D) Kootenay Ice
The Hurricanes need to add some more truly defensive defensemen to their roster. They've lost some experienced defenders like Ron Hainsey and their blue line has seemed rather porous when tested over the last couple seasons. With Haydn Fleury's younger brother Cale, the Canes get just that.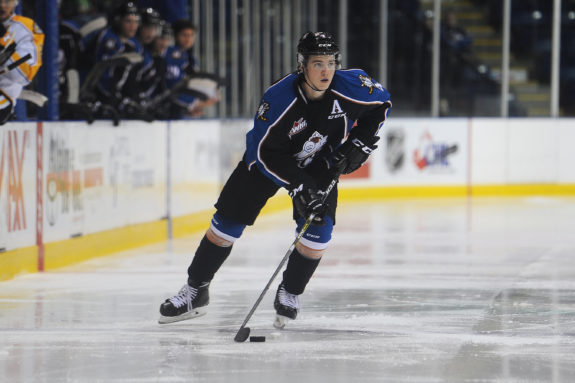 As our resident WHL prospect expert Ryan Pike points out, unlike Haydn's more run-and-gun offensive-minded development as a defenseman with the Red Deer Rebels, Cale has honed his blue line skills on a less than offensively-impressive Kootenay Ice team. With some time in the deeper end of the Hurricanes' prospect pool he should develop into a rather good stay-at-home defenseman.
(Oh, and he's a right-handed defenseman, which is like finding a Wonka Golden Ticket…there aren't many of them.)
53. Boston (from Edmonton)- Pierre-Olivier Joseph (D) Charlottetown Islanders
A player who could have easily been selected in the first round, Joseph has all the tools desired in an NHL prospect. The Bruins already have a surge of defensive youth in their lineup with even more prospects on the way in the near future. Joseph will have the time needed to properly develop and eventually become a regular in the Bruins' lineup down the line.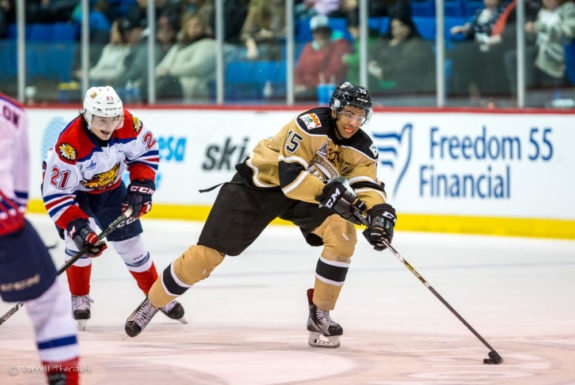 54. Buffalo (from Minnesota)- Reilly Walsh (D) Chicago Steel
With the 54th pick the Buffalo Sabres select defenseman Reilly Walsh from the Chicago Steel of the USHL. Walsh is undersized at 6-foot and 176 pounds, which is why he slipped into the back part of round two. However, he is an exceptional skater that will bring an offensive boost to teams looking for production on the blueline like the Sabres
are in need of.
55. Vancouver (from Columbus)- Ostap Safin (C/W) Sparta Praha
Ostap Safin is a bit of a polarizing player in this year's draft. The 6-foot-4, 194-pound forward from the Czech Republic has good size, a wicked shot, and a strong hockey IQ. His size makes him a "monster" at protecting the puck, according to Future Considerations. That makes him well-suited to today's puck possession NHL. He's a bit of a high-risk, high-reward player, as some scouts have criticized him for his work ethic on the ice. Still, the Canucks badly need players who have high offensive potential, and Safin checks off enough boxes to make him a strong selection at 55th overall.
56. Montreal- Jesper Boqvist (C) Brynas
With the first of their two second round picks, the Habs are able to take Jesper Boqvist. He's a versatile forward that can play either left-wing or center and is listed at 6-foot, 170 pounds. Similar to Montreal's standout rookie Artturi Lehkonen, Boqvist is also beginning his professional career in the Swedish Hockey League (SHL). He's a raw prospect who continues to develop in a men's league but all the tools are there to see. He can score and has been touted for his hockey IQ. He might be a bit of a project, but if he turns out like Lehkonen, the Canadiens will be ecstatic.
57. Chicago- Scott Kline – Morgan Frost (C) Sault Ste. Marie Greyhounds
I wanted a center here. Pick came down to Frost and Scott Reedy. Although Reedy has the size, I think Frost has the ability to eventually bring speed, skating and scoring ability to the Blackhawks. I thought Frost was also a value pick this late in the second round. He seems comfortable with the puck and creating. Has good instincts and vision. Needs to work on his strength like most  prospects, but I think he has the innate components of the game that could make him coachable for success in the NHL.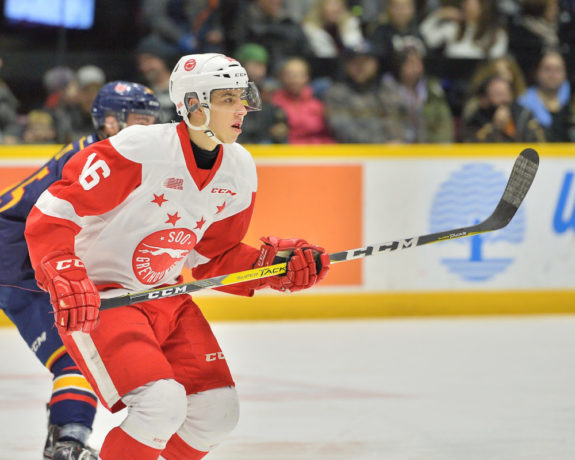 58. Montreal (from Washington)- Luke Martin (D) University of Michigan
The Canadiens finish off round two with big Luke Martin from the University of Michigan. In the 2016 NHL Entry draft, the Habs went with Mikhail Sergachev who is more of an offensive defensemen. Martin is the opposite, he's a defensive monster. He sizes up at 6-foot-2, 201 pounds and plays a much more defensive game. He's not going to wow anyone on the score sheet, but he gives the Canadiens organizational depth on the back-end and a player who could potentially develop into a solid stay-at-home defensemen in the NHL.
59. Toronto (from Ottawa)- Alex Formenton (LW) London Knights
Being a first-year player in the Dale Hunter system, there's never a guarantee that you get ice-time. That being said, Alex Formenton managed to score 16 goals and 34 points in 65 regular season games. At six-foot-one, he has some filling out to do, but could make for a fair-sized winger if the Leafs lose JVR down the road. Add to all of that the Knights-Leafs Hunter connection and you could be looking at the next Knight to don blue and white.
60. Anaheim- Max Gildon (D) US NTDP
Gildon is a lefty defenseman from the US National Team Development Program (US NTDP) who could bring a nice blend of size and skill to the Ducks' blue line. That said, while he is 6-foot-3, he needs to add a bit more weight to that frame, as he weighs only 187 pounds. Fortunately, since he is only 18, there is plenty of time for that. Gildon, who notably hails from Texas, is a solid defender who can chip in offensively, though generally plays a safe game. The offensive potential is there, however, and with better decision-making on that front, he could become a strong two-way defenseman and thus add to Anaheim's full cupboard of good young blueliners.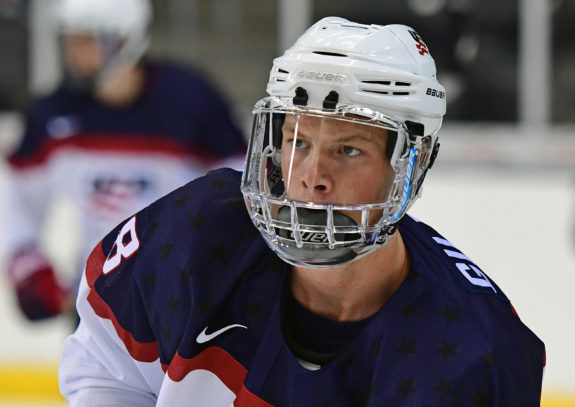 61. Nashville- Scott Reedy (C) US NTDP
The Predators welcome big forward Scott Reedy to the team. He is a natural playmaker who can play center or wing. He's a bit raw, but has interesting upside especially if he can improve on his skating.
62. Carolina (from Pittsburgh)- Nate Schnarr (D) Guelph Storm
As the last pick in this Mock NHL Draft this explanation will be short and sweet. All of these details came from THW Senior Writer Andrew Forbes' prospect profile.
Nate Schnarr is 17-years old, six-foot 3-inches tall and already clocks in at nearly 200 pounds.
He blocks shots, uses his size physically, gets in the corners and dirty areas, blocks shots and has "an explosive wrist shot that surprises goaltenders." – HockeyNow
If he gets control of his already oversized frame and learns to control where and how all of his limbs are moving, this kid could be a legitimate BIG power forward in the NHL. The Hurricanes would like him to experience that development in their farm system.
And that's a wrap. How do you think our writer's did? How does your team look? Feel free to leave your comments below.