The 2018 NHL Draft is in the books. So how'd your team do?
Whether you were a team like the Detroit Red Wings or Montreal Canadiens who had ample picks or a team like the Calgary Flames who had few, they each made news for different reasons.
With so much going on in Dallas, I thought we'd use this space to share the 50 things that I'm taking away from the NHL Draft. We'll touch on everything from the host city to coverage of the event. I also hope to at least mention your team once in these 50 things. We'll end this by taking our first look at 2019 and the Jack Hughes draft.
50 Takeaways
Let's start with the Saturday coverage of the event. While there were some good moments, the overall coverage in the states left something very much to be desired. At least on NHL Network, there was a period of time where they stopped showing the live picks. Really? Then in a historic moment for England and Liam Kirk, they didn't cut away live to talk about it but instead continue breaking down the Calgary-Carolina trade. While the NHL Network is good, it can get much better. Just wish some better decisions were made in order to not miss the big moments. Hopefully this is rectified over time.
Speaking of the trade, let's touch on it here. What's going on in Calgary? GM Brad Treliving said to reporters that they want players who want to be there. Notice Dougie Hamilton and Adam Fox are now in Carolina. Hmmm. And the Flames gave up a good defenseman in Hamilton and a pretty good forward in Michael Ferland. How can you feel good about the trade right now? Yes maybe Elias Lindholm and Noah Hanifin come in and become fixtures for the Flames. For fan's sakes they better get to that point. Otherwise this trade will be met with a lot of resentment as the years go on.
Max Pacioretty made news on a couple of fronts. He now has Allan Walsh as his agent and no longer Pat Brisson. That's interesting especially when he's up for a new deal. But just who will give him that new deal? Rumors came up that he was going to the San Jose Sharks. That didn't happen. But geez if there's anyone that could use the reset button, it's Pacioretty. This next year for him will be extremely interesting to watch.
Speaking of the Canadiens, I very much enjoyed their draft. They went with the center despite many thinking they'd go with the consensus number three guy in Filip Zadina. What's the lesson here? If you want a top center, you gotta draft them early. Even if Jesperi Kotkaniemi wasn't the best available player, if he's the best available center and you need a top center, you have to make this pick. Kudos to Marc Bergevin for realizing this and making that pick. He might not start in the Canadiens lineup next season but that's secondary. They filled a big need.
The rest of Montreal's draft is just as good. Jesse Ylonen at 35 is strong. Jacob Olofsson in round two is strong. Landing Cam Hillis and Allan McShane later is good. The waters in Montreal might be choppy for a bit yet, but these two days in Dallas provided some much needed hope for the future.
The Anaheim Ducks didn't draft a defenseman until round seven when they grabbed Charlottetown's Hunter Drew. They focused on forwards and did a good job getting value. Isac Lundestrom at 23 is strong considering some have him as a top-20 player. Benoit Olivier-Groulx and Blake McLaughlin are nice value picks. They also grabbed one of my favs in Jack Perbix late in round four. Nothing flashy here but just a solid draft given their position late in round one.
The Arizona Coyotes make major waves Friday taking Barrett Hayton fifth overall. Why you might ask? You did read number four, right? He was a top center available. File this away for future drafts. Even if a particular class isn't strong in centers, you best believe teams in need will look anyway no matter what the rankings look like. As for the rest of their draft, I really like them taking a shot at Flint's Dennis Busby. Injury derailed him but has some interesting upside. This is a good gamble by John Chayka and crew 145 picks in.
For all the excitement Boston got during the season, they didn't continue that momentum at the draft. Now to be fair, they only had five picks which didn't include a first. Still think they left value out there when they selected Axel Andersson. He could turn out to be fine, but given who else was available, they could have made a pick that had a bigger impact. All that said, they are still a legitimate threat to represent the East in the Final.
The Buffalo Sabres from this point forward are relevant no matter what. We already know how strong the Buffalo market is. Now consider the causal fan. If their team is off and they need a hockey fix, why not watch Rasmus Dahlin and Jack Eichel? Any die hard hockey fan will love that. So should NBCSN. Expect double digit appearances on the network in an effort to market these talents.
The Sabres are still a goalie away from being a serious contender. But they're surely a lot closer now than they were at the end of last season. And do not discount how wild the Sabres/Maple Leafs rivalry is going to get. That's must see TV. Eichel/Matthews. Dahlin. Nylander. The NHL needs rivalries kicked up a notch and this one will do just that.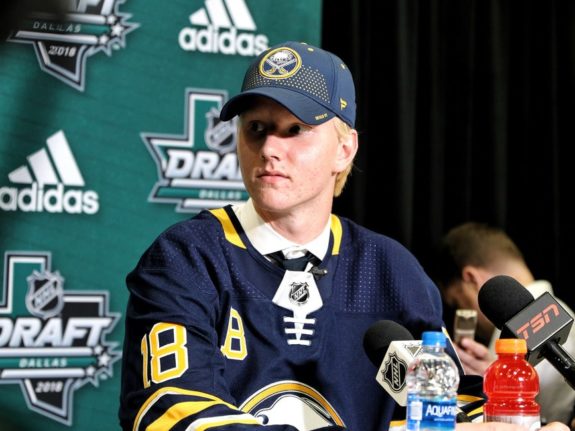 We already touched on the big trade. But the Carolina Hurricanes are going to be scary good soon. Andrei Svechnikov added to that team only helps. Now remember they're still likely trading players like Jeff Skinner and maybe Justin Faulk. Think of those returns. Like Buffalo, if they can figure out how to stop the puck, that'll get them over the top.
The Blackhawks needed defense and got very defensive in Dallas. The combo of Adam Boqvist and Nicolas Beaudin injects much needed youth into the organization. Interesting situation here. On one hand, they want to make another serious run at a Cup. On the other, they need to fill their cupboards. Can they do both? Mission accomplished in Dallas getting defensemen. Now let's see how they handle their roster in 2018-19.
The Avalanche made Martin Kaut their first rounder. I love this because it shows no concern about his heart condition. But next level, it shows how talented their defense will be soon. Sam Girard and Cale Makar is a nice duo. This afforded the Avs to go forward with their first pick. Was this a reach? Eh, certainly not as bad as some. The Avs made the playoffs last season and are getting reinforcements. That's a good place for them.
Did Columbus' draft seem a little weird to you? It did for me. Overall I think they did fine. I'd give them a solid B overall. But a closer look brings to light a couple of things. First and foremost, they wanted speed and skill. That explains the Liam Foudy pick. He has speed for days and will develop in London. I saw many suggest this was a reach. It could be. If Foudy comes out of this reaching his upside as a top-six center, then it's no reach at all. His season in London will be worth watching.
Kirill Marchenko is perhaps my favorite second-round pick in this draft. Assuming he comes to North America, the Blue Jackets landed a 6-foot-3 version of Vitaly Abramov that is arguably better. That takes some of the sting out of reaching for Foudy if that's what you think it was.
Here's where things got weird for me. They took Markus Karlberg in round three. He wasn't even on the Central Scouting list anywhere. I understand the team does their own list and sticks with it. But was there a real fear in someone else taking him just 80 picks in? Karlberg could be a fine player but I don't understand the thinking at that spot in the draft given who was available. We're going to have to let time play this one out for us.
Fun fact: Columbus drafted the oldest player in the draft when they took goalie Veini Vehvilainen. He's 21 as of Saturday and was passed over in multiple drafts. He won a championship in Finland and according to Jarmo Kekalainen could be ready for North America. It's an interesting strategy that I can't wait to see play out.
Ah yes the host city Dallas. From all indications, everyone down there, especially the media, incurred food coma. They seemed to do a good job in most aspects of the weekend.
I did say most. Booing Gary Bettman is a regular occurrence I get it. But when he's trying to discuss Humboldt and the crowd is booing, that's not a good look. Eventually it calmed down and turned into a good moment. But isn't the booing of Bettman getting a little tiring and old? You may not like the guy and that's fine. But can you remember a time in which hockey was in a better spot?
So how about Ty Dellandrea and his rise up the rankings? From the 70's at midterm to the 20's on the final ranking and then having Jamie Benn call his name in the host city, what a night for the Flint center. Some think this is a reach. He's been in my top-20 most of the season. The Stars got a good one here.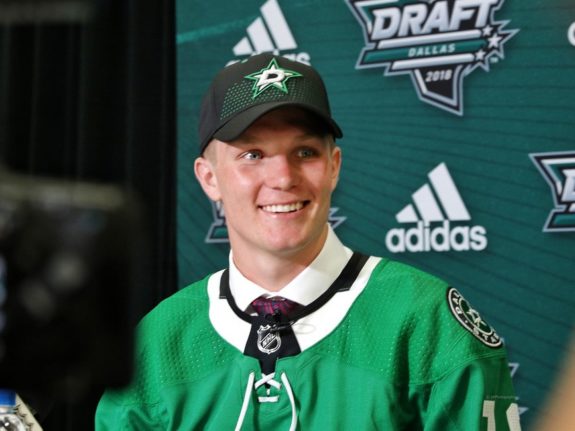 One last thing on Dallas. They landed Adam Mascherin 100th overall after he was a second rounder before. I like the gamble. Now let's see how this all plays out.
Sometimes at the draft, you just need to be in the right place at the right time. Enter the Detroit Red Wings. While others went in different directions, the Red Wings had Filip Zadina and Joe Veleno fall into their laps without having to do a thing. Big win. Don't discount Jared McIsaac in round two also. This was well needed for a team looking to build back up.
The Edmonton Oilers. They needed a defenseman and had Evan Bouchard fall to them. That's good value. They had Ryan McLeod fall to them at 40th. Again good value. So if nothing else, Peter Chiarelli didn't do anything crazy and got some good value in Dallas. No complaints from me for the way they handled things.
I liked what the Florida Panthers did. Gregori Denisenko at 15th is about where I had him. Getting Serron Noel in the second is good value especially if he becomes a good power forward. They had six picks on the day and used the first four on forwards and last two on defense. They were one of a handful of teams that didn't take a goalie. With just Sam Montembeault and Harri Sateri underneath Roberto Luongo and James Reimer, I was a little surprised at this. This year's crop wasn't strong so maybe they use next year to grab one.
Ilya Kovalchuk got three years from the Los Angeles Kings. In hindsight, this is not one bit surprising. It's a big city. It's the Kings who aren't afraid of signing older players. The one thing they will get is a scary good power play. Anze Kopitar, Jeff Carter and Kovalchuk on the first unit. That's fun.
As for the Kings' draft, it was decent. Getting Kupari is on par with where most had him. Landing Akil Thomas at 51 is a steal. Still not sure why he fell like he did. Some places had him INSIDE the top-20. And don't sleep on Aidan Dudas in round four. Overall, the Kings had a good weekend in Dallas.
Let's talk about Paul Fenton's first draft with the Minnesota Wild. Their first pick left me scratching my head. Filip Johansson looks like a good player, but most had him in round two or three. Wonder if they could have traded down and landed another pick. But at 63, they got a good one in Jack McBain. Many had him as a solid second rounder. There's some question about his upside given the league he came from, but he's one of the best prospects to come from there in many years. If this works out then it's a good draft. Otherwise it's hard not to feel underwhelmed.
Nashville only had four picks and didn't have their first one until pick 111. They selected big center Jachym Kondelik. He needs to improve his skating but if he can, that's got some potential. The big thing I kept hearing about Nashville was the future of Ryan Ellis since he'll eventually need a new contract. Put that rumor to rest. I don't think he goes anywhere.
Another player who fell just a little was Ty Smith. New Jersey got him at 17. That's a good spot for him. I just felt underwhelmed with the rest of their draft. They didn't have a second or a third so that never helps matters.
But the bigger question, what's going on in the WHL these days? Smith was by far their best prospect and he went 17th. Overall, the dub had a record low number of players hear their name? I need to dig a little deeper into that to see why things have fallen off for the league over the last few years. Certainly concerning to say the least.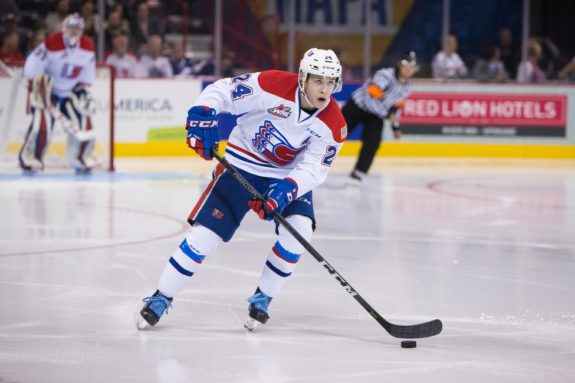 The New York Islanders. They are the clear, undisputed champions of this draft (and Buffalo too.) But wow, Lou didn't not miss his chance. Oliver Wahlstrom and Noah Dobson back-to-back turns the Isles farm system from ugh to wow. Then consider who else they added later. They got Bode Wilde in round two and Blade Jenkins in round five. I had him as an early second rounder!
We know the story with the Islanders is John Tavares. We learned he will speak to five teams during the interview period. Let's assume he re-signs. Is this one of the best offseasons in recent memory? It has to be. A new GM and a new coach each with Cup winning experience come on board. They clearly won the draft. As one Isles person said, "we are a professional sports team again." Even if he doesn't sign, it doesn't take away from how good it was for them in Dallas. I fully expect him to return, but we'll see.
The Rangers did good also. Landing both Vitaly Kravtsov and K'Andre Miller addresses the organization's depth. I just don't get the sense this rebuild will take very long. With David Quinn as the coach, they're going to be young, fast, exciting and fun to watch.
Ottawa could have taken Zadina fourth when Montreal took Kotkaniemi third. But instead, they took Brady Tkachuk. This was the correct move if for nothing else other than to say to your fan base we want to have a certain identity about our team. With Tkachuk, he's going to be a pain to play against and a fan favorite. I know Ottawa has had many issues. With Tkachuk, you get a good glimpse of a nice future.
The Flyers. I liked their picks. Joel Farabee went where I thought he would. They also landed someone I thought Columbus would land in Jay O'Brien one pick after them. They have in my mind the strongest prospect pool in the NHL and it's scary good. They only got better in Dallas.
For a team that normally comes into drafts without a first rounder, the Penguins did good work in landing both Calen Addison and Filip Hallander in round two. I was curious to see if they'd make any significant trades. They didn't do that in Dallas. Let's see how they handle free agency.
The San Jose Sharks made Ryan Merkley a first rounder. That in and of itself was a huge story Friday. I like this move a lot. The Sharks believe they can work out the issues. If they do, they landed a top-five player no question.
I don't think Doug Wilson gets enough credit for the job he's doing. For landing Evander Kane and now Merkley, they are able to see through certain issues. As for the rest of their draft, meh. But they got Merkley. That makes Dallas worth it for them.
The Blues did fine in Dallas. I was wondering if they'd have interest in Artemi Panarin but apparently that's not the case. They landed Dominik Bokk and Scott Perunovich with their first two picks. That's solid and makes their farm stronger and one of the best in the league at this time.
Tampa Bay is usually known for strong drafts. Not this year. They didn't have a first. They picked Gabriel Fortier with their first pick. Meh. The rest of the names were also meh. I'm watching what they do with Tyler Johnson since the no-move clause goes into effect July 1.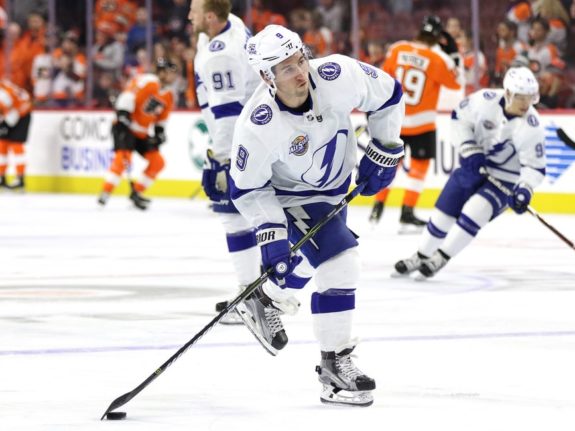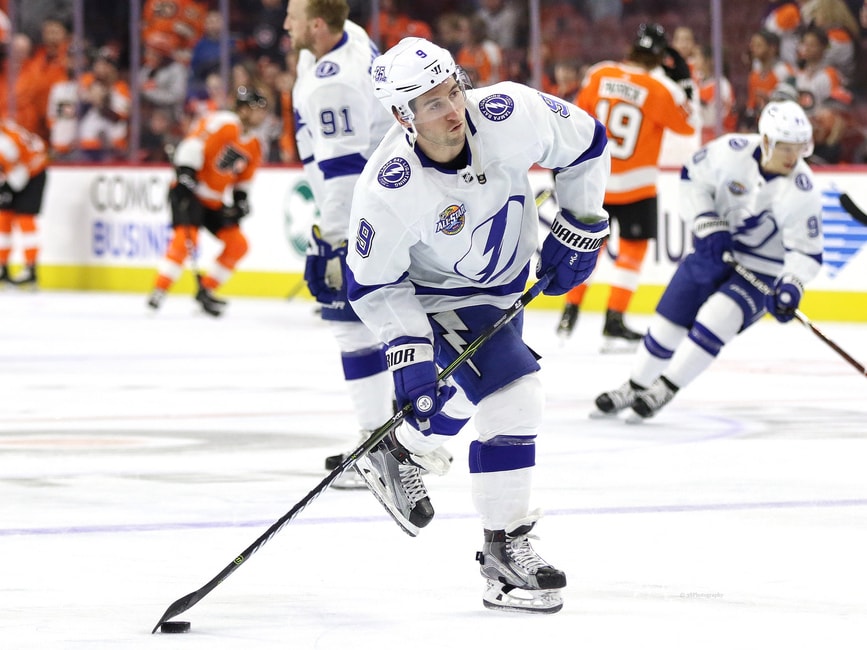 Toronto did well especially with their first three picks. Rasmus Sandin and Sean Durzi were good values. They also landed SDA in round three who has some intriguing upside. Their pool got deeper thanks to the two defensemen taken. Kyle Dubas is incredibly smart and has the Leafs in good position moving forward.
Vancouver did well for themselves especially after landing Quinn Hughes seventh overall. They needed an offensive, puck moving defenseman. Don't look now but the Canucks are going to be fun to watch with Hughes and Brock Boeser there. They still got a ways to go but they did get better in Dallas.
Canuck fans, don't sleep on Tyler Madden. He plays the kind of game that fans love.
I was really curious to see what Vegas would do coming off a Final appearance. Meh. Ivan Morozov is fine but I feel they left value out there. That's ok though. They still have a strong prospect pool with Cody Glass and Nick Suzuki in waiting.
The Capitals made a trade with Colorado which saw them send Brooks Orpik and Phillip Grubauer to Colorado in exchange for a second rounder. The Avs then proceeded to put Orpik on buyout waivers. Washington got cap relief to help with a John Carlson extension. Colorado got a goalie who could play a lot in 2018-19. It's nice when deals work both ways.
The Winnipeg Jets had their first pick at 60th and took David Gustafsson. Meh. The pick I like is Giovanni Vallati in round five. I had him as a third rounder. I think he has some NHL upside in his game. If they can get one of their picks to get that far, then Dallas was a success for them.
Canada once again lead the way with a total of 73 players taken in the draft followed by the United States with 52 then Sweden with 30.
In terms of first rounders, Canada had 10 while the United States and Sweden each had six.
The OHL lead the way with 35 total players taken in Dallas.
As for 2019, we know Jack Hughes. But as for other prospects to watch there's plenty. From the United States, Alex Turcotte, Alex Vlasic, Arthur Kaliyev and Marshall Warren are good ones. The WHL has some good ones coming in Nolan Foote, Dylan Cozens and Kirby Dach. Internationally, the big name to watch is Finland's Kaapo Kakko. The name is great but his game is very high-end.
And that's a wrap for the 2018 NHL Draft. Thank you to everyone who has followed all season long. Stay with the Hockey Writers as free agent frenzy is just starting to cook.