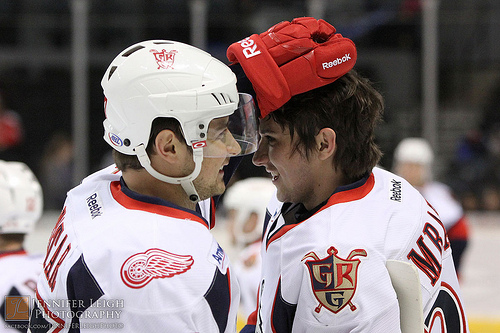 Hockeytown gets nearer, with every passing moment, to life without Henrik Zetterberg and Pavel Datsyuk.
Detroit's captain is under contract until the 2021 season, but it's difficult to imagine Zetterberg continuing his viking style of play into his 40's.  Datsyuk will dance in the NHL for four more seasons and then return to his native Russia.
The "Euro-twins" not only prevented Detroit from collapsing in the mid-2000's, something the franchise was expected to do, they added another Stanley Cup to the collection.
Thankfully, an impressive group of young players is eagerly awaiting the opportunity to rescue Detroit from another expected collapse.  Here is what a future Stanley Cup-winning Detroit roster could look like, additions through free agency and trades notwithstanding, when the sad day of "13" and "40" adorning the rafters arrives.
Line 1:  Justin Abdelkader (A) – Calle Jarnkrok – Anthony Mantha
Abdelkader being a Michigander, coupled with the discovery of his scoring touch, will keep him a Red Wing for ten more seasons.  This will also put an "A" on his jersey.  Jarnkrok is the most promising play-making center in the system, and will compliment snipes from Mantha perfectly. Mantha, the more gifted winger on this line, will be asked to forego his natural left-wing position and skate on Jarnkrok's right.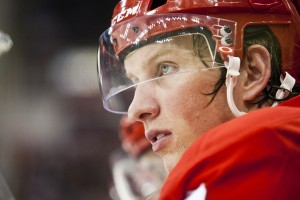 Line 2 (or 1a): Tomas Tatar – Riley Sheahan – Gustav Nyquist (C)
Tatar will become Detroit's most prolific goal scorer while skating left of the gritty, savvy Sheahan.  Nyquist possesses the grace of captains Zetterberg, Lidstrom and Yzerman.  He will be Detroit's captain in 2021.
Line 3 (or 1b): Martin Frk – Darren Helm – Tomas Jurc0
Frk and Jurco will form a Czech-Slovak axis and subsequently terrorize opponents for Detroit. Darren Helm, benefitting from advances in medicine, will put his health problems behind him and create the chaos necessary for numbers 92 (91 will be retired) and 28 to perform miracles. This unit will bring three-scoring-line-days back to Detroit.
Line 4:  Tyler Bertuzzi – Joakim Andersson –  Zac Nastasiuk
Every team needs a checking line.  Bertuzzi doesn't possess uncle Todd's hands in the attacking zone, but does share his affinity for aggression.  Andersson is the heart and soul of a checking line center and Nastasiuk will give the unit sporadic offensive punch.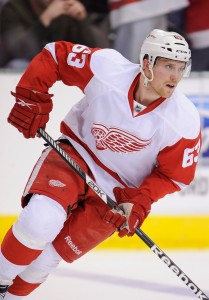 Defense pair 1:  Danny Dekeyser (A) – Brendan Smith
Like Abdelkader, Dekeyser is both a Michigander and a former collegiate star.  Since Detroit gave the undrafted, smooth-skating defenseman an NHL home, Dekeyser will remain with the Red Wings and be named the team's second alternate captain.  Dekeyser's safe, steady play will compliment the gambling Smith as #2 becomes one of the highest scoring defenseman on the team.
Defense pair 2:  Xavier Ouellet -Ryan Sproul
This pairing will see the bulk of its time on the power play.  Oullet will dish and Sproul will blast.  "Red Wings power play goal from Ryan Sproul, assisted by Xavier Ouellet," will resonate through the stands of Detroit's newly built, state-of-the-art arena many, many times over.
Defense pair 3:  Mattias Backman – Adam Almquist
Swedes Backman and Almquist will constitute Detroit's backend brains.  Skilled, sound and silent, this pairing will give the Detroit defense a unique quality; shutting down the opposition with positioning and anchoring attacks with superior hockey sense.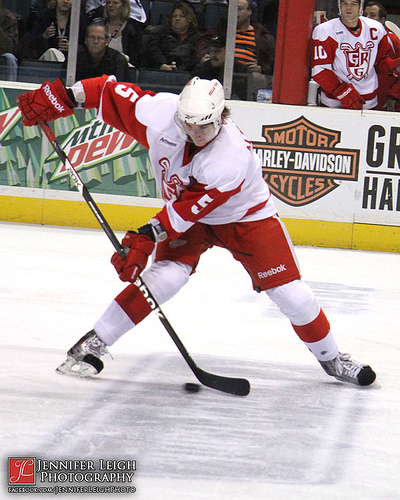 Goaltenders: Petr Mrazek – Jimmy Howard
In the tradition of Dominik Hasek, Petr Mrazek will become a multiple Vezina Trophy and Stanley Cup winner.  An MVP title for Mrazek is not unthinkable either.  A Detroit net shielded by a mature Howard and a confident Mrazek will remind fans of tandems like Thomas-Rask, Luongo-Schneider, and Hiller-Fasth.
Steve Yzerman and Sergei Fedorov were arguably the finest two-way centers in the NHL during the 1990's.  Henrik Zetterberg and Pavel Datsyuk have been the same for Detroit during the 2000's. Asking for this trend of up-the-middle dominance to last another generation might be asking too much.  The pieces are in place, however, for Detroit to add Stanley Cups 12, 13, and 14.
Detroit may do it this season, next season, or the season after that.
Detroit will do it again, sooner or later, and hopefully, probably, in 2021-2022.
Follow me on twitter: @ianflemingdunha
I began my career in hockey as a pre-scout for Cranbrook Kingswood Academy in Bloomfield Hills, Michigan. I have been writing about the NHL for multiple platforms since the 2007-2008 season.