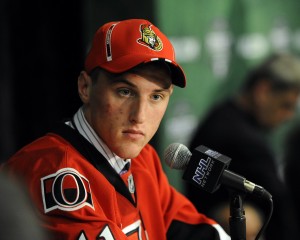 Every season in the American Hockey League there are always young highly sought out draft picks looking to get their feet wet in their first pro season.  Anaheim Ducks prospect Stefan Noesen is no different as he looks to put his stamp on the AHL following his junior career after potting 220 points over four seasons with the Plymouth Whalers in the OHL.  TheHockeyWriters caught up the 20-year-old Texas native who answered the following questions.
THW: Can you walk me through your minor hockey career?
Noesen: I started in Dallas born and raised. Played eight to ten years there. Played two years in Detroit for Compuware and basically shifted locker rooms when I went to my junior team. (Plymouth Whalers)
THW: How does a kid from Texas get into hockey?
Noesen: I actually had a lot of help from my Dad. He's from Chicago and my Great-Grandfather is Canadian. Whenever he was alive, he wanted someone from his family to play hockey and I was the youngest one so decided to go with me.
THW: Turning back the clock to 2011 going into the draft, how did you feel to go in the first round?
Noesen: I was nervous at the time. I felt pretty confident that I would be a high end draft pick. That came with hard work and that's what I really strived for to get that far.
THW: What can you take away from what you learned in Plymouth and apply it in the AHL?
Noesen: Our coach taught me to be a complete player. There's plenty of times that I always thought offensively and not too much defensively so my last year in Plymouth I really focused on my defensive game while trying to provide offense for our team as well.
THW: You were acquired in the Bobby Ryan trade. How does it feel to be in the Ducks organization?
Noesen: It's awesome. I really thought back in the draft that was the team I was going to go to or Ottawa. It  happened that I was picked by Ottawa and I'm very grateful for that and I feel really great now to be a part of this great organization and the history behind it.
THW: Is there any veteran guys who are helping you in your transition to the pro game?
Noesen: I believe he will be our Captain this year, but Stortini has been getting to know everyone in his own way. He's been great so far. Chris Wagner also, it's his second year here and he is a really good friend of mine and has been since day one and also Alex Grant, my stall mate.
THW: It's early, but how are you adjusting to Yawney's coaching style?
Noesen: It's hard to get a read on him as of now. It's early, but he's a very defensive coach and I've always been taught that good defense leads to good offense.
Follow Teddy on Twitter- @bauerhockeydude
Ted grew up in Virginia. Warren has a passion for the AHL and dishes out articles about the Norfolk Admirals and the AHL. Follow him on Twitter @bauerhockeydude