The seventh day of the 2023 World Junior Championship will be the busiest, with all ten teams playing. Two will be sparring in a best-of-three series to avoid relegation, and the other eight will be battling for spots in the semifinals. Four teams will be sent home after Monday's action. Let's dive right into the preview.
Relegation Round: Latvia vs. Austria (9:30 AM ET)
Latvia: Final Roster
Austria: Final Roster
The relegation round may seem like an afterthought, but to the two teams involved, it is an all-important chance to earn their spot at the top tournament next year. Latvia and Austria are both winless through four games, but Latvia's defense has been much more effective: they had the third-best penalty kill and sixth-best save percentage in the qualifying round (Austria ranked 9th and 10th, respectively). At least Austria finally broke its goalless drought, with 2023 Draft prospect Ian Scherzer doing the honors.
Apart from Scherzer's goal (and another off the stick of Jonas Dobing), Austria was abysmal in the qualifying round. They allowed 35 goals and scored only two. While Latvia was hardly dominant in their winless effort, they showed a lot more quality than Austria and should be the favorite in the relegation round. The first team to two wins secures their spot next season and sends the other team back to the second tier of the WJC.
Favorite: Latvia
Players to Watch: Patriks Berzins, G (LAT); Ian Scherzer, F (AUS)
Quarterfinal 1: Finland vs. Sweden (11:00 AM ET)
Finland: Final Roster
Sweden: Final Roster
This matchup is a rematch of last summer's semifinal, which Finland won 1-0. This year, the Finns have had a strange tournament so far. Switzerland upset them in the tournament's opening game with a 3-2 overtime win. Then, they seemed to steady themselves with wins against Slovakia and Latvia, but in their final showdown with the United States, they were beaten fairly handily, 6-2. Of course, there's no shame in losing to the Americans, but the Finns did not show a lot of heart in the contest. The best news was that Joakim Kemell, who should be the team's leading star at this tournament, at least got on the scoresheet with only his second goal (and third point) in four games.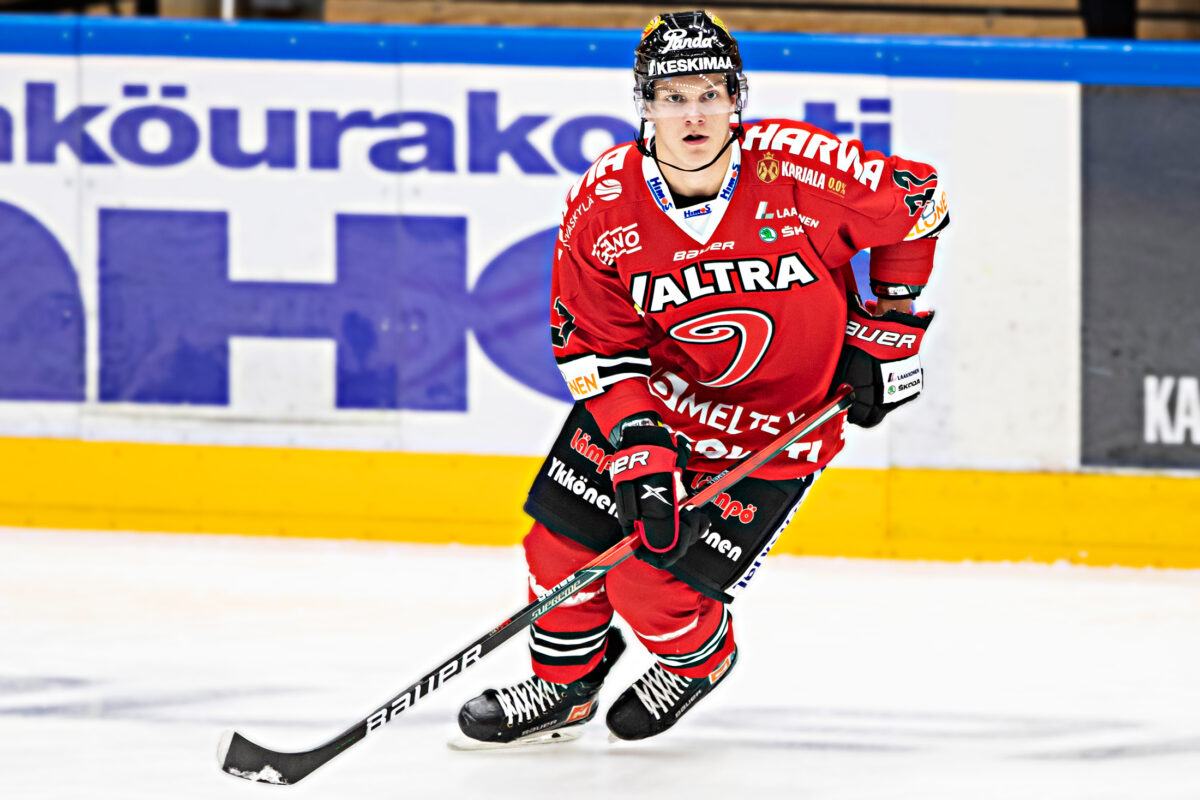 For their part, the Swedes have had exactly the tournament you'd expect: defensively solid, offensively underwhelming, picking up right where they left off last summer. They had an outpouring of goal-scoring in their first game, beating Austria 11-0, but have only managed one goal in two of the three games since then. Defender Ludvig Jansson has led the way with three goals and three assists, and Filip Bystedt and Isak Rosen have both looked solid. But they need more offense. The offense is what failed them when these teams met in the semifinals last summer.
Neither team is entering with a lot of momentum or much confidence, so it's difficult to choose an obvious favorite. We should expect another low-scoring affair, and it may come down to the two goalies, who have been two of the best at this tournament. Finland's Jani Lampinen has managed a .964 save percentage (SV%) and a 1.00 goals-against average (GAA) in 120 minutes, whereas Carl Lindbom has maintained a .942 SV% and a 1.74 GAA in over twice that time. Whichever netminder puts in the stronger performance will probably walk away with a victory.
Favorite: Push
Players to Watch: Joakim Kemell, F [NSH], Jani Lampinen, G (FIN); Ludvig Jansson, D [FLA], Carl Lindbom, G [VGK] (SWE)
Quarterfinal 2: Czechia vs. Switzerland (1:30 PM ET)
Czechia: Final Roster
Switzerland: Final Roster
It's a shame that one of these teams is guaranteed to go out in the quarterfinal because they have had two of the better tournaments so far. Czechia opened the WJC with a shocking 5-2 upset of the host nation, Canada. They have continued to march, with a 9-0 win over Austria and an 8-1 win over Germany. The only "blip" was a 3-2 overtime loss to Sweden, which is hardly an embarrassing result. Czechia has been the hottest team at the tournament, thanks in no small part to sixth-overall pick David Jiříček. Though his agent might have drawn more headlines by spouting off at Air Canada for losing his equipment, he has quietly performed on the ice, solidifying Czechia's defense and providing four points.
Related: Blue Jackets Prospects Report: 2023 World Juniors Edition
---
Latest News & Highlights
---
While Czechia has been the tournament's arguable cinderellas so far, Switzerland has been the "cardiac kids." They've won three of their four games in overtime, upsetting Finland, beating Latvia, and surviving Slovakia. Their only loss came against the United States. Halifax Mooseheads captain Attilio Biasca has been terrific all tournament, and now he gets to lead his team onto his home ice for this all-important quarterfinal matchup.
Switzerland has been a very tough test for everyone they've faced in this tournament. They certainly could win this game. But Czechia enters as the favorite. With Jiříček solidifying the defense, strong goaltending from Tomas Suchanek, and a ton of depth scoring — not to mention convincing wins over the United States and Canada between August and now —Czechia is a real threat to run the table and surprise their way into a gold or silver medal. But they have to get past Switzerland first.
Favorite: Czechia
Players to Watch: David Jiříček, D [CBJ], Tomas Suchanek, G (CZE); Attilio Biasca, F (SUI)
Quarterfinal 3: United States vs. Germany (4:00 PM ET)
United States: Final Roster
Germany: Final Roster
Everyone expected the United States and Canada to be the teams to beat at this tournament, and though each has suffered an upset through four games, that certainly seems to be the case as the quarterfinals begin. The Americans' dominant win over Finland puts them in the driver's seat with a lot of momentum, and much of that is thanks to University of Minnesota forward and St. Louis Blues prospect Jimmy Snuggerud, who had a four-point night against the Finns and is tied for third place at the tournament (seven points) with his linemate both at the WJC and at college, Logan Cooley. The Americans are deep, with a ton of scoring and a strong defense led by Luke Hughes. But they will know all too well not to look ahead at this juncture — especially after losing in last summer's quarterfinal in a shocking upset by Czechia.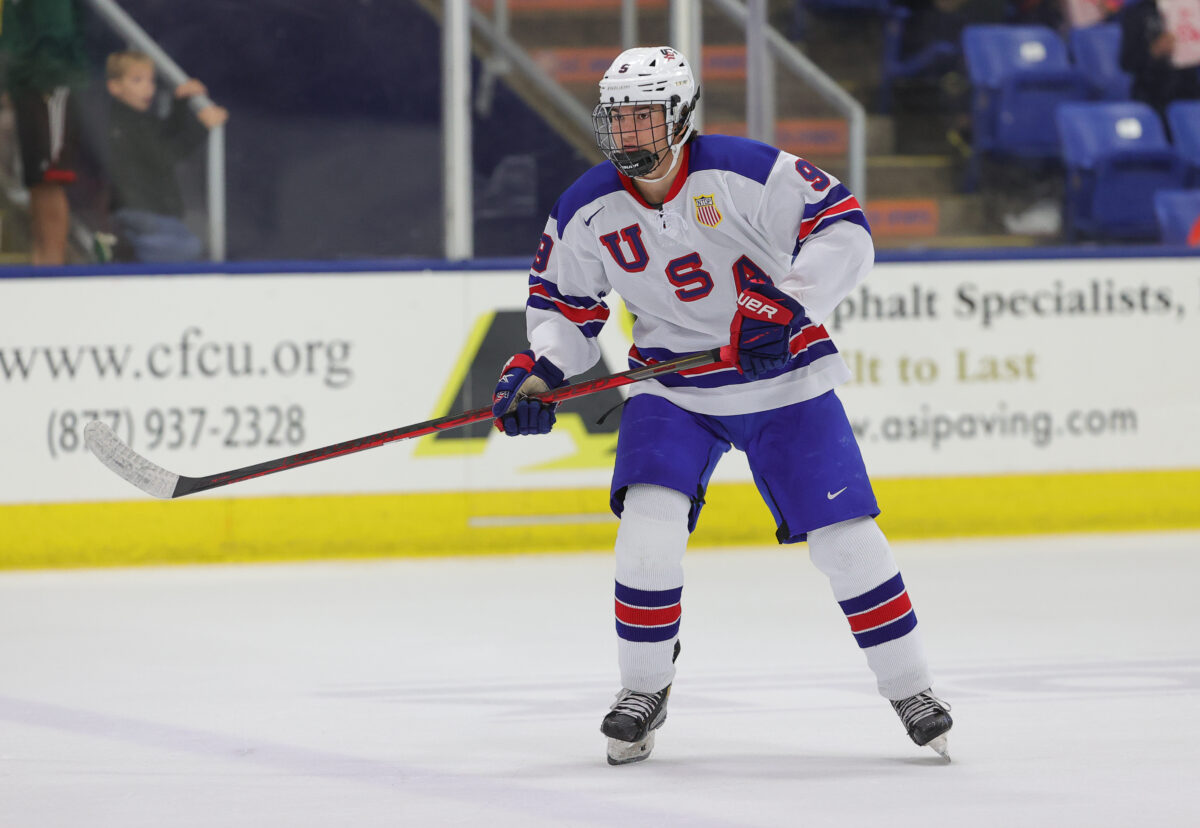 Germany is a hockey nation on the rise. But without the star power of recent tournaments (no Moritz Seider or Tim Stützle to lead the team), the Germans have to be thrilled to be clear of relegation with a spot in the quarterfinals. They won't be an easy elimination, per se, but the Americans should certainly have the upper hand here. If Germany has a chance, Nikita Quapp, the 2021 sixth-round pick of the Carolina Hurricanes, will need to play a huge role. He has been one of the best netminders at the tournament, with a .952 SV% and a 2.02 GAA in three games. Still, unless he has a herculean effort in his back pocket, this will be a United States victory.
Favorite: United States
Players to Watch: Jimmy Snuggerud, F [STL], Logan Cooley, F [ARI] (USA); Nikita Quapp, G [CAR] (GER)
Quarterfinal 4: Canada vs. Slovakia (6:30 PM ET)
Canada: Final Roster
Slovakia: Final Roster
Canada's decisive win over Sweden should have been enough to erase whatever pain continued to linger from their upset loss to Czechia. Canada has been electric and is led by the tournament's top two scorers: presumptive first-overall pick Connor Bedard and 2021 second-round pick of the Dallas Stars Logan Stankoven. Bedard is making headlines left and right, tying Jaromir Jagr's record for points by a U18 player at a single tournament, as well as Jordan Eberle's record for WJC goals scored by a Canadian (14). He is every bit of the future superstar he's always been discussed as, a first-overall prospect unrivaled by anyone since Connor McDavid.
Slovakia has had a great tournament, upsetting the United States 6-3, beating Latvia 3-0, and forcing Switzerland to the shootout. Like Czechia, Slovakia's defense is solidified by a very high draft pick: New Jersey Devils' second-overall pick Šimon Nemec. Forwards Peter Repcik and Filip Mesar (Montreal Canadiens) are both also having terrific tournaments, with five points apiece.
Slovakia is deep, defensively solid, and has had respectable goaltending. They will not be an easy team to eliminate. But it is hard to imagine anyone standing in Canada's way right now other than possibly the Americans. They are the heavy favorites entering this one, and Slovakia will need to be at its very best to threaten an upset.
Favorite: Canada
Players to Watch: Connor Bedard F, Logan Stankoven, F [DAL] (CAN); Šimon Nemec, D [NJD], Filip Mesar, F [MTL] (SVK)
Expect the Unexpected
Apart from perhaps the showdown between Finland and Sweden, we have a pretty good idea of who we expect to go through to the semifinals and who we think will go home, but this has been a tournament of upsets so far. After big upsets in the qualifying round, neither Canada nor the United States will take anything for granted. Every team that wins today will get a chance to play for at least a bronze medal, and every team in the quarterfinals is just three wins away from gold medal glory. This is the good part. Enjoy it.