Anyone paying attention to the San Jose Sharks this season knows that Team Teal has been extremely difficult to figure out. They are the NHL's worst team at home, yet they are one of the best teams on the road. It's a truly bizarre home and away split when home ice is usually where teams get the majority of their wins. Overall, the Sharks sit barely over .500 and it is understandable for their fans to be disappointed. However, I would argue they should look at the glass as half full and not half empty.
If the Sharks were to have the opposite records (great at home, terrible on the road), that would be far more concerning. The Sharks aren't going to have much, if any home-ice advantage in the playoffs, so they will need to be able to win on the road come the postseason. Furthermore, winning on the road is much harder, so if they are able to perform well on the road, one would think the home record has to start improving sooner or later. If the records were opposite, the road record would be a far bigger problem that might not improve. This current terrible home record has to improve. There is just no way they can stay this bad on home ice.
Sharks Riding Four-Game Winning Streak
With Thursday night's 2-1 shootout victory over the Edmonton Oilers, the Sharks have won four in a row, two at home and two on the road. Going back to a 2-1 home loss against the Red Wings, the Sharks have been playing pretty good hockey over their past five games. Despite being heavily out-shot in the win over Calgary during that span, they deserved better against the Detroit Red Wings. Wins over the Oilers, Jets and Maple Leafs were all well-played 60 minute efforts. So what is behind the latest successful string of games? Three things in particular are making a big difference.
1. Top Line On Fire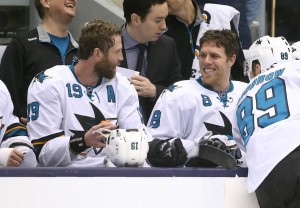 Joe Thornton is not supposed to be doing what he's currently doing at 36-years old. He should be slowing down. During the first few weeks of the season, it looked like he was slowing down. However, the No. 1 overall selection from all the way back in 1997 is back playing at an elite level. Not only has he produced 17 points in his past 13 games, but he's continuing to be a puck-possession and two-way monster playing against top competition. Thornton leads the Sharks in Corsi-for at nearly 57 percent and in goals-for at a whopping 72 percent. In other words, at even strength, Sharks opponents only score 28 percent of the goals when Thornton is on the ice.
Of course All-Star linemate Joe Pavelski is having a career year on Thornton's wing. The Big Pavelski has five points in his past five games. Tomas Hertl also has four points in his past four games since being promoted to the top line. Neither Hertl nor Pavelski landed on the scoresheet against the Oilers but Hertl was extremely effective all night long, getting some quality shots on net.
2. Brent Burns Improving at Even Strength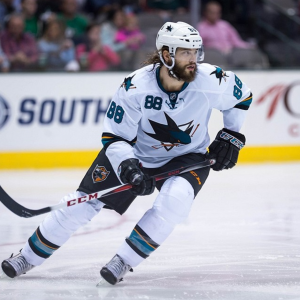 Despite being named an All-Star, defenseman Brent Burns has struggled for the vast majority of the season at even strength. His plus-minus has fallen as low as minus-15, even though he sees easier minutes than that of the top pair of Marc-Edouard Vlasic and Justin Braun. However, during the last five games, Burns has been a positive player in four of them and even against the Oilers. He's a plus-5 overall the past five games, where he has also contributed six points at the offensive end. Granted, five games is still a small sample, but Burns has significantly reduced the amount of egregious defensive mistakes. Given the fact the Sharks' top pair and third pair have been strong all season at even strength, if Burns can clean up his defensive mistakes, the Sharks' defense would all of a sudden look really good.
3. Thornton, Marleau & Couture Centering Separate Lines
The Sharks have some young talented forwards to round out their bottom-six lines, but for most of the season, they have struggled to get depth scoring. This winning streak though has come primarily with a change in the lines. Instead of overloading the top-six with all their top players on the top-two lines, the Sharks have split up Couture and Marleau onto different lines. Marleau continues to play with Joel Ward but has slid into the middle of that line with Couture being bumped down to the third line. With Couture playing this role, he has been a matchup nightmare for opposing teams. Against the Oilers, Couture pumped a ridiculous 11 shots on goal. Sure enough, some of those shots were taken on the power play, but how many teams can say they got a double digit shot output by their third line center? Not many.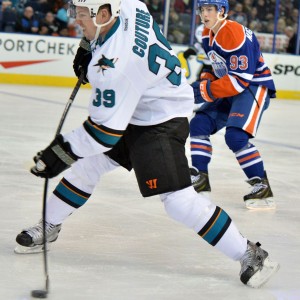 In a league with incredible parity and every inch of ice being heavily contested every given night, depth scoring makes all the difference. Players like Hertl and Donskoi are good young forwards. Together with other depth players, they weren't doing much scoring, but now with Hertl next to Thornton and Donskoi with Couture, their production has increased. Instead of having just two good scoring lines, the Sharks can now roll three scoring lines. Perhaps the top-six lines are a smidgen less talented but the third line is much better, transforming the Sharks into a much more dangerous offensive squad overall.