When the Dallas Stars acquired top-six winger Patrick Sharp and blue-chip blue line prospect Stephen Johns from Chicago last summer, the trade was hailed as yet another managerial masterpiece from Stars' General Manager (and Jedi Knight) Jim Nill. In exchange for Sharp and Johns, Nill sent veteran defenseman Trevor Daley and third line winger Ryan Garbutt to the Blackhawks. With Daley, Chicago gained the experienced blueliner they needed (or so they thought) and no longer had the cap space to re-sign free agent Johnny Oduya, so Nill swooped in and inked the Swede to a two-year, $7.5M deal before Daley's plane touched down in the Windy City. Game, set and match, Nill…or so the pundits, myself included, thought.
Just past the halfway mark of the season, the trade still looks awfully lopsided. Sharp, who scored 16 goals and 43 points with Chicago last season, already has 16 goals and 37 points in just 44 games with Dallas. Oduya has jelled with Jason Demers to form a solid second defense pair. In Chicago, Daley proved a poor fit and was flipped to Pittsburgh for Rob Scuderi, while Garbutt, who put up 32 and 25 points, respectively, in his last two years with the Stars, is on pace for just twelve points this season. Look beyond goals and points, however, and one fact becomes clear: The Dallas Stars miss Ryan Garbutt.
Unintended Consequences
During the 2013-14 and 2014-15 seasons, the trio of Antoine Roussel, Cody Eakin and Ryan Garbutt formed the "Pitbull Line." Hard-hitting, fast and tenacious on the forecheck, they drove opposing teams to distraction. Their efforts regularly resulted in scoring chances, such as this one against Montreal:
The line's possession numbers attest to their success: Per puckalytics.com, the trio posted a combined even-strength Corsi of 53.7% in 2013-14. The whole was greater than the sum of its parts, as Roussel (51.5%), Eakin (50.2%) and Garbutt (50.3%) all had lower Corsi numbers when split up. The 2014-15 campaign was similar in result. Though the Pitbull Line's combined Corsi at even-strength dropped to 50.4%, Roussel's 50.5% without the other two was only marginally better, while Eakin's (50.0%) and Garbutt's (48.8%) numbers dropped noticeably when apart.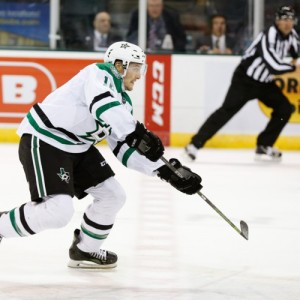 This season, with Garbutt now wearing Blackhawks red, Roussel and Eakin have struggled to establish a similar sort of chemistry with any other right wing. Lacking the chemistry of the Pitbull Line, Dallas' third line has taken a beating in the puck possession department, with an overall even-strength Corsi of 44.3% through forty-four games. Head Coach Lindy Ruff has tried several wingers with Roussel and Eakin, to no avail. The third line's Corsi with each player is as follows:
Ales Hemsky:  41.5%
Colton Sceviour:  45.8%
Patrick Sharp:  44.4%
Valeri Nichushkin:  43.7%
Compare the Stars' third line to some of their other commonly-used combinations, and the problem fairly jumps off the page:
Benn-Seguin-Sharp:  58.2%
Janmark-Spezza-Eaves:  56.0%
Janmark-Spezza-Nichushkin:  56.5%
Roussel-Eakin-Anyone Else:  44.3%
Moen-Fiddler-Sceviour:  58.3%
Moen-Fiddler-Eaves:  53.6%
The Stars' third line is a glaring weakness, a problem which must be fixed before the playoffs begin. Fortunately, Dallas has a couple of options from which to choose.
Fixing the "Glitch"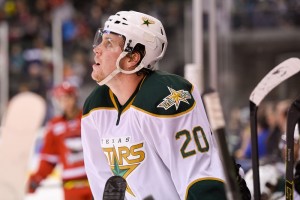 Time is running out for Lindy Ruff to continue auditioning right wings for the third line, but one more couldn't hurt: Brett Ritchie. The big (6'3″, 220) winger was projected to battle for a roster spot in training camp, but those plans were waylaid by wrist surgery. Instead, Ritchie made his season debut in the AHL on December 8. Through sixteen games in Cedar Park, he has nine goals and eleven points. It would seem the only thing keeping Ritchie down on the farm at this point is the lack of an open roster spot in Dallas. Barring an injury, the only way he'll get the call is if Jim Nill waives or trades a forward…which isn't unthinkable.
If Nill wants to shore up the defense for the playoffs with a veteran rental, he could very well offer a forward to sweeten the deal. Patrick Eaves' cap-friendly contract and dangerous shot make him the most likely candidate, though others shouldn't be ruled out. Should Nill pull off such a trade, expect to see Ritchie back in Big D this season.
In the absence of a trade, Coach Ruff has to give serious thought to splitting up Roussel and Eakin permanently. Trading Garbutt for Sharp effectively neutered the Pitbull Line, an unintended consequence nobody saw coming.