The Dallas Stars reported Tuesday that forward Brett Ritchie underwent surgery to repair a ligament in his wrist. The operation was successful, and the 6'3″, 220-pound right wing is expected to be out three-to-four months. Ritchie's absence creates questions for the Stars, as well as opportunities for prospects headed to training camp in Cedar Park next week.
Shuffling Lines
Prior to Tuesday's announcement, Ritchie was projected to start the season on Cody Eakin's right side, opposite Antoine Roussel. Just last month, however, NHL.com's Sean McCullen alluded to the 22-year-old's potential:
…many believe Ritchie will push for a top-six forward role this season.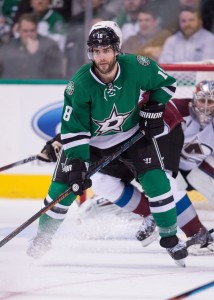 While line combinations are largely speculative at this point, Stars Head Coach Lindy Ruff has already stated his desire to see new acquisition Patrick Sharp move to right wing, to skate on the top line with Jamie Benn and Tyler Seguin. Ritchie, then, would've battled either Ales Hemsky or Val Nichushkin for a spot on the second line. Without that training camp battle, the second line right wing slot will unquestionably be occupied by either the veteran Czech or the young Russian. There's a good chance one of them will move to the left side of that line, centered by Jason Spezza. Let's say, then, that the Stars' top two lines going into the 2015-16 season look like this:
Jamie Benn-Tyler Seguin-Patrick Sharp
Val Nichushkin-Jason Spezza-Ales Hemsky
The bottom two lines, then, are where the real questions lie. Can Patrick Eaves, who hasn't played more than 47 games in a season since the 2010-11 campaign, stay healthy until Ritchie comes back? If not, can Colton Sceviour handle third line minutes and responsibilities? Or does Dallas have a youngster waiting in the wings to seize this opportunity?
The Wild Cards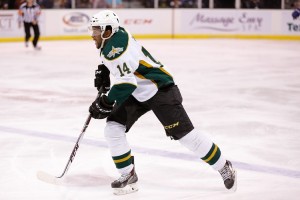 While the Stars' prospect pool lacks potential top-tier talent, the organization has a number of young forwards who could ably take on bottom-six roles in Dallas. The Stars have a shortage of (healthy) natural right wings in the system, with Matej Stransky and Branden Troock at the top of the list. At the end of last season, neither player could be considered NHL-ready, so it would take a flawless September for either one to be in Dallas come October. Thus, Lindy Ruff might have to look elsewhere to fill the hole created by Ritchie's wrist.
Another possibility is that one of the Stars' top center prospects distinguishes himself in training camp and earns a spot on the third line (at least until Ritchie returns). Leading candidates are:
Devin Shore – Taken by Dallas in the second round of the 2012 NHL Entry Draft, Shore turned pro last spring after three years at the University of Maine. In 19 regular-season games with the Texas Stars, he tallied four goals and two assists, adding another goal in three playoff contests. Thirty to forty games on Cody Eakin's wing in Dallas could serve to accelerate Shore's development.
Gemel Smith – Hockey's Future calls Smith "…one of the fastest players taken in the 2012 draft…" and "…an energy player that makes the Energizer Bunny look like a tortoise…" The 21-year-old Torontonian is also regarded as a strong forechecker who might make a better wing than center. When reading Smith's talent analysis, the phrase, "Ryan Garbutt, minus the stupid penalties," comes to mind. Smith might be the closest thing to a perfect fit with Roussel and Eakin at this time.
A third scenario involves one of Dallas' left wing prospects playing his way onto the big club's roster. Though it's not likely this year, the possibility of a youngster like Cole Ully or Remi Elie catching fire in training camp can't be ruled out. Should one of those two make the cut, the Stars' Opening Night forward lines could look something like this:
Jamie Benn – Tyler Seguin – Patrick Sharp
Ully/Elie – Jason Spezza – Ales Hemsky
Antoine Roussel – Cody Eakin – Val Nichushkin
Curtis McKenzie – Vernon Fiddler – Patrick Eaves
Ritchie's wrist injury, while unfortunate, is only a minor setback for the power forward. By early January (at the latest), he'll be back on the ice. From an organizational perspective, the timing of Ritchie's injury couldn't be much better. Unlike a long-term injury during the regular season, there won't be any "changing on the fly." Prospects enter training camp on September 18 knowing there's an opening with the big club, and Lindy Ruff has three weeks to evaluate the available talent and assemble his lines before the puck drops on the 2015-16 season.