Slumping Sharks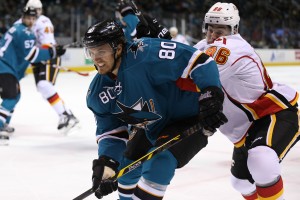 Losers in five of their last six games, (albeit two overtime/shootout losses), the San Jose Sharks are slowly losing their grip on a playoff spot. Team Teal is just one point ahead of both third place Vancouver and fourth place Calgary, both of whom have multiple games in hand. Not to mention, San Jose's bitter rival, the team that has knocked them out two years in a row with Stanley Cup success, yeah those fifth place LA Kings are only six points behind San Jose with three games in hand. I shouldn't have to do the math for you but if the Kings were to win all their games in hand, they would be tied in points with the Sharks.
Of course losing five of six has put the Sharks in a sour mood. Two of the games were losses to Calgary where the Sharks mustered just a single goal in each game. The three other losses saw them score four goals in each only to lose. Safe to say it has been a team wide funk. At times the offense just hasn't been there, and for the majority of this stretch the defense and goaltending haven't been sharp. However, when it comes to the blue-line, one that is missing top defensemen Justin Braun (out all of the last six games) and Marc-Edouard Vlasic (out for the last three games), there are three extremely positive signs.
Brent Burns Improving at Even Strength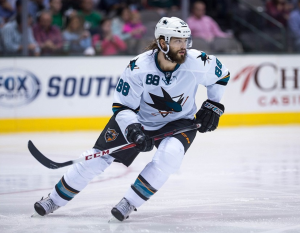 As noted recently, after spending the majority of the season hovering around the 41-42% mark for goals for at even strength, Burns has recently upped that number to 48.8%. After a terrible start to the season defensively, he is now almost all the way back to being a positive goal differential player five aside. This is a huge development for the Sharks. Over his last 17 games, Burns has turned in a plus-5 rating. On the season he is just a minus-2 after falling as low as minus-9 at one point. Everyone knows the offensive weapon Burns can be regardless of where he plays but it has taken some time for him to adjust to playing defense again. While he still has made some awful turnovers that make any coach cringe, his overall game has been much improved lately.
Brenden Dillon Stepping up Big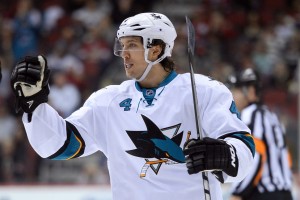 Another defenseman who has had his fair share of struggles this year is Brenden Dillon. After being acquired in November for Jason Demers, Dillon took some time to adjust to his new teammates but then settled in. He played well for a stretch as Burns' partner but when the defense pairs were mixed up Dillon and Justin Braun never seemed to find a rhythm. Since Braun has gone down with injury though, Dillon has been incredibly solid. His minus-11 on the season looks pretty awful and over his last 10 games he has been a minus-4 but in reality he has been one of the more consistent defenseman over this last stretch. Against Washington on Monday it was the pair of Dillon and rookie Mirco Mueller who spent by far the least amount of time in the defensive zone of the three pairs. They made little to no mistakes and were extremely quick in recovering pucks and getting them up to the forwards or out of the zone.
Mirco Mueller Flashing Potential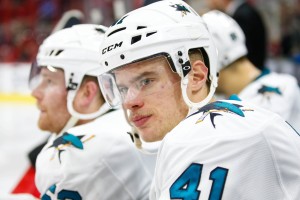 Speaking of Mueller, the 19-year-old rookie has had a very inconsistent year to say the least. Both Mueller and Dillon are hovering around the 41% goals for mark where Burns used to be. However, those low totals are a bit of bad luck as each of them are right around 52% Corsi-for percentage. Possessing the puck that much, naturally the goals should start to even out. As for Mueller specifically, the Swiss defenseman has shown he can keep up individually with any forward in the game. He has that terrific skating ability and he showed early on in the season a willingness to get nasty. In the first game of the season he was pushing guys out of the crease with authority against the Kings and then nearly got in a fight later in the season with Ducks captain Ryan Getzlaf. Since returning to the lineup for the first time in two months after injury and a loan to the Swiss World Junior team, Mueller has looked strong in two of the three contests. He was incredibly responsible in the 5-1 win over Vancouver and while he failed to tie up the stick of a Calgary goal scorer in the loss to the Flames, he was again excellent against Washington.
Strong Unit When Healthy
Make no mistake about it, Burns, Dillon, and Mueller are all playing well right now. The majority of San Jose's defense problems have come from Scott Hannan and Matt Irwin. When Vlasic and Braun come back and push those two out of the lineup, the Sharks will have three solid pairs. Vlasic and Burns, perhaps Mueller and Dillon remain together as a second pair which would then allow Braun to find his game against third and fourth lines whom he should feast against. Or Braun could play with Mueller and Dillon with Tennyson (the latter two had been playing well together before Vlasic went down), and there would be three balanced pairs with a lefty and righty on each one and no Hannan nor Irwin in the lineup.