The St. Louis Blues front office had a busy first half of July that saw one big move and a couple smaller ones made to shake things up.  T.J. Oshie was moved to Washington for the reliable work horse Troy Brouwer, and Barret Jackman was not re-signed, allowing Nashville to scoop him up on a 2-year, 2-million dollar deal. These long time Blues were the first to go in efforts to shake up the core of the team, while transitioning from their 'older core' to their younger one. Was it enough of a change to really make a difference moving forward, especially with Ken Hitchcock returning to man the bench?
Here's a look at the three biggest question marks for the St. Louis Blues heading in to next season, which will expose whether they'll be contenders, playoff bound, or a complete dud in 2015-16. NOTE: If the team can band together and buy into Hitchcock's systems long-term, and if Hitch can loosen the reigns a little and get more creative, things should still work out in the Blues' favour.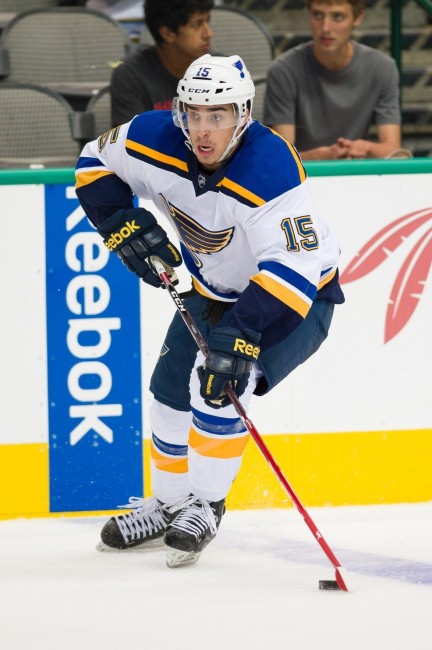 1. Forward Corps
With so many forwards on the roster it's easy to see why this is a question mark heading in to next season. Yes, most of the lines are worked out, but there are some gaping holes that will need to be filled with consistent scoring to ensure the Blues do not miss the playoff cut this season. First off is the obvious hole left by T.J. Oshie moving on; it was a good move for the team because he and Hitchcock did not see eye-to-eye and he was invisible in the playoffs (so is his trade partner Brouwer). That doesn't erase the fact that Oshie was a 45-point plus finesse forward in the regular season every year.
These points need to be made up for somehow if the Blues want to stand a chance in the star-studded Central Division out West. This leads to a few different options for the team. The first is to truly unleash the combinations of Vladimir Tarasenko, Jori Lehtera, and Jaden Schwartz (which will sometimes be replaced by Alexander Steen) in hopes that they all reach new heights again this season. However, no NHL team can rely on one line for most of their scoring and still experience great success so that plan won't work long-term, and beyond this top line is where the true question arises. What will the line combinations be to make sure Paul Stastny has reliable support and can be the game changer he was brought here to be?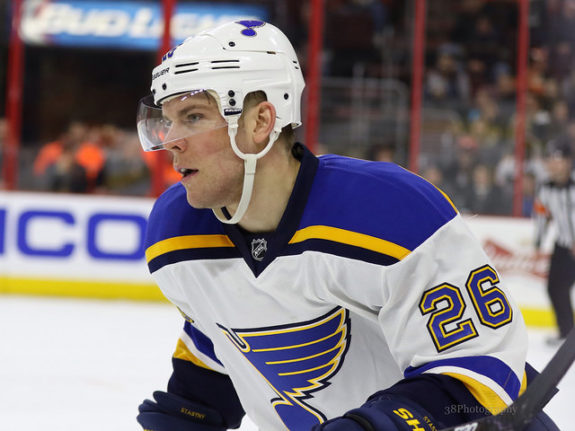 All (current) signs to aid Stastny point to a combination of scenarios such as continued or increased chemistry with Dmitrij Jaskin. He will need to build on his breakout year from last season if he wants to stay on the second line. David Backes could also move to the wing to provide net-front presence to allow Stastny to do work in the corners. Ty Rattie could step up and finally become the breakout star he has previously been with the Chicago Wolves of the AHL, but that would require a lot more finesse than fans have seen out of the crafty forward thus far in his NHL career. Magnus Paajarvi could also grow into the player the Blues traded David Perron for, or (and what seems to be the most likely at this point) Robby Fabbri can come in and have a Filip Forsberg type of rookie campaign.
Robby Fabbri's Upside
This final scenario for the second line will be an electric rookie who is already creating quite the buzz across the St. Louis area. Robby Fabbri is going to hopefully grow in to a Marty St. Louis-type of player for the Blues, which could provide the scoring depth the team needs to move deep into the playoffs. Though he won't be an overnight sensation, this season should be a great stepping stone for the young scorer to build on as Tarasenko's lockout-shortened rookie campaign was. His high hockey IQ and quick feet will give him an edge over most teams. If his body can hold up to the heavy play of the Western Conference (he has put on some weight, reportedly about 15 pounds), or if he can avoid big hits with his speed and elusiveness, he should provide the support Stastny needs to be successful.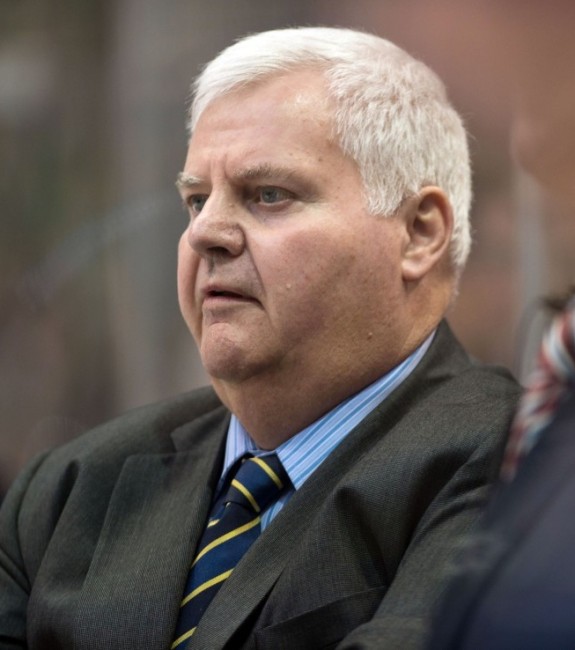 2. Ken Hitchcock and his Coaching Style
This could possibly be the biggest question mark for the Blues heading into the 2015-16 campaign. Hitchcock has been known to overwhelm some of his players with too many systems for each situation, which stifles creativity and confuses players in-game. The play develops so quickly that having to over think things to make sure you're following the system for that specific situation leads to slower play and more mistakes. If Hitch can ease up a little and allow his younger core to expand their speed and creativity, he will be a great leader of the Note again this season and the team should experience great success.
The only other hiccup for Hitchcock could occur between him and Backes, as the transition period to that younger core is taking place throughout this season. If Backes doesn't like his decreased role (likely on line two with Stastny or line three with Brouwer), or if he gets focused on physicality over the scoreboard, especially in the playoffs, he could see a further demotion (possibly losing the "C" or even being traded) which will lead to a rocky time in the Gateway to the West. However, if Hitchcock and Backes can work together to generate speed, efficiency, and determination this Blues squad may surprise many throughout next year.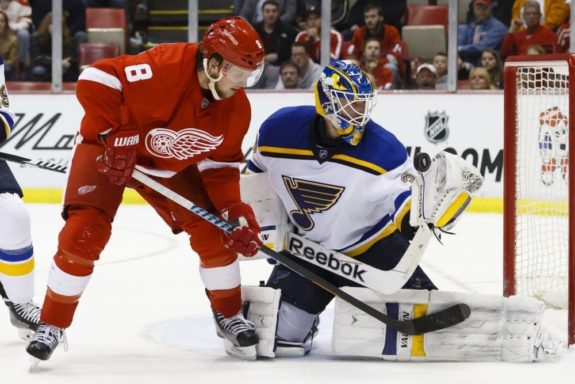 3. The Goaltending Battle
This is probably the least of worries for the team and its fans, or at least it should be. Though the goaltending situation in St. Louis isn't set, it won't come at the expense of wins in the 2015-16 season. As was last year, Jake Allen and Brian Elliott will battle for the 1a spot, and will likely jockey back and forth for a little while at the beginning of the year. Though Allen is expected to be the starter for most of the season, fans should never count out Brian Elliott in a 1b role. Just remember the 2011-12 season that saw him make the NHL All-Star team, and share the Jennings Trophy with Jaroslav Halak in that very same 1b role.
Allen should be able to build on his experience last season to become even more sound and consistent. He should also be able to improve upon his stellar 'rookie' numbers from last season (22-7-4, .913 SV%, 2.28 GAA,  4 SO), albeit slightly, as he was very strong last year. If Brian Elliott sees an opportunity to move on to a Cup contender, he may request a trade as the season goes on, which would make this a much more mainstream concern for the club, but fans can't get ahead of themselves as Ells definitely understands what being a good teammate is all about, and is here to win above all else.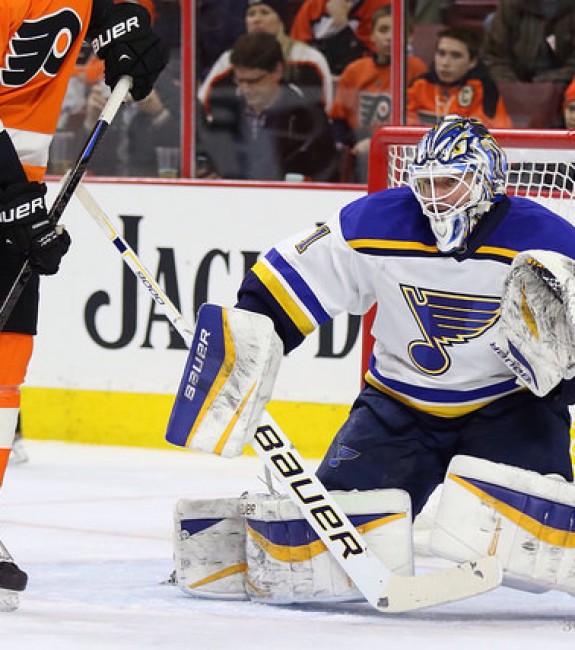 These questions will obviously change as the season unfolds, but they do paint a good picture of the current state of the St. Louis Blues heading into next year. With all of the other moves made in the Central Division and the Western Conference it's sure to be an uphill battle for the club, who may just squeak in to the playoffs this year. The new additions may make a big impact and surprise a lot of people around the NHL, however they probably still won't be true Cup contenders for a couple more seasons.
Like what you've just read? Follow me on Twitter: Follow @pep30