It's the most, wonderful time, of the yearrrrrrrr! Who doesn't love playoff hockey right? This is what we wait all season for, this is why most of us became fans of the game, as the postseason captivates us year after year after year. My personal favorite part is the dying minutes of a one-goal game when everything is a scramble, bodies are diving everywhere, pucks are zipping around the zone and the intensity is as high as can be. Until we get to overtime that is, when it become full-on, tighten your butt cheeks, gasp and cringe with every shot end-to-end action (WITH NO COMMERCIALS!!).
Who will hoist the 2016 Stanley Cup?
http://gty.im/56897481
With the team I cover out of the playoffs (again), I relish the opportunity to write a little out of character and enjoy the playoffs as a fan of the game, and pick my three stars of each night like our friends over at Yahoo!/Puck Daddy blog do throughout the season. You can find player standings at the bottom of each post with three points for being the no. 1 star, two for no. 2 and one for no. 3 and on some nights we'll have an honorable mention.
May 16, 2016
#3) Kris Letang, Pittsburgh: Game-high 7 SoG, 2 hits, 2 blocks, game-high 27:56
Letang, who looked like he may miss Game 2 after the hit he took in Game 1, was everything the Pens needed in their crucial win that evened the East Finals at one game apiece. He led all players in ice-time, and shots on goal, despite not registering a point. Pittsburgh limited Tampa to only 21 shots on goal and Letang, who is more known as an offensive player, played a large part in shutting down the high-powered Lightning offensive players. The whole D-corps was solid as well, but Letang deserves all of the praise after the 3-2 OT win.
Letang: Even when Sid and Geno aren't scoring, they're opening things up for somebody else. I like their game.

— Angie (@acarducci) May 17, 2016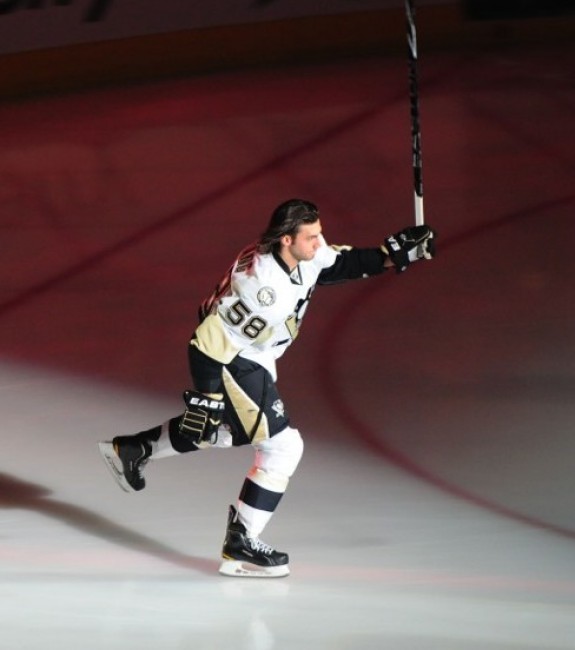 #2) Andrei Vasilevskiy, Tampa Bay: 38 saves/41 shots, Loss
The 21-year-old was terrific in Game 2 and the loss that Tampa sustained isn't really on him, as he turned aside 24 Pittsburgh shots in a row over the second (8) and third period (16) while his mates struggled to contain the Pens offense. Vasilevskiy has surrendered four goals over the two-game split on the road to open the series and should he get the call in Game 3 he should be pretty confident despite the heartbreaking overtime loss. None of the three goals that he surrendered were easy to deal with and he also made some spectacular saves over the course of the game.
Boyle on Vasilevskiy's performance: "He was awesome. He gave us a chance. He was tremendous for us." #TBLightning

— Bryan Burns (@BBurnsNHL) May 17, 2016
Vasilevskiy! 💯💯💯https://t.co/462LHHYNor

— NHL (@NHL) May 17, 2016
#1) Sidney Crosby, Pittsburgh: GWG in overtime
Hard to believe, but this was Crosby's first OT goal in his 113th NHL playoff game and boy did it come at the perfect time for Pittsburgh. If they had gone down 0-2 to Tampa's backup goalie and had to win at least one game on the road to extend their season, and the task of having to beat the Bolts four times in five game would be quite daunting. But 87 saved the day and ended the game with the quickness — 40 seconds into the extra period when he snapped a drop pass from Bryan Rust into the top portion of the net sending the Penguins home crowd into a frenzy.
Crosby: "I didn't think Rusty saw me. I just kind of let him know I was there."

— Tom Gulitti (@TomGulittiNHL) May 17, 2016
The fastest OT goal in @Penguins playoff history is the first of Sidney Crosby's career. #StanleyCuphttps://t.co/z4W3BzJQVs

— NHL (@NHL) May 17, 2016
3-Stars Standings:
Joe Pavelski (SJ): 12
Brian Elliott (StL): 11
Braden Holtby (Wash): 8
Nikita Kucherov (TB): 7
Victor Hedman (TB): 6
David Backes (StL): 6
Michal Neuvirth (Phil): 5
John Tavares (NYI): 5
Pekka Rinne (Nash): 5
Tyler Johnson (TB): 5
Matt Murray (Pitt): 5
Patric Hornqvist (Pitt): 5
Ben Bishop (TB): 5
Troy Brouwer (StL): 5
Alex Ovechkin (Wash): 4
Nick Bonino (Pitt): 4
Andrei Vasilevskiy (TB): 4
Kris Letang (Pitt): 4
Thomas Hickey (NYI): 3
Antti Niemi (Dall): 3
Evgeni Malkin (Pitt): 3
Artemi Panarin (Chi): 3
TJ Oshie (Wash): 3
Radek Faksa (Dall): 3
Mike Fisher (Nash): 3
Kari Lehtonen (Dall): 3
Carl Hagelin (Pitt): 3
Phil Kessel (Pitt): 3
Robby Fabbri (StL): 3
Ondrej Palat (TB): 3
Sidney Crosby (Pitt): 3
Dan Rice is in his 9th year of reporting for THW & has covered NJ Devils home games for 15+ years at various websites. He began his journey working for legendary broadcaster/writer Stan Fischler from 2002-04 & completed an internship at the ECHL; he also has been writing features for the NWHL (nwhl.zone) website since 2016.