With the 2015 NHL Draft just around the corner, final rankings are being released and mock drafts are in production. With all the hype over the high end talent and incredible depth of this draft, fans sometimes lose sight of other important aspects of the NHL Draft.
It is becoming one of the busiest trade days of the year, possibly second only to the Trade Deadline. Teams use this occasion as a last ditch effort to attain valuable draft picks for this year, often a significant part of ongoing trade talks.
So, will we be looking at new directions for multiple teams on draft day, in addition to their hopeful future core? Yes, there certainly will more than a few shakeups come June 26th. The question is, which teams will be willing to pull the trigger, and which players will see a change in scenery for next season?
---
Patrick Sharp
Sharp has been a part of Chicago Blackhawks trade rumours ever since their salary cap issues began after their Stanley Cup in 2010. The 33-year-old has a cap hit of $5.9 million that runs through 2016-17. For Chicago, they have just $5 million to sign 9 more roster players. That includes RFA Brandon Saad and Marcus Kruger.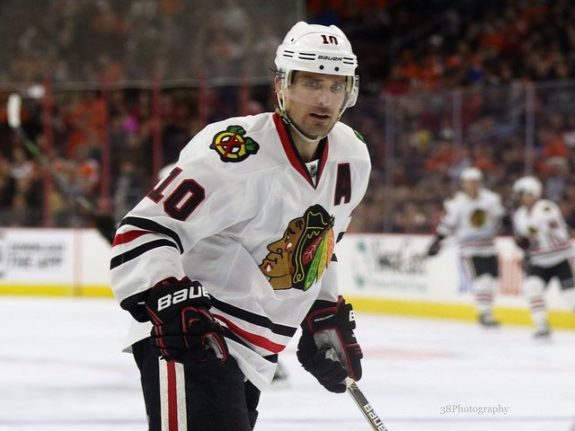 Sharp comes as the Blackhawks most volatile piece, as he would shore up a solid amount of cap space, while also warranting a decent return. Chicago likely won't look for many, if any, roster players in return, but would settle for draft picks and/or prospects. Sharp had a career year in 2013-14 with 34 goals and 78 points. A team with a solid farm system and who is already on the rise would be the likely destination.
The Blackhawks are right up against the cap with 9 players still needed in order to round out their roster. That's not an easy project to complete without sacrificing something fairly large. At this point, it seems impossible for Chicago to be able to come back for 2015-16 with the same complete core they have right now. Sharp seems to be the odd one out and the Hawks will likely want to capture the potential within the 2015 Draft.
Destinations: Columbus Blue Jackets, Florida Panthers, Winnipeg Jets.
---
Ryan O'Reilly
O'Reilly, for some reason, has always had contract issues with the Colorado Avalanche. In 2014, he signed a two-year deal with Colorado worth $6 million per year. All this came after a highly confusing situation dealing with arbitration, and a Calgary Flames offer sheet. Now, just one year later, O'Reilly has been a magnet for trade rumours all season.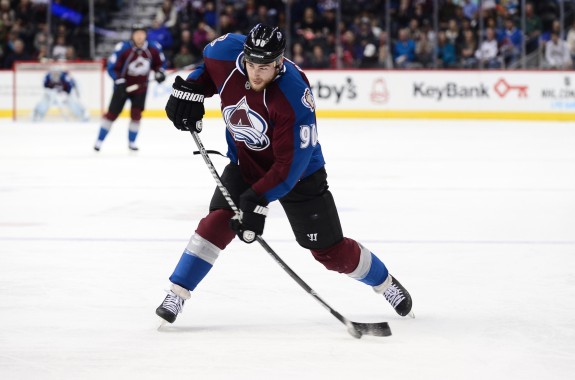 With only a year remaining on his contract, many sources are saying that an extension doesn't look very imminent and the Avalanche may be forced to trade him. O'Reilly had a career year in 2013-14, scoring 28 goals and 64 points in 80 games, while accumulating just one minor penalty, earning him the Lady Byng Trophy for gentlemanly play. At just 24 years old, Colorado would look for a large return, likely including a 1st round draft pick and two roster players.
Colorado is definitely a team on the rise, but after losing Paul Statsny to free agency last year, losing O'Reilly without any return would be disastrous to their future. The NHL Draft would be the best time for the Avs to trade him, as they can add more picks in this year's talented draft, instead of next year's. Joe Sakic and his team should be working hard, both on a possible extension, and a trade they could pull by June 26th.
Destinations: Toronto Maple Leafs, Montreal Canadiens, New Jersey Devils.
---
Phil Kessel
Then, of course, there's Kessel. Since the Toronto Maple Leafs season began to go downhill and a decision was made to begin a rebuild, rumours have swirled of Kessel and Phaneuf's departure. But, with the hiring of Mike Babcock, it looks likely for Phaneuf to stay. Kessel has been highly criticized in his time in Toronto for his lack of defensive play and physicality.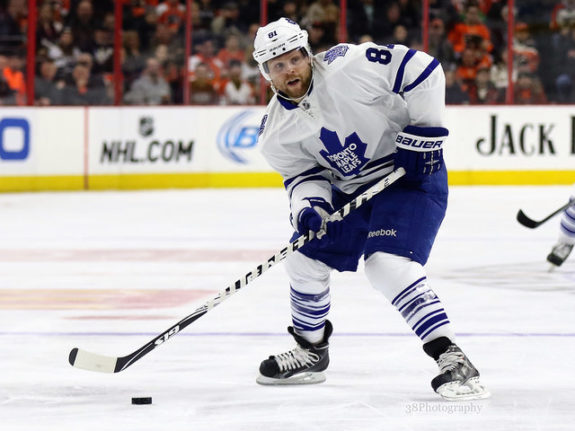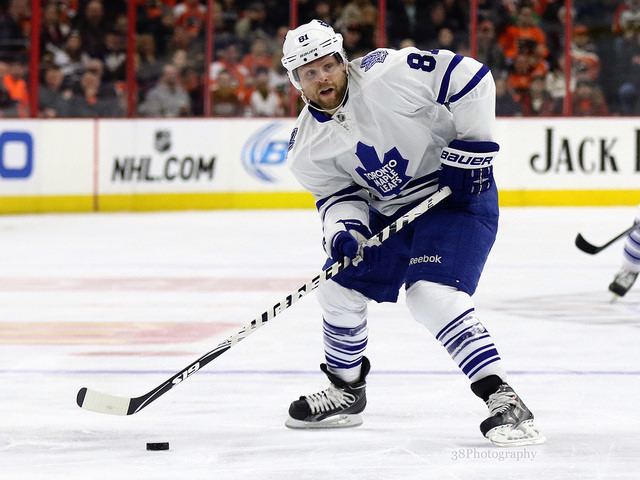 Now, with a rebuild beginning, Kessel's time in Toronto may be over. He had a down year last year, scoring 25 goals and 60 points, but has cemented himself among the premier goal scorers in the NHL. The problem is his contract. The Leafs signed him through 2021-22 at an $8 million cap hit. Not many teams have the flexibility to bring that contract on. If a deal is reached, it will likely garner Toronto a 1st round pick, along with a roster player and a solid prospect.
The Maple Leafs have officially announced that they are in the early stages of a total rebuild. There's simply no need for Kessel at this point, both on the ice and in the locker room. They could potentially add another top draft pick in this year's draft, acquiring both a top forward and defenceman. The time is now for the Leafs to make an extreme move.
Destinations: Florida Panthers, Calgary Flames, Columbus Blue Jackets.
---
To say the least, the 2015 NHL Draft will be an intriguing one. With rumours swirling for over a month, they may all come to a head on the same day. And what a day it would be. Not only do fans have to look forward to one of the deepest, most talented drafts since the 2003 NHL Draft, but we could be witness to more than a few blockbuster trades. Each of them are very realistic as well, as their respective teams are in the position where they need to make a move sooner rather than later.
What do you think possible trades could be featuring these players? Feel free to discuss in the comments below!