The team's development camps have come to an end and that means the training camps are up next in which the fight for an opening night roster spot starts. Each year several prospects are accepting the challenge to compete hard and impress their coaching staff in pre-season games in order to make the team's opening night roster. Among them are three Swiss prospects who have the chance to accomplish this and who could catch your attention during the upcoming season. THW took a closer look at them:
Kevin Fiala (Forward, Nashville Predators)
Kevin Fiala is considered to be the best Swiss prospect as of now. The St. Gallen-native is Nashville's first round pick from 2014 and played his first two NHL games last season, one of them in the playoffs. He shows good vision and a matured understanding of the game. He has smooth hands and possesses a very accurate pass. His strength is definitely the offensive game, where he can be a very dangerous and creative player, but he needs to simplify his game in order to become more competitive at NHL level.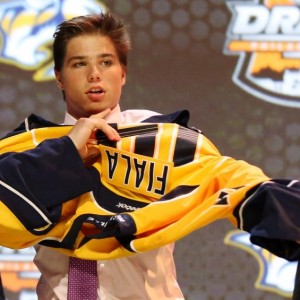 Fiala looking to make the Predators roster and is confident about his future in Nashville: "I'm going to be playing for the Nashville Predators next season. I'm not going to [American Hockey League affiliate] Milwaukee, I'm going to be playing in Nashville." Even though Fiala belongs to Nashville and is ready to make the NHL next season, the Predators roster shows good depths. They've added a couple of players during the off-season and it will be hard for Fiala to make it into the team's first two lines. That leaves him battling for a spot with Steve Moses, Gabriel Bourque, Viktor Arvidsson among others, but Fiala is the most talented player from all of them and is a prospect who could make Preds fans even more excited about their future. He is a treat to watch and has the potential to keep you on the verge of the seat during the whole game.
Sven Baertschi (Forward, Vancouver Canucks)
The first round pick of the Calgary Flames in 2011 never really felt comfortable in the Flames organization and when the team traded him to the Vancouver Canucks this spring, it looked like a stroke of luck for the Swiss Forward. He played a strong second half of the season with the Utica Comets, leading them into the Calder Cup Playoffs with decent numbers. In his five games with the Canucks last season he scored two goals and is looking to finally arrive in the NHL in the upcoming season. Although the RFA isn't signed yet by the Canucks because of a tight salary cap, Vancouver intends to sign Baertschi as they kept a roster spot open for the Swiss.
By the way, Sven Baertschi — a RFA — still hasn't come to terms with the Canucks. Imagine the saga in Calgary if he was still around here.

— Darren Haynes (@DarrenWHaynes) July 22, 2015
He certainly has the skills to make the Canucks roster next season and once he is signed before the start of the pre-season camp, he is ready to impress his coaching staff. Baertschi is a creative winger who is always looking to do something offensively. There are question marks on his consistency and he is considered to be injury prone, but if he manages to stay healthy and more consistent, Baertschi surely will make the Canucks roster and has the potential to put up decent numbers next season on the Canucks' third or even second line.
Dean Kukan (Defenceman, Columbus Blue Jackets)
Not many Blue Jackets fans have Dean Kukan on the radar ahead of the season, but there is a chance they soon will. The 22-year-old Swiss defender was signed to a two-year contract on June 1. He left his home country of Switzerland at the age of 18 and signed with Lulea to join their junior team. After several World Junior Championships and two seasons with the Lulea U20 team he was called up to play in their first team. Kukan gained valuable international experience in the past two years as he participated in two Worlds with Switzerland and brought his game to the next level which didn't go unnoticed by the Blue Jackets and led to the contract offer this summer. He is a fairly skilled two-way defender, though he could improve his offensive game. He shows a good positioning game, good work ethic and is a strong puckmover.
The Blue Jackets are a bit thin on the blueline and therefore there is a slight chance that Kukan will make the opening night roster if he manages to impress in pre-season camp. The Blue Jackets are in need of puckmoving defenders and Kukan would be a good fit in one of their powerplay units. The Blue Jackets are still believed to be adding a defender via free agency like Christian Ehrhoff, someone the Blue Jackets have already talked to. If they sign Ehrhoff, it would mean that Kukan starts the season with the Lake Erie Monsters , even though Lulea still hopes that in this case he would return to Sweden for the season. However, the Blue Jackets were injury prone in the past two seasons and Kukan surely would be ready to jump in and fill holes on their blueline when injuries occur. His international experience might give him an advantage over the other competitors.
SHL: Comeback in Sweden already this fall? Luleå HF hopes for Dean Kukan's return #SHL #NHL http://t.co/kH8g0Ayt08

— swisshockeynews.ch (@SwissHockeyNews) June 3, 2015
Another Swiss prospect who will try to make the team next season is Sven Andrighetto, who will be presented in the coming days on The Hockey Writers. Stay tuned!