I'll be completely honest with you: I picked the Lightning to win this series in 6 games.
Yet, here we are, on the brink of game 6, and it is the Lightning, not the Red Wings, who are staring the off-season in the face. So, how did we get here?
As I wrote previously, Justin Abdelkader has been a big piece of the puzzle, as well as Detroit's team defence, and obviously Petr Mrazek has stood on his head for the majority of this series.
So what does Detroit need to do in game 6, to send the Lightning roster to the golf course?
Tight Team Defence
It's no secret that Tampa lead the NHL in goals in the regular season, but Detroit has shut them out twice in the playoffs, and they were the only team to do so in the regular season as well. The Red Wings have been limiting zone entry and disrupting the Lightning forecheck which has limited their offence significantly. Steven Stamkos and company are only averaging 2 goals a game against the Red Wings, and have been shutout twice by Saint Petr, who now has his own "The Lord's Prayer" thanks to Red Wings fans on r/DetroitRedWings.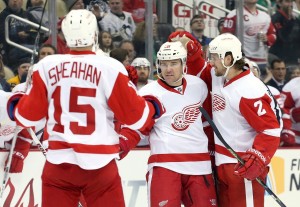 While Mrazek is playing the best hockey of his career right now, there is a bigger reason that the Lightning haven't been able to string together more than 3 goals a game (save for their 5-1 blowout in game 2). Every single person on this Wings team plays defence, from Zetterberg to Ferraro, all the way down the lineup. Some, better than others, obviously, but on every line there is a designated forward who will put significant back pressure on the Lightning attack. If the Wings want to win game 6, they'll need to continue this with zero slacking.
Keep TyJo in Check
I grew up with a kid named Kyle Johnson who played a lot like Tyler Johnson. They were born in the same year, had similar upbringings, skate like mad, have terrific shots and always had the puck on their sticks. The difference between Kyle and Tyler, is that one is a WHL champion, a World Junior Champion, a Calder Cup Champion and has 4 goals in 5 games in the NHL playoffs, and the other hasn't scored a point in any meaningful hockey league since 2012.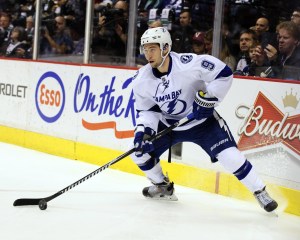 Tyler Johnson has been the Lightning's best player this series, which shouldn't be too surprising considering his last 2 seasons in the NHL. Johnson's speed is what is allowing him to go around the Red Wings defenders and get him to the net, and containing his speed will be the biggest challenge for Detroit tonight. Johnson lead the Lightning in their 3-2 comeback in game 4 by scoring 2 goals and setting up the other, but it was only after Glendening left the game with an apparent hand injury that Johnson's game really opened up.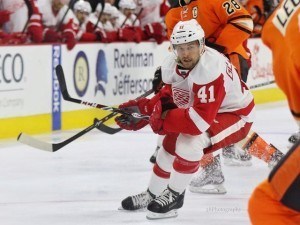 Since game 6 is in Detroit, Babcock will have last change which will pit Johnson against Glendening once again. Can Luke Glendening keep up with Johnson's 18 minutes per game average? If Luke's 18:11 TOI from game 5 is any indication, I'd say yes. The Grand Rapids, Michigan native also took a game-high 10 defensive zone faceoffs in game 5, while Johnson took 7 offensive zone faceoffs. Look for that stat to trend even higher in game 6.  If the Red Wings want to win game 6, Glendening will have to play at his best once again.
Get the Big Boys Going
The playoffs are a tricky thing for star players. On one hand, you have guys like Jonathon Toews who seem to always score in the playoffs, no matter what, usually at a point-per-game pace. On the other hand, you have guys like Henrik Zetterberg who have 3 points in 5 games this post season. To be fair, stars "slumping" in the post season is a normal thing, because line matching and shutdown defence become all the more relevant once the playoffs roll around.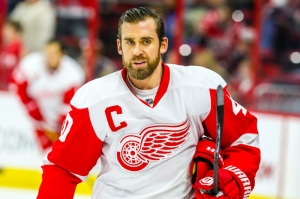 While I am not at all upset that guys like Zetterberg, Nyquist and Tatar are "underperforming" in the point department (while still playing a big part in the overall team wins), it would be great to see them contribute offensively on the score sheet for game 6. Tatar and Nyquist are both sporting 1 goal and 1 assist, while Zetterberg has dished out 3 assists himself. Obviously the team is doing well for itself, but should we not expect more from our stars?
Don't get me wrong, I am very happy that Detroit's secondary scoring is stepping up, and they seem to be scoring by committee better than ever, I just look back to the 2008 playoffs when the Red Wings won the Cup and see that Zetterberg at 24 points in 23 games. If Detroit Wants to win game 6 (and the Cup, for that matter), their primary scoring, high-end-skill guys will have to begin stepping up. Guys like Riley Sheahan, Justin Abdelkader and Luke Glendening only have so many goals in them.
What a series this has been so far. From shutouts, to 5-1 blowouts, this series has been as back and forth as you can imagine; the Lightning are not going to roll over as they fight for their playoff lives, so the Wings are going to have to be at their best to put the final nail in the coffin. As much as Red Wings fans will always revere Steve Yzerman, this is the one time they really hope that he fails to succeed.
Game 6 takes place April 27th at 7 pm Eastern. See you there.