In my previous article, I talked about how the Habs were playing with fire if they were waiting for Carey Price to win them that final game in the series vs. Ottawa. However, Montreal has relied on Price the entire year and Game 6 vs. Ottawa was no different. With Ottawa having momentum after winning the previous two games, it was a night where you hope the team's leaders and best players show up and Price did just that.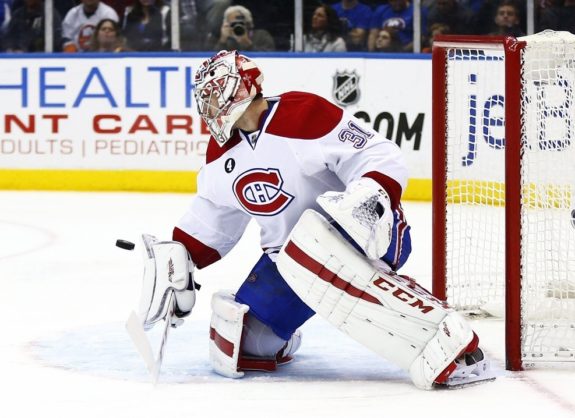 All About Carey Price
There were so many stories written about the 2013 Montreal-Ottawa playoff match-up and the less than stellar numbers Price put up against the Sens this season. The Sens had a magical run going into the playoffs but after going 3-0 to start the series, most thought the series was already over as it seemed too much to beat Price four games in a row. Credit to Ottawa who fought back to get two wins, but the best goalie in the world was dialed in and put on a show. Price made numerous outstanding saves to keep in his team in the game.
A lot has been said about how much the Habs rely on Price but it's hard to not keep repeating it. When a goalie breaks team records previously held by the likes of Jacques Plante and Ken Dryden and doesn't have a star-laden team in front of him, it's impressive. Montreal currently doesn't have a captain as Andrei Markov, Tomas Plekanec, Max Pacioretty and PK Subban all wear the 'A' but you can argue that Price is Montreal's true captain. He isn't allowed to wear a letter per NHL policy but he does sit in on the team's leadership meetings and it's hard to envision another player in that locker room whose voice and presence carries more weight.
No other choice for MVP
The NHL saw a dip in scoring as no player cracked 90 points this season. That's what makes Carey Price so intriguing for the Hart Trophy. No forward stood out in any magnificent way though Alexander Ovechkin had 53 goals while Jamie Benn and John Tavares finished 1-2 in NHL scoring. Even deciding who was the best defenceman will be tough as there are many deserving candidates but no clear cut choice.
Some are hesitant about a goalie receiving the Hart Trophy as they already have the Vezina award for best goaltender. But considering how few forwards stood out and the number of defencemen who were good, did any player mean as much to their team as Price? Habs players will be the first to say how much Price does for the team. Montreal is not an analytics favourite as they rank in the bottom half for puck possession and most will point to the excellence of Price for any success Montreal has had to this point.
Gallagher on Price: "43 saves, a road game, elimination game… you come to expect it (from Price). It was pretty impressive." #HabsIO

— Dave Stubbs (@Dave_Stubbs) April 27, 2015
A legend in the making
Quite simply, the Habs needed a game-breaking performance from its best player and Price delivered once again. He is the team's MVP, their leader and the face of the franchise. For Price to cement himself as a true Habs legend, he needs to win a Stanley Cup. There is a lot of work to do but if the Montreal Canadiens win the Stanley Cup and with no immediate captain to hand it off to, there is no doubt that Carey Price is the most deserving player to lift it first.
I have a Bachelor's Degree in Journalism from Ryerson University. I am a freelance journalist and a Montreal Canadiens writer for The Hockey Writers. I previously wrote for Simcoe.com and Last Word on Sports as well as interned at TSN.