So far this season, the Minnesota Wild have remained above water in the Western Conference standings. Despite suffering a rash of injuries and illness, the Wild have continued their winning ways.
Through 18 games, the Wild have a 10-5-3 record and if the playoffs started today, they would be one of the 16 teams in the Stanley Cup Playoffs.
That being said, the playoffs don't start today and there're 64 games remaining in the season. There's a lot of season left before the Wild can start thinking about the playoffs.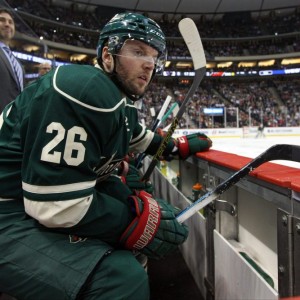 Earlier this year, I wrote about three Minnesota Wild players that I thought were ready to break out during the 2015-16 season.
So far, it would appear that  these three Wild players  are having a better season in 2015-16. Let's take a look at those three players in question.
Thomas Vanek
Last season, Minnesota Wild forward Thomas Vanek signed multi-year  free agent deal with the Wild. Vanek scored the game-winning goal in the 2003 Frozen Four and was very popular with Minnesota Gopher fans. Coming back to Minnesota seemed like a no-brainer for Vanek.
The love affair with Vanek didn't last very long. Vanek would soon draw the ire of many in the Wild fan base. The former Minnesota Golden Gopher started the 2014-15 season slowly.  He didn't score his first goal of the season the 10th game of the of the season.
Last year, through 18 games, Vanek had scored (1g-9a—10tps).  Later we learned that Vanek was suffering from a double hernia and had offseason surgery to repair that injury. That would be a good reason for Vanek's reduced production.
Fast forward to this season. Vanek appears to be a step faster. Through 18 games, Vanek has scored (7g-7—14pts). Breaking it down further, Vanke is third on the Wild in scoring and is tied for the lead in goals with Zach Parise. Six of Vanek's goals have come at even strength. Vanek is third on the team in shooting percentage. To date, Vanek is tied with Charlie Coyle for first on the team in game-winning goals with two.
Jason Zucker
Last season, Wild forward Jason Zucker had a career year in goals. The former Denver Pioneer scored 21 goals despite missing 31 games due to injury. Zucker's goal total gave Wild fans hope.
So far, through 18 games, Zucker hasn't disappointed Wild fans. The speedy, smallish forward has scored (6g-8a—14pts).
However, with most young players, Zucker has been a bit inconsistent at times. Zucker didn't score his first goal of the season until his eighth game. From October 22 – November 5, 2015, Zucker had a seven-game point streak.
If you look at Zucker's first 18 games last season, Zucker scored (6g-2a—8pts).  Zucker has played on the top line with Mikko Koivu and Nino Niederreiter.  Ironically, his line mate Koivu has experienced a resurgence this season and is currently the Wild top scorer. Through 18 games, Koivu has scored (4g-13a—17 pts).
Erik Haula
During the 2014 Stanley Cup Playoffs, rookie forward Erik Haula's had a strong showing scoring (4g-3a—7pts) in 13 games. Wild fans were giddy.
Entering the 2014-15 season, expectations were high for the former Minnesota Golden Gopher. Haula was expected to add to the Wild's offense and continue his strong play on the penalty kill.
During the 2014-15 season, some thought that Haula took a step backward. One could label his 2014-15 season as a bit of a disappointment. The second-year pro scored (7g-7a—14pts) in 72 games. This season could prove to be a make or break season for the third year pro.
So far this season, Haula has played in 17 games and scored and scored (2g-2a—4pts). Haula started the season slowly going pointless in his first nine games.
On the plus side, Haula has one of the Wild's two short-handed goals. While Haula isn't filling the opposition net with pucks, he hasn't been a liability either. Haula continues to play on the Wild's penalty kill units. In my opinion, Haula is progressing as a player and has already and is poised to surpass last season's point total.
Eric is a 1996, 1999 graduate of the University of North Dakota. Eric covers the University of North Dakota Hockey and Division I college hockey. Eric is the Contributing Editor for Inside Hockey.