Christopher Ralph is a hockey writer with a focus on prospects and the entry draft, as well as the Leafs' correspondent here at THW.
"Full Potential" Prospect Profile: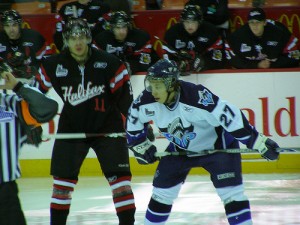 Please "Click Here" for "Notes Up Front" and the "Legend" for various topics covered below, as well as a running live updated NHL 2009 Draft rankings.
34. Jordan Caron – Sayabec, PQ – 6'2″ – 196 lbs – QMJHL – Rimouski – C
One-Timer: Good-sized forward has very good pucks skills and mobility, and is a gifted goal scorer. Beyond that though, Caron is a relentless hockey player in terms of his drive and determination. Jordan has shown continuous progress in his 3 seasons in the QMJHL. He posted 36 goals and 31 assists in just 56 games this past season. The strong forward has to stay healthy and continue to work on his skating.
NHL Player(s) Comparison: J.P. Dumont, Patrick Marleau
Bio/Interview Links:
http://www.nhl.com/ice/draftprospectdetail.htm?dpid=5868&sort=finalRank
Scouting Combine Performance:
Sorokin reported: "Tall, big, and physically ready. I heard his game isn't though, as some say he's a bit one-dimensional as a forward, but he killed some of the tests."
Gare Joyce stated Caron definitely helped is cause in interviews with teams.
THN's Ryan Kennedy stated: "Another player who turned in an all-around solid performance at the combine, Caron had a great regular season (67 points in 56 games) even if his Memorial Cup was limited to two goals in four games. There is serious power forward potential here."
ETA = 3 years
Risk-Reward Analysis: 2.5/5 Risk ; 4/5 Reward
NHL Potential: 2-way 2nd line Power Forward
Fantasy Hockey Potential: Offensive = 8/10   Defensive = 8/10
Other Rankings:
ISS: 27
CSB: 20-NA
TSN: 31
THN: 33
Video Links:
httpv://www.youtube.com/watch?v=0YVBCRQIQZU
This document is the intellectual property of Christopher Ralph and cannot be used or duplicated in anyway without expressed written consent. Any use of this document without the expressed written consent of Christopher Ralph will result in public exposure and legal prosecution.