The Colorado Avalanche find themselves where nobody expected them to be at the beginning of the season: right in the middle of the playoff hunt. The team has experienced a few injuries, but are finally beginning to get healthy again. Even with the impending return of players like Ryan Wilson, if the Avalanche want to be able to not just make the playoffs, but make a deep run into the playoffs, they are going to need to improve their blue line more. So who should the Avalanche target?
Dmitry Kulikov
Dmitry Kulikov is a name that many people, myself included, have been touting for quite a while. He's a solid, smooth skating, two-way defenseman that has a great shot, can play the power play and the penalty kill and would immediately improve the Avalanche blue line. There has been a lot of drama surrounding Kulikov in Florida who has been the center of many trade rumors and has also been a healthy scratch from time to time. The Avalanche apparently had been in serious talks with the Panthers about getting Kulikov but didn't manage to get anything done for the time being. The interest does seem to be there, but it's just finding the right deal, which may happen somewhere down the line.
From a contract standpoint, Kulikov does not pose much of a risk as he is going to be a restricted free agent at the end of this season, so the Avalanche would be able to maintain a certain amount of negotiating power. The big question would be whether or not Kulikov decides to stay in the NHL. If he does, then the worst case scenario for the Avalanche would be that they would qualify Kulikov, and potentially trade him again for other pieces. Kulikov is a highly desired piece right now, so flipping him might be a doable thing.
Josh Gorges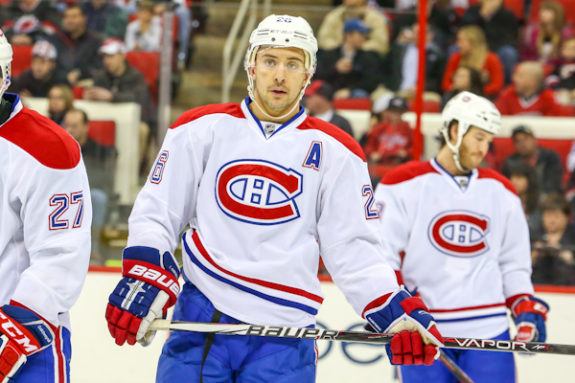 The Montreal Canadiens have been scouting the Avalanche a lot this season, so there is some apparent interest in the Avalanche roster. Montreal has some attractive pieces on their roster, but if the Avalanche are going to target a specific defenseman, they should have a good look at Josh Gorges. Gorges is a defense-first defenseman that isn't really going to wow anybody with his offensive skills, but that's fine. Colorado needs somebody who can solidify the defensive zone and also spend some time on second penalty kill unit.
If the Avalanche were to acquire Gorges, he would likely play with Nate Guenin or Tyson Barrie on the second pair, depending on which direction Patrick Roy wanted to go and depending on who the Avalanche sent back to Montreal. Gorges would go a long way towards solidifying the Avalanche blue line.
Christian Ehrhoff
Christian Ehrhoff might be a little bit more difficult for the Avalanche to take on as he has a modified no-trade clause and a contract that runs until 2021, so that alone might make him somebody that the Avalanche don't want to pursue. At the same time, Ehrhoff has a lot of desirable traits. He is a great skater, has good size, plays a good two-way game, and has a very solid shot. He can be used on the power play and on the penalty kill and would fit well on a second pairing for the Avalanche.
Ehrhoff's numbers have been pretty solid throughout his career, but he has had a few years where he has been pretty outstanding. Three times he has cracked the 40 point mark, and once he managed to get over 50 points. Those are huge numbers in this day-in-age for defenders. Ehrhoff would be a great addition to the Avalanche, and pulling off a deal with the Sabres might be doable considering where their season is headed.
Nikita Nikitin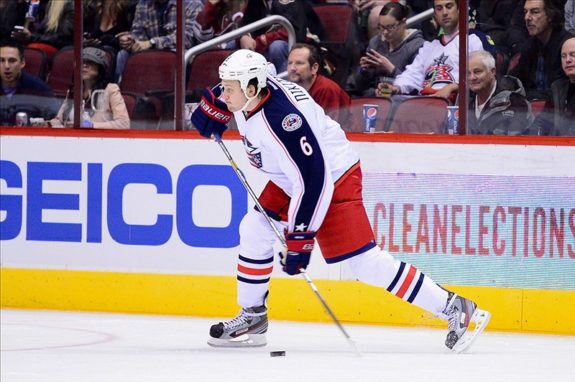 Nikita Nikitin is another intriguing possibility the Avalanche could take a look at. Columbus is, once again, struggling this season and could be looking to shake thing up again. Nikitin has one of the things that the Patrick Roy seems to like most in his defenders lately, size. At 6'4″, 223 pounds, Nikitin could add some more physicality to the Avalanche blue line, and also has a pretty good shot. He won't do much to improve the power play, but he would be a solid addition to the second penalty kill.
Nikitin is due to be an unrestricted free agent at the end of this season, so the Avalanche would be taking a certain amount of risk in trading for Nikitin, but getting Nikitin might not cost the Avalanche too much. Nikitin would be a solid addition to the Avalanche blue line.
I'm a Denver native who has been a fan of the Avalanche since they came to town and a fan of the game before that. I started writing my own blog a couple years ago before moving to Bleacher Report and becoming a Featured Columnist there. You can also find me the Burgundy Brigade Podcast