The good news is that thanks to Connor McFranchise the Edmonton Oilers are more relevant than they've been since they advanced to the Stanley Cup Final at the conclusion of the 2005-06 season.
The bad news is that the team that has played itself into playoff contention, at least as of March 16th, will lose a player when June's NHL Expansion Draft rolls around.
The Oilers are an interesting case. In the minds of many, surprising performances have prompted a change from the fall to the spring regarding who should and should not be exposed to the Vegas Golden Knights. Furthermore, Edmonton must balance protecting what they've been working on for over a decade while continuing to build for the future.
Fans of the Golden Knights don't care about that, though. They just want a good player that can help the league's 31st franchise compete right out of the gate, and hopefully also return the Oilers to the basement of the Pacific Division. With that in mind, here are four Oilers that Vegas fans should be watching.
Patrick Maroon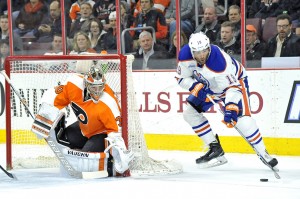 There's been plenty of talk that Jakob Silfverberg is the favorite to be plucked from the Anaheim Ducks by the Golden Knights in the expansion draft. Reuniting Silfverberg with Maroon would surely be a desirable start for Vegas general manager George McPhee.
Maroon's not exactly doing his part, though. He was a popular pick to join Vegas in October, but he may have played his way onto the protected list. He's had a career year in Edmonton, 21 goals and 32 points in 68 games.
Vegas fans should watch Maroon the rest of the way because it's not impossible that when Edmonton GM Peter Chiarelli constructs his protected list he favors the 4-4 strategy over 7-3. If this is the case, Maroon could be the odd man out.
Benoit Pouliot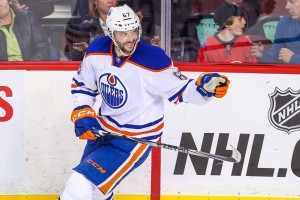 If I were a betting man, I'd say Pouliot is not protected by the Oilers and that is who the Golden Knights end up selecting. I don't know where one would make such a bet but if it's a thing, it's in Vegas.
Depending on who you ask, he may be the more desirable player than Maroon. You'd have to ignore this season to come to that conclusion. While the 28-year-old Maroon continues his torrid pace, Pouliot's five goals and five assists have him on track to produce his worst full season in the NHL.
But that shouldn't discourage Vegas fans. Pouliot certainly has experience relocating. He's played for six teams in his ten-year career, and in every year between 2010-11 and last season he's logged double-digit goals and assists with the exception of the lockout-shortened campaign of 2012-13. He'd be a good get.
Zack Kassian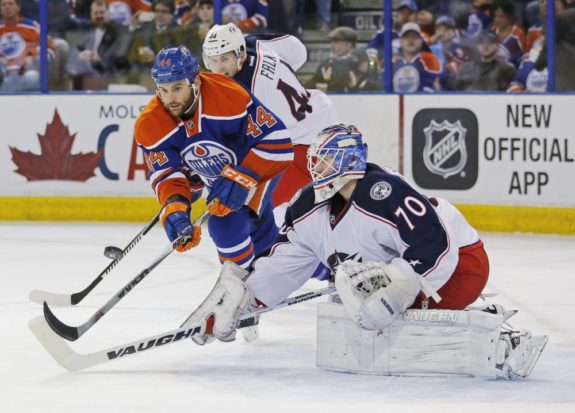 Kassian is strong, aggressive, and comfortable shedding his gloves. These are all qualities that McPhee is said to covet. But he's not without his baggage.
Substance abuse issues and inconsistent play defined Kassian's first six years in the NHL, with Buffalo and Vancouver. He was actually with Montreal for a few months but was cut loose before seeing the ice after he was involved in an accident while driving impaired.
He's found success in Edmonton, and beyond the redemption story, the relationship has been mutually beneficial. My guess is that the Oilers hang onto Kassian but if Pouliot manages to outplay him the rest of the season, the decision for Chiarelli may get just a little harder.
Tyler Pitlick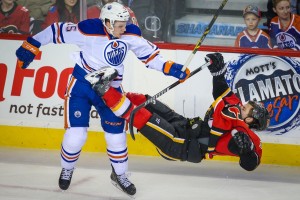 Edmonton fans can learn a lot from how the Oilers handle Tyler Pitlick. If he's included on the protected list it will be a fairly good indicator towards how invested the Oilers are in the future.
So far they've done a fantastic job in my opinion. He was selected in the second round of the 2010 draft and over the last four years, he's split time between Edmonton and the AHL. The Oilers' patience is paying off. In 31 games this season he's totaled eight goals and 11 points, both career highs.
He'd be an intriguing pick for Vegas and Edmonton has to know that. To expose Pitlick and protect a more veteran player may send the message that the Oilers are ready to win now, not later. If he's made available to the Golden Knights, McPhee has the option of a player who has paid his dues in the minors and demonstrated slow, consistent growth.
Las Vegas local covering Golden Knights hockey since 2016.
Ball State University '05
Other work:
Credentialed NBA writer covering the Phoenix Suns,
Credentialed NCAA football writer covering the UNLV Rebels