The United States women's national hockey team is objectively the best women's national team on the planet. Ranked #1 in the world by the IIHF, they have medalled at every single Olympic Games since their first appearance at Nagano in 1998. Similarly, at the IIHF World Women's Championships, USA has won gold seven of the last nine tournaments, including two stints of three consecutive championships.
And yet, the hits just keep on coming.
Earlier this season, the NWHL – the first-ever women's hockey league to pay their players – announced salary cuts, despite the fact that Amanda Kessel's $26,000 annual salary was the highest in the league. (To contrast, the NHL's minimum player salary is $575,000.)
But even more significant is the announcement that the women planned on sitting out of the 2017 World Women's Championships until they field more support from USA Hockey. The announcement, which came on Wednesday afternoon, was shared on social media by many of the team's 23 players, including captain Meghan Duggan.
US WNT will not play in 2017 World Championship due to stalled negotiations over fair wages and support from USA Hockey #BeBoldForChange pic.twitter.com/qEXVyoKE6y

— Hilary Knight (@Hilary_Knight) March 15, 2017
"We are asking for a living wage and for USA Hockey to fully support its programs for women and girls and stop treating us like an afterthought," Duggan said in a statement released by the team lawyers. "We have represented our country with dignity and deserve to be treated with fairness and respect."
The announcement comes one week before training camp for the World Women's Championships was set to begin on March 21. The tournament begins on March 31 and is being held in Plymouth, Mich.
The Unfortunate Truth
The current contract allows players to make a maximum of $6,000 over the four-year Olympic cycle. USA Hockey expects the athletes to train full-time in preparation for the international games, but provides little, if any, monetary compensation outside of the six-month Olympic residency period.
"It is a full-time job and to not get paid is a financial burden and stress on players obviously," Jocelyne Lamoureux-Davidson said to ESPN on Wednesday. "That is the conversation my husband and I are having right now. Is playing going to be more stress than we can handle?"
As was highlighted earlier, the women are hard-pressed to make even $25,000 a year from the NWHL, which is an income that places them barely above the poverty line. Half of the women's national team work multiple jobs in order to earn a livable wage, according to the lawyer's statement.
"I think in the back of my mind, I knew that we were going to come to this point because with the history of the program and how we've been treated, I don't think they've ever really taken us seriously," forward Hilary Knight said in a phone interview with USA TODAY. "It's sort of been, the girls are lucky to have a place to play. Well, it's 2017 and that's such an old mentality to have nowadays. Not only are we trying to change it for ourselves, but for the younger generations that are coming up as well."
USA Hockey Fires Back
After the player statements that came Wednesday afternoon, USA Hockey has taken a stand on the issue of support the women's national team.
"We acknowledge the players' concerns and have proactively increased our level of direct support to the Women's National Team as we prepare for the 2018 Winter Olympic Games," said executive director Dave Ogrean in a statement on USA Hockey's website. "USA
Hockey has a long-standing commitment to the support, advancement and growth of girls and women's hockey and any claims to the contrary are unfounded."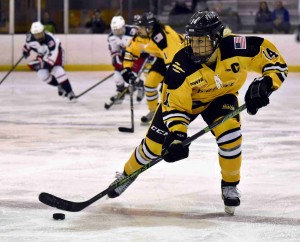 Now, under a strict deadline from USA Hockey, the women have until 5 p.m. tonight to "individually confirm whether they intend to play" in this year's World Championships, according to ESPN. The organization, under pressure from Ogrean, has said they're willing to replace the entire team should the need arise.
"[We've] said definitively that we're going to field a team," said USA Hockey spokesman Dave Fischer to ESPN. "If we get back 23 'nos' that 'We're not going to play,' we're going to have to make alternative arrangements for worlds."
"The statement issued by USA Hockey today in response to our decision to sit out the World Championships is misleading," the women's lawyers responded, as reported by Deadspin. "It suggests that USA Hockey is prepared to pay the players $85,000 during the Olympic year. That is simply not true and no such offer was ever extended. … Further, it covers only the Olympic period and does not offer anything for each of the other three years during which a World Championship is played."
I think it's a very sad day when the team we have trained our entire lives to be on and dedicated our careers to is deciding to go to Plan B instead of negotiating.
What USA Hockey Needs to Do
As Christine Brennan of USA TODAY wrote, USA Hockey just can't win this fight.
The responsibility now falls on USA Hockey to show women athletes that they have value. The organization (that has released statements given only by men, but I digress) is dismissing the very real issue of gender inequality. Their actions thus far only relay the message that the extremely talented women are unimportant and can be disposed of at any time.
I'll give USA Hockey the benefit of the doubt for one moment. The majority of men's national teams are made up of completely of NHL players, specifically Team USA and Team Canada. It's hard to draw a comparison between the women and men when the NHL has been around for 100 years, while the NWHL has been around for only two.
Still, that is no excuse for the poor treatment of the women. Success is not relative. We cannot sit here and compare apples and oranges, one well-developed league with rich history and one struggling to stay afloat. As I said earlier, it wasn't until 1998 that women's ice hockey teams were allowed to compete in the Olympic Games. This has been a male-dominated sport for over a century.
Imagine the USA men's hockey team boycotting an international tournament for a second. Imagine USA Hockey casting Patrick Kane aside and threatening to replace him with Brian Gionta. Gionta, of course, is still talented and there is no denying that. But treating a silver medalist and NHL All-Star like his hard work doesn't deserve compensation is absolutely preposterous.
This isn't an exhibition team or a group of women fresh out of college. These are the best athletes in the world, and they deserve to be treated as such. If USA Hockey decides to replace the team for the upcoming tournament and deny the current team any benefits, it will be a major roadblock in the fight for gender equality in professional sports.