The Anaheim Ducks and Chicago Blackhawks currently occupy the eighth and final place in the standings of their respective divisions, but both entered their Monday night matchup with winning streaks that include victories over some impressive NHL clubs. It began a three-game home slate for Anaheim that includes three winnable games, and a chance to ride their wave of momentum that began with a win over the Washington Capitals and continued with their surprising win over the Carolina Hurricanes. The latter was perhaps their biggest win of the season and one of the biggest upsets in the league this year. This was a Blackhawks team without Patrick Kane and Jonathan Toews, but let's look at some takeaways from the Ducks' third win in a row.  
---
---
Positive: Depth Scoring Stays Hot
Against the Hurricanes the Ducks did not bring a dominant offensive effort but made good on enough of their chances to win, in part because of the contributions from a multitude of depth players in the lineup. Last night's game followed a similar script, which featured scoring from Isac Lundeström and Jakob Silfverberg, who are each on a three-game point streak, and Max Jones.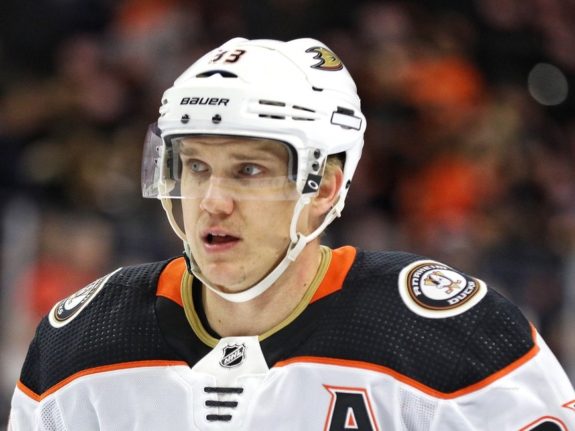 Other players had big games, too. Mason McTavish, Anaheim's offensive rookie and important player of their future, chipped in three assists, two of them primary. Frank Vatrano, who only played 13 minutes against Carolina, had two assists as well. He helped dig the puck out of a scrum that led to Jones' go-ahead goal and played a nice two-man game with John Klingberg on the power play that ultimately set up Silfverberg's goal. On the night, seven Ducks had a point, and four had at least two. The team logged over 30 shots on net and produced four goals. While doing so against the Blackhawks isn't the same as doing so against a worthier opponent, the Ducks put together a solid offensive effort and were rewarded.
Positive: Troy Terry Continues Scoring Streak After Return from IR
Troy Terry continued doing Troy Terry things in this game and as of now seems no worse for wear after his seven-game injury absence. He has collected at least a point in each game since his return, with three goals and one assist in that span. He demonstrated brilliant patience on his goal against the Blackhawks.
That patience, along with his hard shot and soft hands have been the tricks of his trade on his path to becoming a dominant offensive force in the last couple of seasons. He is definitely a player to watch as the second half of the season continues.
Negative: Shorthanded Unit Gives Up 50% of Chances
Without taking away from a lot of the good that happened in this game, it's worth mentioning that the Ducks again failed to kill off a sufficient number of penalties. I've touched on this lately, that the shorthanded unit needs work. They only took four penalties, but allowed Chicago to convert on half of those chances. Keep in mind, this was a power play that was without both Toews and Kane. Max Domi, Seth Jones, and Tyler Johnson are no slouches, but the Ducks only killing half of their penalties is a problem. Luckily, they didn't pay for it.
Positive: John Gibson Gets a Rest, Dostál Delivers On His Opportunity
John Gibson had a record-setting couple of days and deserved the night off. His outing against the Hurricanes was his third 50-plus save performance in his last six games. That's just ridiculous. Game in and game out, he knows full well that he's going to be tested, and he continues to deliver.
Related: Ducks' Lukáš Dostál is emerging as an NHL-Ready Goaltender
---
Latest News & Highlights
---
That said, Lukáš Dostál was the man in the crease for Anaheim last night and did well with the opportunity, getting his third win of the campaign. His 24-save performance was his ninth start. He performed much better (and got way more help from his team) than his last time out. He was only beaten when the Ducks were shorthanded, and it's hard to put that at the feet of the goaltender in those situations. Especially when the Blackhawks moved and shot the puck as well as they did on the man advantage in this game. This is still Gibson's crease, but the young and capable Dostál will continue to get his looks with Anthony Stolarz sidelined.
Ducks Aim for a Fourth Straight with Upcoming Caps Rematch
The Ducks won the season series with the Blackhawks 2-1. It was their 20th victory of the season and perhaps the most complete effort of their current win streak. Of late, their stars are shining bright, depth players are chipping in, and their team offense has been solid. They even won the shots battle for the first time in a while. They take on the Capitals for the second time in a week on March 2 for a chance to extend their win streak to four. Let's see if they can keep it going.