From now until the NHL Entry Draft, we will have a series of articles helping you get ready for both the draft and the combine. Today, it is finally draft day! I now share with you who I think the five best prospects are in this draft who are outside the top three. If you think I'm going in expected draft order, think again. There's a clear standout in this group and whoever drafts him becomes one of the biggest winners of Rd. 1.
The 2016 NHL Draft has been known for sometime as the draft with the big three and it's no wonder. When you consider what all Auston Matthews, Patrik Laine and Jesse Puljujarvi bring to the table, it's easy to see why many expect to hear these names called before anyone else tonight in Buffalo.
That is just the appetizer, however. The rest of Rd. 1 will make for a delicious entree. How will the rest of the first round go? More importantly, are teams taking the best available player when it's their turn?
I am now going to share my top five prospects of this draft who are not named Matthews, Laine or Puljujarvi. There are lots of candidates for this list. There is a lot of excellent talent all throughout the first round.
But at the end of the day, these five prospects have the most tools and upside to their game that call for putting them on this list. You could disagree and that's fine. Feel free to comment below and rank your five best prospects after the big three.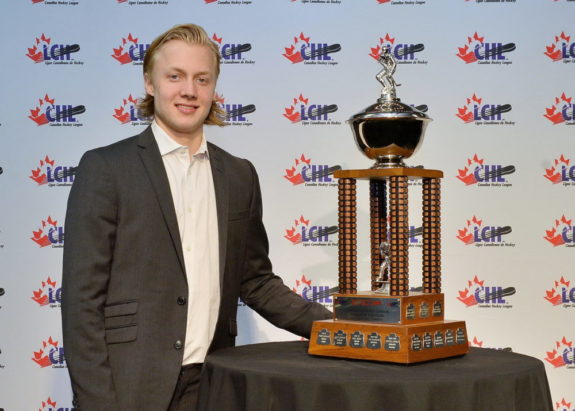 5. Alex Nylander
When you have the kind of offensive firepower Nylander has, you belong on this list. His skating, vision and passing skills are all élite. There really isn't very many holes in his offensive game. He could be even better than his father, Michael, or his brother, William.
But, if there is anything that puts him fifth on this list, it's his size and his play on the defensive end. He needs to improve his overall 200-foot game at the next level. He also needs to gain muscle. Both of those come in time. Whoever lands Nylander gets one of the best players in the entire draft.
4. Jakob Chychrun
This might be the most controversial prospect on this list. However, he absolutely deserves a place on it. Chychrun is the most complete defenseman in this draft, better than Juolevi and Sergachev overall.
While Juolevi and Sergachev are better offensively, Chychrun is better in his own end. His upside is that of a true, No. 1 franchise defenseman who is only going to improve.
Jakob Chychrun on himself: "A guy that's ready for the National Hockey League, a good two-way defenseman, a mature, hard-working young man."

— John Vogl (@BuffaloVogl) June 23, 2016
Chychrun wasn't "flashy" this season. Part of that was him returning from a shoulder injury and the other part was him preparing to play more of a pro style of game. He can already log big minutes and is a man among boys. He also has leader written all over him. He's mature well beyond his years.
He's being compared to 2014's No. 1 pick, Aaron Ekblad. Some even think he's more advanced in his development than Ekblad was at the same time. That's high praise for someone who many have falling down draft rankings. Given everything he brings to the table, Chychrun belongs on this list.
3. Matthew Tkachuk
What more can you say about the Memorial Cup hero? All Tkachuk has done is show why he belongs in the top five overall in this draft. With that comes some questions.
Was his production solely a result of playing with Mitch Marner and Christian Dvorak in London? What about his overall game? Is his 200-foot game ready for the NHL?
Don't get me wrong. Tkachuk absolutely belongs on this list as one of the best prospects available. But he needs another season to refine his game. He's not the kind of player that will score jaw-dropping goals. But he will crash the net and isn't afraid to do whatever it takes to get under your skin. The rest of the league will hate him while his teammates will love him.
Tkachuk is third because the top two have better overall upside given everything that they bring.
Pierre-Luc Dubois on rising up the draft rankings: "I think I'm still new to some people…but I haven't hit my ceiling yet."

— Ryan Kennedy (@THNRyanKennedy) June 23, 2016
2. Pierre-Luc Dubois
Dubois gets the nod at second because he possesses a better overall game, especially on the defensive end. If there's one word that describes Dubois, it's that he's a "pro."
His desire is to get better, while working harder at his craft more than most of his peers. After a bit of a slow start to his season, Dubois carried his team in the second half to the tune of 2.00 points per game. His ability to play on the rush and in tight spaces separate him from others, as he is a force every time he possesses the puck.
If he's not scoring, he's shutting you down. Dubois uses his skating and pro mentality to shut down the opposition's best line. He has all the tools to enjoy a long, successful NHL career.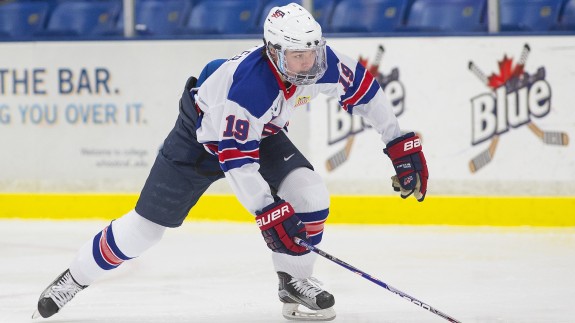 1. Clayton Keller
Keller in my mind is the best prospect not named Matthews, Laine or Puljujarvi. He can take over a game on his own and has shown flashes of dominance on the US National Team.
In terms of pure offensive skill, the only prospect I would rate higher than Keller is Laine. His skating, stick-handling and shooting are electric. You feel like he's going to do something amazing every time he touches the puck.
Like Nylander, size and defensive play have Keller ranked lower in the consensus rankings. He is a young Patrick Kane, who has the upside to become an even better player than Kane.
Keller is the only player on this list that I could ever see winning an Art Ross Trophy. He's that good and skilled. Whomever drafts him is one of the biggest winners of the first round.