During the summer of 2014 it was likely considered a bold prediction if you had envisioned the Tampa Bay Lightning competing in the Stanley Cup Finals at season's end. However, despite the doubt of many experts and analysts around the league, they fought their way to the dance and took the Chicago Blackhawks to game six before eventually being eliminated.
With the taste of being a mere two games away from hockey's ultimate goal left in their mouths, the Lightning will begin 2015-16 with essentially the same lineup as last year and hungry to return. But, as I noted previously, repeat trips to the Cup Finals are extremely rare and tough to do. History is working against them in the upcoming season.
Will they defy the odds yet again? Can their youth and tenacity overcome a Cup Finals hangover? My bold predictions for Tampa in the upcoming season are below. Some may be a far reach but that's why their bold, right?
1. Nikita Kucherov Will Eclipse 80 Points
It's a foregone conclusion that Jon Cooper will keep the triplets line together for as long as he can. The three of them have a special chemistry rarely found in NHL trios. Considering the development of that line and Kucherov's emergence as a legitimate NHL star, maybe this isn't that bold of a prediction after all.
Kucherov saw his results skyrocket last season and posted 64 points (28g, 36a) in 82 games-played, or in other words, .78 points-per-game. Provided Tyler Johnson's wrist holds up and this line continues to grow, it isn't far-fetched at all to see that average jump significantly. Especially if Kucherov sees an increase in power play time.
2. Alex Killorn Will Not Finish the Season in Tampa Bay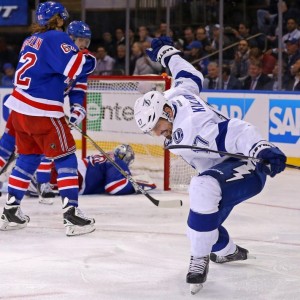 Killorn played big-time minutes alongside Steven Stamkos and Ryan Callahan last season proving that he's capable of producing in a top-six role. He's the prototypical two-way forward that can contribute on the score sheet and fit in with superstars. So, why would the Lightning move him?
Killorn is too expensive of a commodity at this point for Tampa. He will be a restricted free agent on July 1, 2016 and will be due a modest raise over his current salary, likely falling in the $4 million range. The Lightning will do anything necessary to keep both Stamkos and Kucherov, both of whom are also due new contracts next summer, and I assume Killorn will be one of the cap casualties.
It's very possible they hold on to him throughout the season and trade his rights at season's end but that may prove to be too risky. If they can cash in before the 2016 trade deadline my guess is that they'll pull the trigger. The fact that Killorn's current contract doesn't contain a movement clause also makes this more likely than some others that could potentially be moved.
3. Steven Stamkos Will Be Re-Signed Before Opening Night
Martin Fennelly said it best at tbo.com.
To me, it's simple. Sign Stamkos. You really want to close the door on 25 years old and 276 goals?
I've discussed both ends of the spectrum and have maintained that I fully expect the Tampa Bay Lightning and Stamkos to complete a deal sooner rather than later. According to recent reports, talks are in progress but haven't gained a lot of ground just yet. But, that doesn't mean it's time to panic.
Steve Yzerman knows what's right for this franchise and Stamkos has indicated on multiple occasions that he wants to stay. In order to avoid the obvious distractions that will occur if this situation is prolonged into the regular season, both parties will likely come to terms over the next few weeks. This is a situation in which Yzerman can learn a lot from the Chicago Blackhawks and follow the model of keeping your core in tact while rotating youth around them. The Lightning have the ability to do exactly that with their prospect pool.
4. The Tampa Bay Lightning Power Play Will Finish in the Top-5
Last season, the Lightning finished 14th in the league for power play success rate with an 18.8%. The biggest issue that they faced while playing with the man-advantage? Shots. Or, a lack thereof.
They ranked 30th in the NHL in shots-for per sixty minutes while on the power play. When you have one of the best pure goal-scorers in the league, there's simply no excuse for that number. And, while it's an alarming stat, there's reason to be optimistic because help is on the way.
Brad Lauer is the answer to the Lightning's inability to create shots with that unit. His approach to the X's and O's of running the power play should pay huge dividends and launch them back into the top-5. It may even boost Stamkos' power play goal totals into the realm of Alex Ovechkin.
5. Tampa Bay Will Win the President's Trophy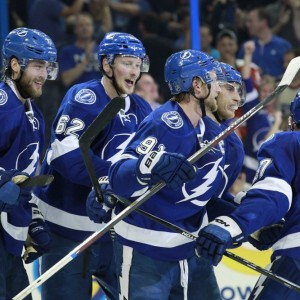 While it's unlikely that the Lightning will return to the Cup Finals, I see no reason they can't win the President's Trophy. And, more so, I actually think they will.
Tampa was a measly five points behind the New York Rangers last season in the race for league's best regular season record. There are many that feel as if a Cup Finals hangover could derail them in the coming months but I don't see that as an issue for one of the youngest teams in hockey.
The Eastern Conference saw a lot of teams improve in a big way this offseason. Teams like the Washington Capitals, Pittsburgh Penguins and Columbus Blue Jackets revamped their lineups with big-time acquisitions while others such as the New York Rangers, Ottawa Senators and New York Islanders stayed true to their 2014-15 squads in hopes that they can improve as a whole. It will be a challenge to lead the Eastern Conference in points next season, let alone the entire NHL. But, Tampa is up to the challenge.
Pittsburgh Penguins writer for TheHockeyWriters.Com and PittsburghHockeyNow.Com. Youth hockey coach, and student of the game.