The Tampa Bay Lightning announced on Tuesday that they had signed Brad Lauer as an Assistant Coach to Jon Cooper. With the Lightning's power play in need of a boost after finishing in the middle of the pack last season, many expected another PP voice to join Tampa's coaching staff. But, is Lauer the right man for the job?
On the surface, this hiring raised a lot of eyebrows among Lightning fans and critics. If you're bringing in a coach that will assist with the power play unit, shouldn't they at least have a good track record of deploying successful groups in the past? Last season, the Anaheim Ducks' power play led by Lauer finished 28th in the league.
In 2013-14 they ranked 22nd. They had a very good season in 2012-13 and boasted a 21.5% success rate, which was good for fourth overall in the NHL, but that seems like more of a variance in performance rather than the norm.
The tricky part of finding good fits among coaches is that they may not be as bad as the numbers reflect and more research is needed to see if they fill a void for your organization. Of course, a major part of that is the interview process that allows them to highlight how their system fits. But, digging deeper into the underlying numbers will give us a good indication as well. The Lightning view Lauer as an X's and O's guy. And, according to Lauer, he views himself in the same light.
Underlying Numbers Reflect How Brad Lauer Fits in Tampa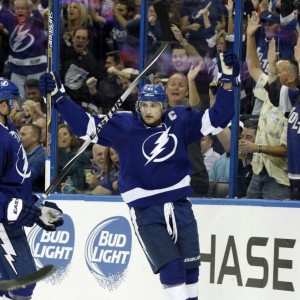 There's a very important number to consider when looking at where Lauer's power play unit in Anaheim finished for overall success rate. That number is 10.20% and represents the Ducks' shooting percentage in all power play situations last season. In 2013-14 they boasted a dismal 10.24%, so for two consecutive seasons the lack of finishing ability was quite prevalent.
Remember I mentioned that they found a lot of success in 2012-13? While it wasn't within the top-ten among NHL teams, they still recognized a large increase in shooting percentage and boasted a 14.15%. That's a substantial jump that saw them rank 14th in the league. There's a common thread among all three seasons that I've mentioned, which is ranking among the top-ten in corsi-for per sixty minutes while on the power play.
For those that may be unfamiliar, corsi-for is total shot attempts-for. So, while scoring was an issue over the last two seasons for Anaheim's power play unit, the amount of shots they created was not. That's where Lauer comes in.
How Will the Tampa Bay Lightning Benefit From Lauer's Input on the power play?
The Lightning's power play produced at a clip of 18.8% in 2014-15 and ranked 14th in the league. How can a team that boasts this much talent in odd-man situations not score more? Especially considering that they have one of the best snipers in hockey. Well, it's tough to create scoring chances when you aren't opening lanes and shooting the puck.
Tampa ranked dead last in the league last season in shots-for per sixty minutes while on the power play. That's accounting for actual shots on goal. They ranked 29th in the league in corsi-for per sixty, trumping only the New Jersey Devils for shot attempts. Is this hiring starting to make sense now?
Opening shooting lanes when on special teams is all about X's and O's. Puck movement, passing lanes, and player movement all become extremely important. Take the Washington Capitals for example, as Alex Ovechkin occupies the left point but is rarely static in the offensive zone. You'll find him roaming the left side, even below the goal line in some cases in order to disrupt the box or diamond penalty kill of the opposition. The result? They were 1st in the league in corsi-for per sixty minutes and Ovechkin led the NHL with 25 power play goals.
The moral of the story is don't get too hung up on Anaheim's inability to score with the man-advantage in recent seasons. It was due to a lack of finishing rather than a lack of shot creation. Lauer is here to assist Cooper with the overall scheme of this unit and it should prove to be beneficial.
Pittsburgh Penguins writer for TheHockeyWriters.Com and PittsburghHockeyNow.Com. Youth hockey coach, and student of the game.