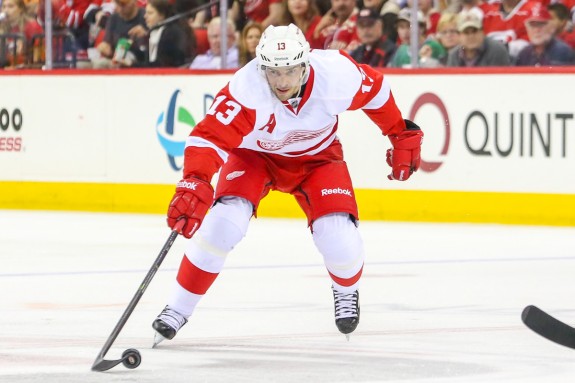 Do a quick search for the word 'shootout' here at
The Hockey Writers
(top right corner of the page) and you'll notice a plethora of posts questioning its validity, suggesting improvements or lamenting a favorite team's general ineptness at it. That's hardly surprising, as many consider it to be a gimmicky way to earn the second point in an otherwise hard-fought overtime battle.
This piece isn't written to debate the merits of the shootout. That's probably a good thing, since as a Kings fan, it's a sore spot. As of this writing, Los Angeles has a league-worst 1-7 record in the shootout so far this season.
Whether you like it or not, over the years there have been some truly amazing goals scored in the shootout. It's not easy to come up with just five worth highlighting, but there has to be a reasonable cutoff or we'll be here all day. Thus, without further ado, the following are five of the most incredible shootout goals you'll ever see.
#5: Kopitar's shootout winner undresses Backstrom
Anze Kopitar is the Kings' most skilled offensive player and over his career has been damn good at the shootout. That is, until this season, as his zero-for-seven efforts are a microcosm of the Kings struggles this year.
Regardless, he's got some seriously slick moves. Check out this beauty from 2007, which fittingly won the game for Los Angeles:
How a guy 6'3″ and 225 pounds could slither around Backstrom like that is beyond me.
#4: Datsyuk is magic behind the back
This must-see shootout goal was during a KHL game on January 5, 2013. The NHL lockout was still in effect, although an agreement on a new CBA was close. Like many players, Pavel Datsyuk was playing overseas to stay in shape.
Datsyuk faced KHL veteran goaltender Michael Garnett and managed to look a bit like a Russian Magic Johnson with his behind-the-back move — only better:
Amidst the play-by-play babble, one word is recognizable: fantastica!
#3: St. Louis backhands Fleury
Martin St. Louis has wizardly hands, and showed them off with a dollop of creativity in this 2011 shootout goal against the Penguins. On his way to a huge season (31 goals, 68 assists), St. Louis made a move the announcers called "crazy" and "wild":
Note that as he shifts to the backhand, he almost seems to speed up. Wizardly.
#2: Datsyuk goes Matrix on Niemi
Speaking of weird physics. How on earth did Datsyuk speed up, slow down, pull-and-drag, then send a perfect parabola that essentially went through Niemi during a 2010 game against the Blackhawks?
That's impossible. It didn't happen. There is no spoon.
#1: Malik looks exactly like Crosby
Say what? Marek Malik, a defenseman with all of 33 regular season goals in an 11-year NHL, has (arguably) the most incredible shootout goal ever? In a word, yes. In seven: you've got to see it for yourself:
During the longest NHL shootout up to then (2006) Malik eventually comes out, skates in on Olaf Kolzig and goes between his own legs to pot the game winner. In an amalgam of shock and joy, the announcers understandably go bananas.
Considering who it was, how he did it and the fact that it won the game, Malik's remarkable shootout goal has to be considered the most incredible in NHL history.
Did I miss something that should have made this list? How do you feel about some of these goals? Leave your thoughts below, or send a tweet to @McLaughlinWalt.
Walter McLaughlin is a Los Angeles Kings correspondent for The Hockey Writers. He is an avid sports fan, having followed the Kings since living in L.A. in the mid-1970's, as well as suffering through Seattle sports teams' general futility. He has a Bachelor's degree in Finance and has worked in community banking for over 25 years, specializing in SBA loans. He is married and has two daughters.