World Cup of Hockey: Five Unlikely Senators Who Could Play
With the formal announcement of the 2016 World Cup of Hockey on Friday, the time has come to begin speculating on which players will be chosen to represent the eight teams.
Before digging in, let's get the obvious out of the way: Erik Karlsson will represent Sweden and Bobby Ryan will represent the United States.
Don't expect any intrigue or drama there. Not even for Ryan… Both are young stars and will be big factors for their respective countries.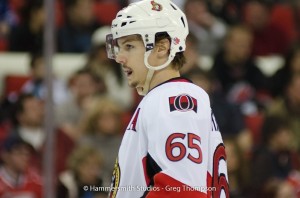 However, the Senators boast another handful of players that have a shot at playing in the World Cup. The tournament's inventive (and contentious) format may allow a number of other Ottawa Senators to get a chance to take part.
Here's a look at five Senators candidates for the World Cup of Hockey.
World Cup Candidate #5 – Robin Lehner
Team Sweden
Clearly, Robin Lehner poses no threat to wrestle the starting job for Team Sweden from Rangers star goaltender Henrik Lundqvist.
However, after King Henrik, the competition for the backup job is open.
Take a look at the list of active Swedish goalies playing in the NHL now:
Lehner's only challengers for the backup job are Jonas Gustavsson, Jhonas Enroth, and Anders Lindback. Each of these three Swedes have played more NHL games that Lehner and posted more wins that the Senators backup.
Gustavsson and Lindback also have marginally better career goals against averages.
However, none of the trio has posted a stronger career save percentage than Lehner. This bodes well for the Sens stopper.
The most promising part for Lehner is that he is the youngest of the possible Swedish goalie options. With more than a year to continue his development prior to the World Cup in the Fall of 2016, Lehner has a chance to emerge as a front-runner for the backup spot.
2016 World Cup of Hockey Roster Spot Prediction: third-string goalie for Team Sweden 
World Cup Candidate #4 – Cody Ceci
Team U23
With 13 points in 48 games, Cody Ceci ranks eighth in points among defensemen who will be 23-and-under by Fall 2016.
Playing a sturdy game for the Sens, Ceci has shown solid development since his first season in Ottawa. The young defender has eclipsed last season's assists and points totals while playing two minutes more per game (up to 19:24 minutes per game).
In Stephen Whyno's article for the Montreal Gazette, Whyno projected that Ceci would join the likes of Dougie Hamilton, Aaron Ekblad, Seth Jones, Morgan Rielly, and Jacob Trouba on the U23 roster in 2016.
As one of the beneficiaries of the controversial Young Stars squad, Ceci would not have challenged for a spot on the Canadian roster but may secure a spot among the NHL's best as a young gun in the 2016 World Cup of Hockey.
2016 World Cup of Hockey Roster Spot Prediction: seventh defenseman for Team U23
World Cup of Hockey Candidate #3 – Mika Zibanejad
Team Sweden
Despite a strong cohort of Swedish forwards in the NHL, the Senators' Mika Zibanejad may well crack Team Sweden's roster for the 2016 World Cup of Hockey.
A number of familiar Swedes lead their countrymen in NHL points this season; Niklas Backstrom, Henrik Zetterberg, Filip Forsberg, Alexander Steen, and the Sedin brothers are the (predictable) top six in points among Swedes in the NHL.
A little surprising, though, is Zibanejad's rank. Z-Bad ranks 13th in points among Swedish forwards. While national teams are sure to evaluate much more than points, Zibanejad's 23 points in 44 games does put him in position to serve as the team's 13th forward based on offense alone.
Even if cast in an energy/checking forward role, Zibanejad's solid possession work this season (Corsi for of 50.1 percent) suggests that he could be effective if given a fourth-line spot during the World Cup.
With more than a year left before the event, some extra development time for the 21-year-old may help Zibanejad to solidify his spot on Team Sweden's roster.
2016 World Cup of Hockey Roster Spot Prediction: 13th forward for Team Sweden
World Cup of Hockey Candidate #2 – Curtis Lazar
Team U23
After their success as teammates at the World Junior Championship, Curtis Lazar and Connor McDavid are likely to join forces again on the U23 team at the World Cup of Hockey.
Whyno's article for the Montreal Gazette lists Lazar among a group of talented young forwards, including McDavid, Jack Eichel, Nathan MacKinnon, Ryan Nugent-Hopkins, Alex Galchenyuk, and Max Domi.
Lazar's strong showing for Team Canada at the WJC hasn't translated into more ice time now that he's back in the NHL. But, as the Ottawa Citizen's Peter Robb reports, "(Lazar's positive) attitude and intelligence will carry Lazar a long way. But that's not everything."
Admittedly, Lazar's one goal and seven points in 32 NHL games doesn't do much to impress. But, the young captain has shown great leadership and has maintained positive possession numbers this season (49.9 percent Corsi for).
In 2016, expect to see Curtis Lazar join the other young stars on the U23 team at the World Cup of Hockey.
2016 World Cup of Hockey Roster Spot Prediction: Top-9 forward for Team U23
World Cup of Hockey Candidate #1 – Craig Anderson
Team USA
Craig Anderson is second among all active American goalies in career games played (402). He's also third among active American netminders in wins (181) and fifth in career save percentage (.916).
Despite these solid stats, Cory Schneider, Ben Bishop, Jimmy Howard, Jonathan Quick, and Ryan Miller are also in the mix for one of the three Team USA goalie spots.
That's a formidable list.
But, Anderson will manage to snag a spot with the Americans for the World Cup of Hockey.
This season, Anderson has posted a stunning .927 save percentage for the Ottawa Senators, leading all American-born netminders. Many nights, Anderson has single-handedly willed the team into competitive games with better teams.
And, at age 33, Anderson is likely to stay near top form by 2016. He would offer a mixture of experience and top-flight skills that could complement a duo like Jonathan Quick and Jimmy Howard as Team USA's primary starters.
Though it's no sure thing, don't count out Sens goalie Craig Anderson in the hunt for Team USA's goalie roster.
2016 World Cup of Hockey Roster Spot Prediction: Veteran third-stringer, capable of starting if needed
What do you think, Sens fans? Are any of these five candidates unlikely to make their team? Which other Ottawa Senators may have a chance to earn a spot with their country for the World Cup of Hockey in 2016?