With training camp set to open soon (September 18), Montreal Canadiens fans are likely on the edge of their collective seat wondering what the Habs have in store for an encore performance after making it to the Eastern Conference Final last spring. Here are the top five players that will potentially set the stage this fall.
5. P.K. Subban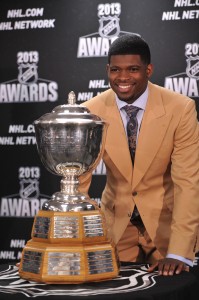 After defenseman P.K. Subban signed an eight-year, $72-million deal this summer, it's safe to say all eyes will be on him this training camp. However, that would be the case anyway.
As the face of the franchise, that kind of goes with the territory. Subban may also be in line for the captaincy (pure speculation at this point), which would only add to his star power.
At this point, yes, everyone knows what Subban brings to the table. But the simple truth of the matter is they just can't get enough.
4. Alex Galchenyuk
Alex Galchenyuk has been around for two seasons now. However, he hasn't really broken out. This may be the year.
Seeing as, technically, his production dropped slightly last year relative to his rookie season (31 points in 65 games last year; 27 in just 48 the year before), that might be overly optimistic.
Nevertheless, after playing on the left side for his first two seasons, the blue-chipper, who was drafted as a center, could finally make the transition to his actual position. It remains to be seen what head coach Michel Therrien has in store for the 20-year-old. But that's what training camp is for.
3. Pierre-Alexandre Parenteau
It feels like just last year Daniel Briere was everyone's main player to watch during training camp (after the Habs made him their top free-agent acquisition that summer). So, why would the player they got in exchange place No. 3 on this list? Tempered expectations after a year of Daniel Briere, mainly.
It's all perhaps a tad unfair, seeing as Parenteau is younger, bigger, and less of an injury risk. Fans really should be much more excited to get a glimpse of him than they ever should have been to get one of Briere, especially seeing as Parenteau playing a top-six role all season (Briere was eventually relegated to fourth-line duty) is actually realistic.
After all, this is a guy who proved his critics wrong by scoring 43 points in 48 games with the Colorado Avalanche after leaving the safety of John Tavares' shadow in Long Island.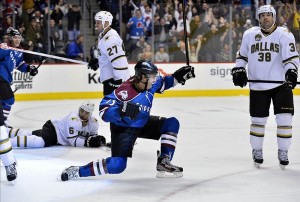 While his production took a hit during a nightmarish, worst-case-scenario season last year (33 points in 55 games), that's three more points in 14 fewer games than Briere scored. So, temper your expectations if you must, but get ready to be pleasantly surprised.
2. Jiri Sekac
No one is expecting Jiri Sekac to be a rookie-of-the-year candidate. Hell, depending on who you ask, he may not even be expected to make the Canadiens out of training camp. But that's part of his charm.
Few NHL fans know how good this guy really is after he spent parts of the last three seasons in the KHL (after playing in the United States Hockey League before that). He is nevertheless considered one of Montreal's top free-agent signings from this past summer for a reason… even if that reason is there aren't many to choose from.
There is still a great deal of intrigue there, considering he hails from potential linemate Tomas Plekanec's hometown of Kladno, Czech Republic. He also had over 12 teams interested in his services. That many teams can't be wrong, right?
I mean, even Fabian Brunnstrom scored a hat trick in his first NHL game, making the lead-up to even a car crash of a career potentially fun to watch.
1. Nathan Beaulieu
Unlike Sekac, Defenseman Nathan Beaulieu may not be a rookie any longer according to NHL rules. He also isn't the new guy on defense, with Tom Gilbert filling that role. What he is, however, is the sexiest of the three potential additions, and I of course mean that in the figurative sense. Gilbert obviously has way better hair.
Beaulieu is a 21-year-old who's young enough to warrant attention as being a big piece of the team's future, but he's at the same time seemingly ready to take the next step in his development and become a mainstay on this team.
Drafted in 2011, Beaulieu has played six and 17 games during the last two regular seasons. With the departures of such defensemen as Josh Gorges, Douglas Murray, and Francis Bouillon, it's very much realistic that he plays a whole lot more this year.
Considering his offensive skill set and his left-handed shot, he could also fill a significant role on the power play, meaning he could seriously rack up the points this year and maybe even finally notch his first NHL goal. Everyone loves watching for those.