Last week we previewed what the San Jose Sharks are going to look like on the blue-line and at forward come the regular season. But where will the 2014-15 Sharks finish come the postseason? After all, the Sharks never have a problem during the 82 game schedule, it's always about the playoffs for Team Teal. If there is one organization that would want to skip the regular season more than any other, it would certainly be San Jose.
Unfortunately for Sharks fans, this upcoming year is going to be no different than years past. They will make the playoffs for the 11th straight season but will yet again miss out on winning the Stanley Cup. Their final fate is rather easy to figure out.
Pacific's Three-Headed Monster
While there is a rather loud minority that believes otherwise, the Pacific division will be easy to predict. The three teams to qualify are slam dunks. Los Angeles, Anaheim, and San Jose will finish in that order, one, two, three.
The Kings will have a better regular season than either of their Stanley Cup winning years. With a full year out of Marian Gaborik (he has to stay healthy for a full season sooner or later, right?), another year of development out of Tanner Pearson and Tyler Toffoli, and a bounce back from Dustin Brown, the Kings will win the division.
Anaheim will feature a rejuvenated Ryan Kesler, finally giving the Ducks a second line center behind Ryan Getzlaf. The Ducks, like the Sharks, are a dominant regular season team that has disappointed in the playoffs. They have won the division each of the past two years only to struggle against a low seed in the first round. Given their penchant for even better regular season dominance, they will once again finish ahead of San Jose, earning home-ice advantage in the first round.
The Sharks will finish third and that's just not a formula for success. For the second time in two years in the new divisional playoff format, San Jose will draw an awful first round matchup. With the three headed monster in this division, finishing first is huge in order to avoid a Cup-finals-caliber first round series. Teams finishing second and third will open up the playoffs against each other.
Sharks Series Victory
Even though the Ducks will have home-ice advantage in this series it won't be enough to knock off the Sharks. Anaheim has even bigger questions depth wise and in goal than San Jose and the Sharks have a stronger core.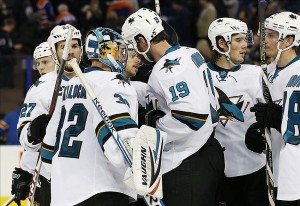 It is hard to explain why the Ducks have won the division the past two seasons when the Kings and Sharks have both had better rosters.Even if the Sharks overload their top two lines, their bottom six is about on par with Anaheim and their top two lines are a notch better. While the Thornton and Getzlaf lines are a wash, give me Patrick Marleau and Logan Couture over Kesler's line every day of the week and twice on Sundays. San Jose's blue-line also has significantly more firepower.
Facing Fate Versus Familar Foe
For the third straight year, the Sharks season will end at the hands of the Kings. Los Angeles simply has too much depth for San Jose to be able to knock them off. If the Sharks think they have comparable bottom six lines, they are sorely mistaken. James Sheppard did have six points in last year's series and Mike Brown had a major impact in the first few games, but it is extremely unlikely for these performances to be repeated. Sheppard scored half of his points and Brown scored all of his in the first two games of the series where the Kings were playing the sloppiest hockey they had played all year. Furthermore, Sheppard's Game 4 goal was virtue of Tomas Hertl doing all the real work to get the puck to the crease. While Sheppard is a really good fourth line winger, and capable third line winger, he is nowhere near even a half a point per game third line center. Brown meanwhile was lucky to even crack the Sharks playoff lineup. He is a player who has frequently been a healthy scratch on every team he's ever been on. He is not going to deliver anywhere near the same impact again.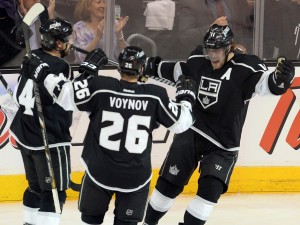 The fact of the matter is the Sharks are still keen on building a fourth line out of the 1970's. However, a bruising fourth line that doesn't generate consistent offensive pressure is not good enough anymore. The two fourth lines in the Cup final last year were Kyle Clifford-Mike Richards-Trevor Lewis, and Brian Boyle-Dominic Moore-Derek Dorsett. When on top of their game, units like these can skate circles around a projected Sharks fourth line of Brown, Andrew Desjardins, and Adam Burish. Not to mention the third lines in this final, Benoit Pouliot-Derick Brassard-Mats Zuccarello and Dwight King-Jarret Stoll-Justin Williams are both significantly better than Sharks projected third unit of Sheppard, Tyler Kennedy, and Tommy Wingels.
San Jose does not win in the playoffs because they lack talent on their bottom two lines. Unfortunately the Sharks brass will lead you to believe otherwise. They seem to think their issues in the playoffs are based on some silly leadership hierarchy locker room nonsense. I'm sorry but nobody who has been around the Sharks on the regular believes that behind closed doors Joe Thornton or Patrick Marleau seclude themselves in the corner a la Barry Bonds. And even if they did, so what? Bonds' Giants teams didn't fail to win a championship because of his seclusion from the rest of the group. Anyone who believes that to be the case is once again arguing an unsubstantiated narrative. Thornton taking Matt Nieto and Matt Irwin out to lunch once a month isn't going to win them any more hockey games. Thornton and Marleau consistently have to deal with doubters that seemingly include their own GM and that's incredibly unfortunate. None of it is deserved. 
Andrew has been credentialed to cover the Sharks since 2010 and the 49ers since 2012. He graduated with his BA in Broadcast Electronic Communication Arts in 2013 from San Francisco State University.