By now, you probably know the deal: the Leafs acquired a whole bunch of depth forwards this summer and now have a lot more depth at the bottom of the lineup than they previously did and, going into training camp, should have about 9 or 10 players fighting for 5 or 6 jobs. We don't always know all that much about the guys who are not star players, and since there were so many of them added this summer, I thought a project leading up to the season profiling these players would be a good idea.
Today we will look at Leo Komarov. Here are the links to previous entries in the series: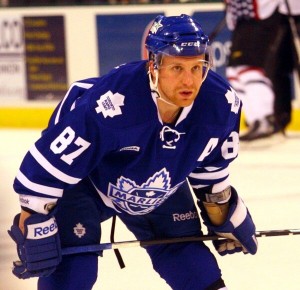 Leo Komarov 
Drafted in the sixth round of the 2006 draft (180th overall) the 5'10, 187lbs, left shooting LW plays a game based on speed, agitation and checking. While he'll never score you a ton of goals, the aggressive, agitating style of Komarov was very effective during his one NHL season – the lockout shortened 2013 season in which he had 4 goals and 9 points while playing in all 42 games for the Leafs.
Those unfamiliar with Komarov – in fact those familiar with him as well – were probably surprised by the amount of hype which accompanied the Leafs signing him this summer after he went back to the KHL in 2013-14. The hype was ridiculous for a former 4 goal scorer, but don't get me wrong, he is a nice player, and I am glad the Leafs got him back. A 4 year contact for a guy, however, who – at best – is a grinder with little offensive upside, is seen by many as a lot.
Then again, salaries in the NHL rise so fast that what we thought of as good value for a 3 million cap-hit last season is already an outdated notion before training camp even begins this year. The Leafs drafted and developed Komarov, saw him play in the NHL for 43 games and then witnessed 82 without him – if they think he will help, I am inclined to believe them. Unlike some of the other acquisitions, the Leafs know exactly what they are getting from Komarov and I am inclined to give them the benefit of the doubt here, much like the Frattin situation, based on there being no team in the world more familiar with what he brings to the table.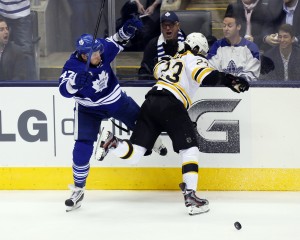 Some have criticized the length and price of the contract, but I like it.  If compared to what Kulemin signed for, I love it. Kulemin – in the words of the veritable Donald S. Cherry – "Doesn't fight, doesn't hit, doesn't score," and his one 30 goal season seems like a freak occurrence. If the Leafs can generate enough offensive elsewhere in the lineup – and I think they can – then the slight loss in offensive abilities between Komarov and Kulemin is offset by the fact that Komarov is faster and more likely to be noticeable shift to shift, game to game, than Kulemin. Also, he's considerably cheaper, so I think this is a huge win for the Leafs in every way.
I wish Kulemin all the best, but he was a frustrating player and with Komarov and Frattin, the Leafs can make big strides in getting back to being the high octane, swift skaing team that almost upset the Bruins two seasons ago. I would look for the speedy Komarov to find a home on the Leafs third line, scoring perhaps 10 goals over the course of the season, drawing penalties, pressuring the puck and getting under the skin of the opposition. His speed will allow him to be a versatile option for Leafs coach Randy Carlyle, as he can move around the lineup and even play centre should that be necessary. Also, with the Leafs stating recently that they expect to see RC play his fourth line a lot more, Komarov could even find a home there, and it wouldn't be insulting, as the Leafs have a lot of bottom six depth and will surely look to use their speed to exploit opponents this year.
One final thing to note about Komarov is that his sense of humour and extreme effort and work ethic have been welcomed back by his teammates with enthusiasm. How much do the vaunted qualities of leadership and heart matter? To what extent does being a popular teammate equate to on-ice success? Since these things cannot be measured in any meaningful or accurate way, we may never know. I tend to think of these things as probably less important than they are made to be, but can't pretend to have the definitive view of things, obviously. That being said, Komarov brings all of these things and he brings them in spades. Whatever intangibles do or do not contribute to the overall success of a team, Komarov will contribute them.
Overall, Komarov seems destined to resume his role as a fan favorite in the Blue and White and I hope he has a great season because there are few players who score less than 10 goals who are as fun to watch, and there are even fewer who are as fun to listen to.