This summer the Leafs have attempted to augment their roster by signing a whole slew of depth forwards, some of which offer intriguing possibilities in terms of potential and line combinations. Many fans wanted a change to the core of the team, but they didn't get one – Thankfully. Too often teams run on short-term plans and change them at the first sign of trouble. The Leafs core. which I would term as Kessel, Phaneuf, JVR, Kadri, Rielly, Gardiner and Bernier, is young enough and are mostly signed long term to decent or great contracts and represent a very likable core who's sky really is the limit.  Sure, they are a longshot to compete this year, but as the younger players in that group grow and improve and are augmented by the likes of William Nylander, Stuart Percy, Matt Finn and other young talent from the system, the Leafs should be in a good position to contend for years and years.
In the present, however, the goal of team should be to try to make the playoffs and earn experience for the group. To this end they signed a whole bunch of low(ish) cost forwards who should add another level of depth and skill over what we saw last season. As opposed to last summer when they brought in expensive veterans like Clarkson and Bolland, the Leafs went on the cheap this summer, looking for value and quality over big name recognition.  Earlier in this series I profiled Kontiola and Santorelli.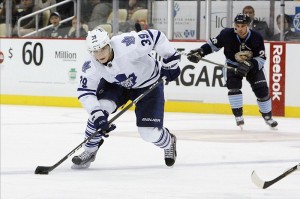 Matt Frattin
Originally drafted in the fourth round, 99th overall in the 2007 NHL Entry Draft, Frattin was traded to the Kings last summer as part of the Bernier trade and re-acquired this summer in exchange for Jerry D'amigo and a conditional 7th round pick, and then promptly signed to a two year deal worth an a cap hit of $800,000 per year.
Frattin originally played parts of two seasons in Toronto, scoring 15 goals and 28 points in 82 games. When traded, he got 6 points in 40 games with the Kings and was then moved to Columbus where he played 4 games and got one point while being mostly a healthy scratch.
While Frattin seemed to just be getting going when we last saw him in Toronto, and there was a little bit of consternation when he got traded, the fact is, he did terrible after leaving.  Jerry D'amigo is a fast player who could have helped on the PK, but I think when evaluating this trade, you have to acknowledge that the Toronto scouting and management groups know both players better than anyone else in the world – a trade like this is rare in that both players were drafted and developed by the same team – and it seems they would know best in this case. So, even though Frattin's time away from T.O was nothing short of disastrous, I like that the Leafs have re-acquired him because if they think he has enough upside to warrant doing so, then i am game too.
From my own experience, I was always a Frattin fan. I liked his speed and his ability to compete physically and always thought he could be a 20 goal guy because of his size and skill combo.  While not tall – only 6′ – Frattin is over 200 lbs. and doesn't seem to mind battling for space on the ice. The scouting report on him is that he is a speedy, skilled forward with an NHL shot and average hands. He is detracted for his defensive awareness and position. He is 26 years old and will turn 27 in January, so if he is going to reach his potential, this may be his best chance at doing so.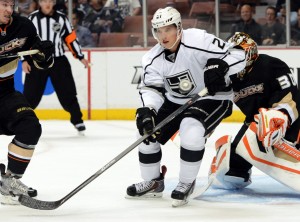 This year, he faces a ton of competition for spots in the Toronto Lineup. From second line winger, all the way down to press-box 23rd man, Frattin has a shot to play nearly anywhere in the lineup – you just can't project it right now because there are quite a few guys fighting for less spots than there are players.  If Frattin utilizes his speed and physicality, he could wind up along side Lupul and Kadri, or he could be beat out for a job by Booth, Kontiola and Winnick.
What I like about the addition of Frattin is that he seems to be a guy who, if he put it all together, could be a quality 2nd/3rd line player. 20 goals would be amazing for him, but he might even have more than that if everything went well. I felt that last year the Leafs lost a lot of speed when Komarov and Frattin were replaced in the lineup by Clarkson and Bolland, and that their speed against Boston two year ago was really what gave them the chance for the upset that nearly was.
The Leafs seem to agree and one common theme among nearly all the forwards they signed this year was speed – Frattin, Santorelli, Kontiola and Komarov are all considered fast skating players.  Added to a team that already has Kessel, Kadri, Rielly and Gardiner, and the Leafs could end up as one of the best skating teams in the NHL.
Overall, I really like the idea of bring back Matt Frattin – I think he'll surprise a lot of people after his weak showing in LA and Columbus last year and regain his form in Toronto. I think his upside is worth the risk of giving up on D'amigo and, as he is a former favorite of mine, I hope to see him win a job in camp and play a regular role in 2014-15.
The NHL is a funny thing. Just a year ago we were sad to Frattin traded, and he had hopes of cracking the top six on the eventual Cup winning LA Kings. Fast forward to today and he's been traded three times and it's not even a sure thing if he's an NHL player. I hope he is, but I can't feel too bad for him when a tenth of his salary would allow me to live like a king.
thanks for reading.