The Sharks have had a tumultuous summer, making a multitude of head scratching decisions both on and off the ice. However, anyone picking them to miss the playoffs because of their offseason drama is sorely out of touch. Just take a look at their probable end of season leader board, they are still really, really good.
Points: Joe Thornton (75)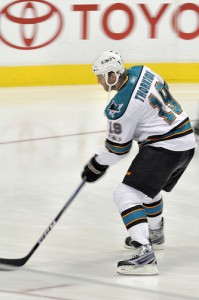 Joe Pavelski led the Sharks last season with a career high 79 points but he had an abnormally high (read fluky) shooting percentage. Thornton finished second with 76 points, another standard year for one of the best players in the league.
This year Pavelski's totals will come back down to the 65 range (which is his norm), leaving Thornton to lead the team with his usual 75.
Goals: Tomas Hertl (35)
Even on a team with Pavelski, Patrick Marleau, and Logan Couture, Tomas Hertl is by far the best pure finisher on the roster. The Czech phenom scored 15 goals in 37 games as rookie last year before Dustin Brown took out his knee. Count on a healthy Hertl to only get better and continue to light goalies up playing on Thornton's wing. Pavelski scored 41 last year, but again, that was with a crazy high shooting percentage. Look for Hertl, Marleau, and Couture to end up in the thirties, while Pavelski scores 27.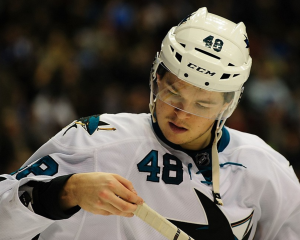 Assists: Joe Thornton (60)
Do I really need to say anything here? There is a reason why you frequently hear Sharks fans go "Shoot! Shoot! Shoooot! What a pass, Jumbo!"
Power-play goals: Patrick Marleau (12)
While Marleau hasn't finished with the team lead in power-play goals since sharing the lead in 2010-11, he's always near the top. Pavelski led the way last year with 16 (again with that inflated shooting percentage) while Marleau potted 11. Father time still can't catch No. 12, who will pot another 12 power-play markers to lead the Sharks this season.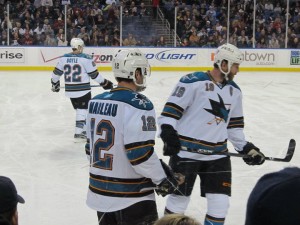 Power-play assists: Joe Thornton (22)
Again, pretty self-expanatory.
Power-play points: Joe Pavelski (28)
Pavelski will end up with fewer power-play goals than Marleau and less assists than Thornton but combined it will give him the team lead in points.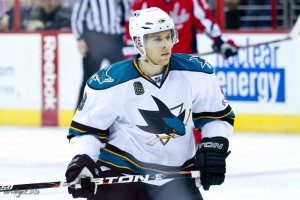 Game-winning goals: Tommy Wingels (7)
Tommy Wingels seems to have that knack for scoring crucial goals. The right winger had a career high 16 goals last year, seven of which were game-winners. That said, he actually had some lousy luck with wrongly disallowed/not counted goals last year. He should have had eight game-winners.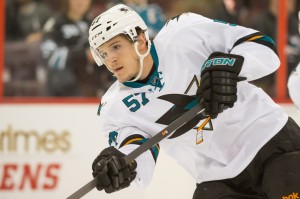 Short-handed goals: Logan Couture (3)
Remember this slick short-handed back-hand roofer past Henrik Lundqvist to beat the Rangers 1-0? Couture is a short-handed dynamo.
Shots: Patrick Marleau (270)
Thornton is a passing machine, Marleau is a shooting machine.
TOI: Brent Burns (21:30)
Burns will almost undoubtedly take over Dan Boyle's spot on the power-play. Moving back to defense will increase Burns minutes but he won't be overly stretched out. The Sharks have a good enough team that they don't necessarily have to rely on one guy for over 23 minutes per game. Last season Boyle led the Sharks with an average of just 21:16.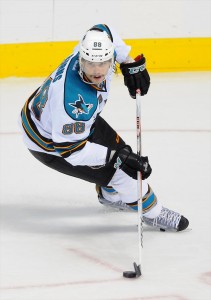 PK TOI: Justin Braun (2:11)
Hard to guess what an average penalty kill time will be for a team that did an excellent job staying out of the box last year, only to then re-sign Mike Brown and bring in John Scott. Braun has grown into a stud in his own zone and will be counted on to lead the penalty kill.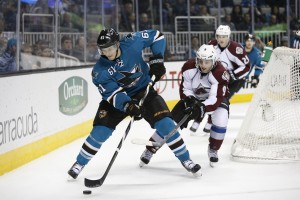 Plus/Minus: Marc-Edouard Vlasic (33)
Vlasic will unfortunately never win a Norris Trophy, nor even get close to a nomination but he is a dominant player. He will once again be amongst the top-5 defensemen in corsi this year and will have a big plus/minus because of that.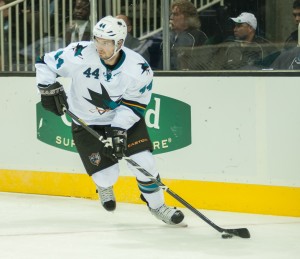 Save Percentage: Antti Niemi (.924)
As outlined a few weeks ago, there are many reasons to believe Niemi will have a killer bounce back season. Stalock led the team with a small sample size last year (.932 in 24 games) but that is bound to come down.
So there you have it, those will be your San Jose Sharks leaders for the 2014-15 season. If you have any qualms or beefs, please chime in with your thoughts in the comments section at the bottom of the page. Is it Ocotber yet?