It's preview time.
Despite two Cups in three seasons, it's still difficult for long-time Kings fans to think of our team as not only the best in the NHL, but with a fair share of luck, a possible dynasty in the making.
After all, up until the 2009-10 season, Los Angeles had posted nearly twice as many losing seasons as winning ones and had missed the playoffs six straight years. The Kings had won just one division title in their history, and had advanced past the first round of the playoffs just once since losing in the Finals in 1993. In a word: as a franchise, they blew. Ok, that's five.
But times have changed, and as such, so have the franchise's fortunes. After years of shrewd draft picks, trades and chemistry-building maneuvers, Dean Lombardi has ascended to the pantheon of NHL General Managers. Can the franchise continue to hold things together for the long haul? The Magic Eight Ball says, "Signs point to yes."
So, on to the matter at hand: the Kings 2014-15 season preview.
Admittedly, it's relatively easy to preview — at least on paper — a team with as few changes as the Kings experienced this offseason. Their biggest loss was defensive stalwart Willie Mitchell, who signed a two-year deal at $4.25 million per season with the Florida Panthers. Offensively, they reunited the entire band, inking winger Marian Gaborik to a cap-friendly ($4.875 million cap hit) seven-year contract while adding sandpaper fourth-liner Adam Cracknell. So how do things look?
Previewing the forwards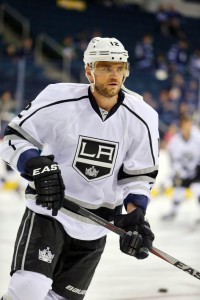 With the marquee names the Kings have at forward, it's amazing that Los Angeles ended up near the bottom of the league in goals (26th overall) last year. After all, Anze Kopitar (29-41-70) is a virtual lock for 70+ points, and Jeff Carter (27-23-50) is a three-time 30+ goal scorer who was on pace for 50 during the lockout-shortened 2012-13 campaign. Rugged winger Dustin Brown (15-12-27) posted five previous 20 goal, 50 point seasons, and versatile Mike Richards registered 60 points four times in his nine-year career. Even Justin Williams (19-24-43) previously scored 30 goals — twice. Best if all, only Williams is on the wrong side of 30.
The Kings' scoring challenges reversed themselves during the postseason, however, as they went from being an offensive lightweight (2.42) to the top-scoring club in the postseason (3.38). The addition of the electric (if oft-injured) Marian Gaborik (5-11-16 in 19 games for Los Angeles) shifted the offense into high gear during the playoffs. Once there, it was no looking back all the way to the Cup.
Offensive line previews and stats predictions:
Marian Gaborik (28-32-60) – Anze Kopitar (22-50-72) – Dustin Brown (23-30-53)
Tanner Pearson (15-25-40) – Jeff Carter (34-23-57) – Tyler Toffoli (21-25-46)
Dwight King (14-18-32) – Mike Richards (15-34-49) – Justin Williams (17-21-38)
Kyle Clifford (8-8-16) – Jarret Stoll (8-15-23) – Trevor Lewis (5-8-13)
Top line: The Kopitar/Gaborik pairing is a match made in heaven. Kopitar will post his usual numbers, and assuming Gaborik plays 75+ games, he should approach 30 goals and 60 points. Dustin Brown may in fact be wearing down, but at just 29 years old, the smart money is on a bounce-back season.
Second line: The second line was fantastic during the postseason, and if it stays together, should see breakthrough campaigns from both Pearson and Toffoli.
Third line: Richards and Stoll will probably trade stints on the third and fourth lines, but after not being bought out and rededicating himself to being better conditioned coming into the season, Richards is likely to see his production increase. Justin Williams will always be clutch, but he'll be 33 at the start of the season and between a crowded forward group and Father Time, his high-production days are probably in the rear view mirror. That doesn't mean he won't contend for most valuable Kings player come playoff time.
Fourth line: A solid mix of grinders and two-way players. Stoll's faceoff skills will earn him time up and down the lines as the situation warrants.
Previewing the defense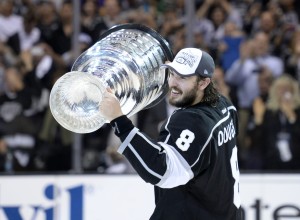 Drew Doughty is the only big name on the blue line, but
what
a name. He may never again approach the 59 points he put up in 2009-10, but between his rocket shot, smart defensive play and crippling hipchecks, he's one of the very best the league has to offer. Jake Muzzin seems to be the ideal linemate for Doughty, and after a terrific playoffs (6 goals, 6 assists), may be emerging as a breakout candidate. Slava Voynev is a slick player with a wicked shot, and when you can get 11 goals from a third-pair defenseman (Alec Martinez), you know you're loaded. Matt Greene and Jeff Schultz add muscle and stay-at-home defensive abilities.
Muzzin (8-22-30) – Doughty (12-30-42)
Regehr (2-10-12) – Voynov (9-25-34)
Martinez (7-11-18) – Greene (3-9-12)
Top pair: It's going to wreak havoc on shins and other shot-blocking body parts all season long.
Second pair: A solid blend of speed and sandpaper.
Third pair: Ditto. Matt Greene is a warrior and re-signed with the Kings for four years at a $2.5 million cap hit.
Previewing the goaltending
Between Jonathan Quick and Martin Jones, the Kings may have one of the best goaltending tandems in the NHL. Granted, Jonathan Quick doesn't generally post Vezina-type regular season numbers, but his 2013-14 2.07/.915 (with six shutouts) stat line is nothing to sneeze at. More importantly, he's a big-game goalie and there are few better when the chips are on the line. Martin Jones may be young, but between his 3 1/2 seasons in Manchester and his fantastic numbers in L.A. (1.81, .934), he has more than acquitted himself as Quick's backup.
Quick (35-21-4, .918)
Jones (13-7-2), .916)
Previewing the coaching staff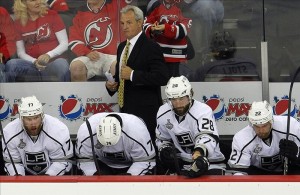 What's there to say, really, about the Kings' coaching? Sutter has proved himself to be an elite head coach, preaching a system and philosophy
tailor-made for the playoffs
. He may scowl and blink oddly on the bench (and during post-game interviews), but given the results, name another coach you'd rather have leading the way.
John Stevens, Davis Payne and Bill Ranford
are his assistant coaches.
Previewing the Kings' chances in 2014-15
Even with the Stanley Cup hangover looming in the headlights, look for the Kings to have a strong regular season. Although a division title seems unlikely, expect L.A. to finish second in the Pacific with something like a 48-28-6 record (102 points), capturing either the fourth or fifth seed along the way.
After that, the fun really begins. Whether they can shake the fifteen season drought between repeat champions (the longest in league history) has obviously yet to be seen. However, you can bet that once they get to the dance, they'll step it up, big time. That's just how this team rolls.
Do you agree or disagree with anything in this preview article? I've left out the spare forwards and defenseman, and of course injuries will always play a major factor in how things turn out. How would you preview this upcoming season? Feel free to leave your comments, or shoot me a line on Twitter @McLaughlinWalt.