Call me crazy, but I've got a feeling that BizNasty is going to cash in sooner than later.
In case you've been living under a rock or boycotting social media for the past few years, BizNasty is former Coyotes winger Paul Bissonnette.
Still not ringing a bell? OK, he's a mediocre-at-best hockey player, but a marketing genius who is, in my opinion, worth millions.
That might explain how come he remains unsigned with training camp just a couple weeks away. He could be holding out for a seven-figure contract, scoffing at two-way offers and refusing to accept the league minimum, which is suitable for somebody of his skill-set and statistics to date.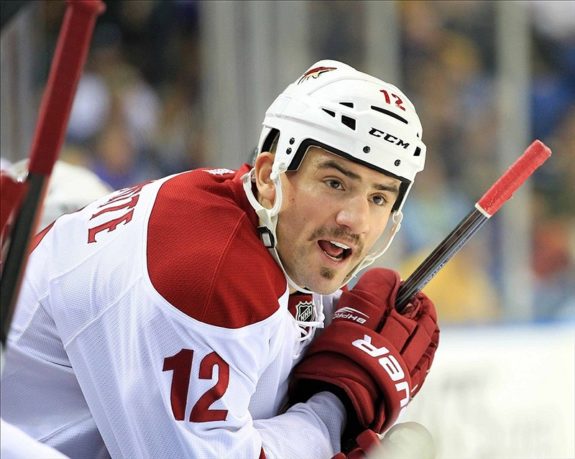 Why Is He Worth It?
Bissonnette isn't just anybody. Nor is he a nobody.
With him, you are getting so much more than a fourth-liner — a label he proudly embraces in a self-deprecating manner.
With him, you are investing in a brand. The brand of BizNasty.
What does that entail? It has a lot to do with his celebrity status on social media, where he's rocking 564,000 followers on Twitter plus 144,000 on Instagram.
That ranks him second only to Alex Ovechkin's 838K followers on Twitter.
Rounding out the top five: Patrick Kane at 545K, Evgeni Malkin (507) and P.K. Subban (445).
Notice the trend there? They are all superstars, household names who have won the NHL's biggest awards in recent years.
BizNasty sticks out like a sore thumb in that group.
Ovechkin scored 51 goals last season. Bissonnette netted 2, boosting his career total to a whopping 7 in 206 games spanning 6 seasons.
Obviously, it's a case of "one is not like the other(s)" . . . or is it?
BizNasty has star power in a different sense. He definitely has name value. Heck, he even has his own clothing line with Sauce Hockey.
Here's my #ALSIceBucketChallenge. You're up @KingJames @AaronRodgers12 and @DangeRussWilson. http://t.co/qQpY3xNGOL

— Paul Bissonnette (@BizNasty2point0) August 12, 2014
The Guy Sells The Game
Believe it or not, he's one of the most marketable figures in the sport, right up there with the league's reigning MVP, Sidney Crosby.
While Crosby is straight as an arrow and all business all the time — no Twitter account for him — Bissonnette is a little rougher around the edges and doesn't take himself too seriously.
BizNasty has a wild side, a raunchy sense of humour and is clearly something of a ladies' man. Those traits make him an idol to aspiring teenage hockey players, rightly or wrongly.
His popularity is polarizing, and he's literally developed a cult following despite being an otherwise obscure, unassuming player.
That won't go lost in the eyes of NHL owners.
General managers are tasked with assembling the best possible talent to ice a Stanley Cup contender, but owners realize the importance of employing players known not only for putting pucks in the net and butts in the seats, but also for generating traffic in their merchandise stores.
Reality is, people will pay to be associated with BizNasty.
He might not have ranked among the top 25 in jersey sales for 2013-14 — cut him some slack there, he played for the Coyotes — but his new team is assured a best-seller from the day his signing is announced.
Paying For That Potential
Putting a price, or rather a salary, on that off-ice return could be tricky. And that might very well be the hold-up in any ongoing contract negotiations for the rights to Bissonnette — and more so the rights to BizNasty.
He's smart enough to know that he'll make some lucky team a lot of money, even if he doesn't significantly increase its chances of winning.
That's the sticking point, because it'll be tough to justify his paycheque if the team tanks. This is, after all, the NHL, not some fly-by-night XHL or a scene from Slap Shot.
If he's useless on the ice, his appeal will fizzle and a buyout would seem like a big slap in the face given the reasoning behind his inflated earnings.
He's Not Useless — Far From It
Still, I'm convinced somebody is going to step up and take that risk.
Somebody is going to see him as a cash cow and he's going to strike it rich.
One of the 30 owners is going to instruct his general manager to ink Bissonnette to a bigger deal than anybody is anticipating. That, or some GM is going to believe in his abilities as a player, which are underrated in part because of the reputation he's created for himself.
He was a decent prospect coming out of junior, even suiting up for the CHL Top Prospects Game in his draft year back in 2003. Don't laugh, he scored a goal in that showcase too.
He's still only 29 years old, standing 6-foot-3 and tipping the scales at 220 pounds.
He was miscast as an enforcer during his five-year stint with the Coyotes, though he's proven he can hang with the heavyweights. More than just a scrapper, Bissonnette can act as a swingman capable of playing forward or defence and can certainly handle more than the 5 minutes of ice time he's been averaging.
By all accounts, he's also a good teammate. A guy that can keep the mood light in the dressing room or on the bench, while sticking up for his peers whenever needed.
Make That Man A Millionaire
So call him a plug, pylon, duster, bench-warmer, or any other less-than-flattering stereotype, but accept the fact that Bissonnette is going to be making the big bucks in 2014-15.
He made a career-high $750,000 in 2013-14, but his next contract will have an extra digit and it'll probably span multiple seasons.
There's been plenty of speculation about potential suitors throughout the summer, with the Washington Capitals, Pittsburgh Penguins and Minnesota Wild rumoured to be interested.
Bissonnette is from Welland, Ontario, so perhaps a return home to either the Toronto Maple Leafs or Ottawa Senators would be a desirable landing spot for him. He has spent much of this off-season in British Columbia, so the Vancouver Canucks could be another possibility.
No offence to Dustin Penner, or Martin Brodeur for that matter, but BizNasty might be the most sought after free agent still available on the open market. There could be a bidding war going on for his services at this exact moment.
I could legitimately see 3 years, $3.3 million total — or something to that effect.
That would give him more dollars and better job security than, amongst others, Dany Heatley, Martin Havlat, Mike Ribeiro, Steve Downie and Devin Setoguchi.
Crazy as it might seem, BizNasty could be worth every penny.
Larry Fisher is a sports reporter for The Daily Courier in Kelowna, British Columbia, Canada. Follow him on Twitter: @LarryFisher_KDC.
Larry Fisher is a senior writer and head scout for The Hockey Writers, having been an at-large contributor for THW since August 2014. Fisher covers both the NHL and the WHL, specializing in prospects and NHL draft content, including his annual mock drafts that date back to 2012. Fisher has also been a beat writer for the WHL's Kelowna Rockets since 2008, formerly working as a sports reporter/editor for The Daily Courier in Kelowna, British Columbia, Canada from 2008-2019. Follow him on Twitter: @LarryFisher_KDC.