It's hard to argue that the Winnipeg Jets got any better in the offseason. The lone major addition through free agency was  Mathieu Perreault. Goaltending remains a point of debate among fans, with Ondrej Pavelec still the designated starter. Of course, the hottest topic in Winnipeg for over a year has been Evander Kane as rumors swirled regarding a potential trade.
To make a playoff push in 2014-15 the Jets are going to need a number of established players to step up and make a much bigger impact than last season. These are players who had sub-par campaigns or youngsters who should be ready to take their game to the next level.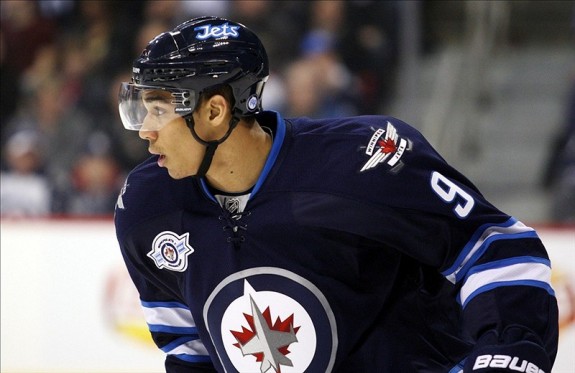 Evander Kane
Evander Kane needs to play to the level he's capable of for the Jets to have a shot at the postseason. That means producing a point per game and wearing down the opponent physically.
The 23-year-old had his best season offensively in 2011-12, the team's first in Winnipeg. He recorded 30 goals and 27 assists for 57 points and a plus-11 rating in 74 games. In 2013-14 he finished third on the Jets with 173 hits and blocked 36 shots.
Kane has the ability to play a dynamic, hard-nosed style at the highest level. He averaged just over 20 minutes per game last season, but considering he was often on the second line, he could play more. Look for Kane to thrive under Paul Maurice, playing on the first line and becoming one of the top left wingers in the NHL.
Tobias Enstrom
Tobias Enstrom struggled last season. The 29-year-old Swedish defenseman should be in the midst of his prime, so it's unlikely he will have another disappointing campaign. The disappointing factor is largely offensive. While Enstrom didn't dominate in his own zone it's important to consider he was often playing against the oppositions' best forwards.
Offensively, he has to have more of an influence, especially off the rush and when quarterbacking the power play. Enstrom is one of just eight defenseman in the NHL who have had two 50-plus point seasons in the past five years. There is no reason he can't reach that number in the coming season.
He has the speed, vision and playmaking abilities to put others in position to score. The only thing that could hold him back statistically is Jacob Trouba taking up more ice time in offensive situations. But, if paired together they could be one of the more dangerous offensive blue line pairings in the league.
Look for Enstrom to have a bounce back year offensively and solidify himself as the Jets best all around defenseman, for now.
Mark Scheifele
He showed flashes of brilliance last year. Mark Scheifele has made giant leaps in his development the last two years. From a player that many fans doubted and questioned the organization for drafting with the first pick in team history, Scheifele is quickly becoming Winnipeg's most exciting player to watch.
That said, he was inconsistent last season. He had stretches of seven and eight games where he didn't register a point. But, there were also times when he notched 10 points in 11 games. In the end, he finished with 13 goals and 21 assists for 34 points in 63 games. Considering he'd played just 11 games prior to the 2013-14 season, that's not bad. However, it means he easily can be one the Jets' most improved players in this coming season.
If he stays healthy and plays a full 82 games Scheifele should be able to hit the 55-point mark. He played just over 16 minutes per game last season, but that should jump to more than 18 minutes as he gets added responsibility from playing in more situations. Scheifele is just 21 years old and should begin to show in the first few months of the season that he's prepared to play in more pressure-filled situations.
Eric is a postgraduate public relations student at Humber College. Prior to that he obtained a bachelor's degree in communication studies from the University of Windsor. He covers the Winnipeg Jets for The Hockey Writers and is a featured columnist for Bleacher Report.